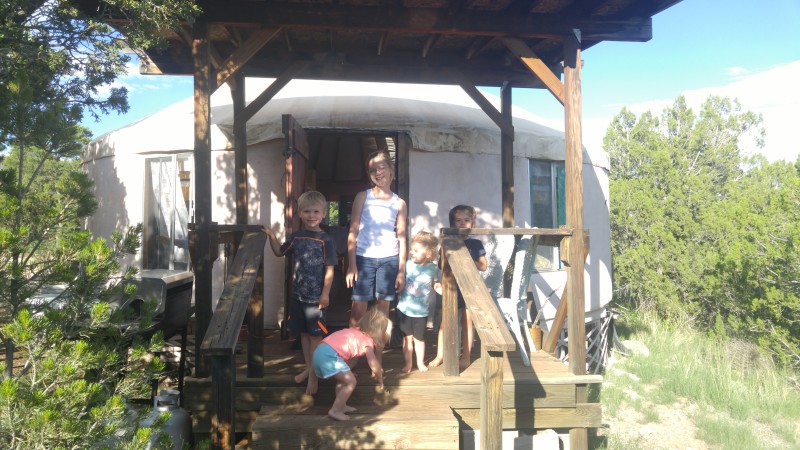 From Odessa we would head to Vail Colorado. Phil kindly and mercifully decided to break up our drive from Odessa to Vail into two days. But we would need somewhere affordable to stay.
Through Air B&B Phil found a Yurt we could stay in for $68 a night.
Years from now we'll be sitting around and someone will ask, "Remember that time we stayed in a Yurt?!" At least in my imagination someone's gonna say that. I only knew what a yurt was because there was a time in my life that I was addicted to The Travel Channel. And I've see the documentary Babies in which one of the families from Mongolia lives in a yurt.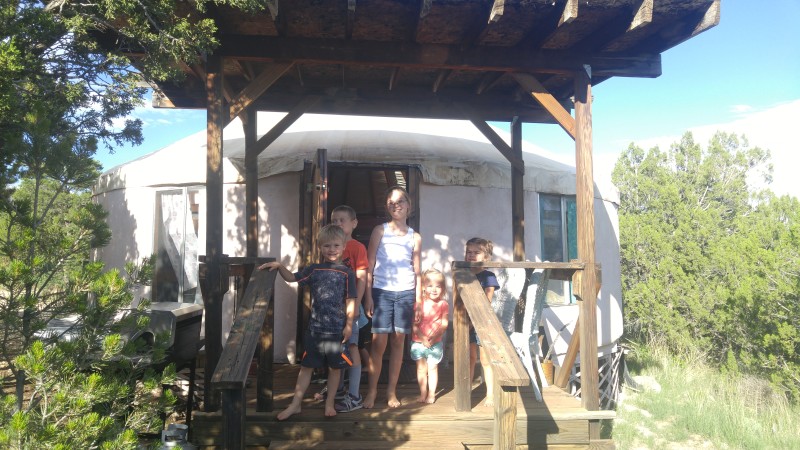 What's a yurt you ask? THIS is a Yurt….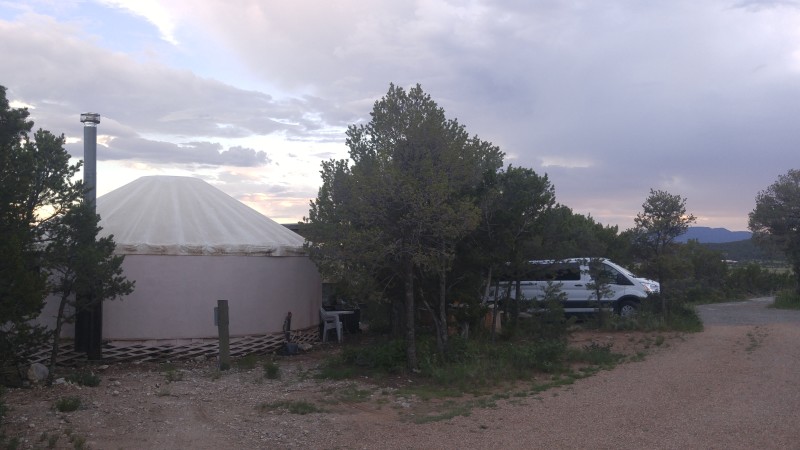 Phil describes it as "The Asian version of the TiPi."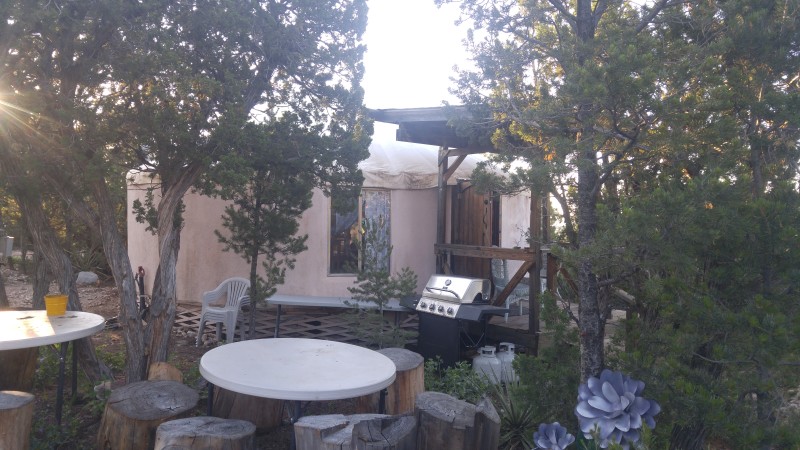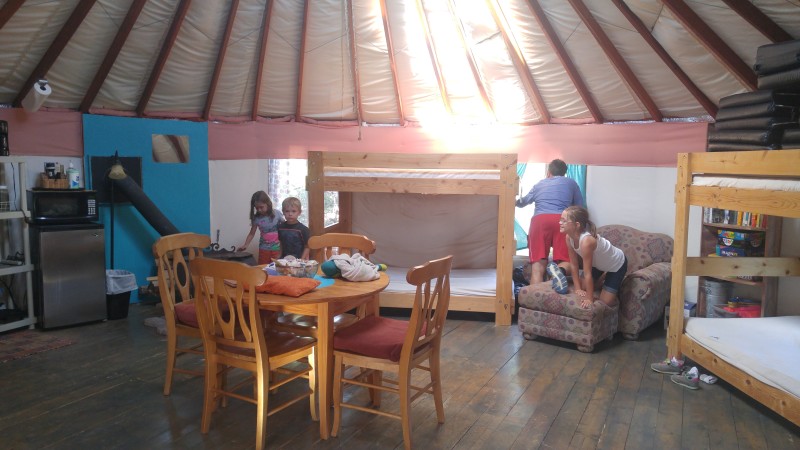 Part of me was kind of excited about the experience of staying in one of these. The one we found was fitted with 5 bunk beds, that's 10 beds which would be perfect (Josephine in PacNPlay.) It had a microwave, a small fridge, a few dishes and some windows. I thought this was an adventure I could handle…for one night at least.
We microwaved supper, there was some dodgey card playing and a little exploring around the yurt. The kids were in yurt heaven.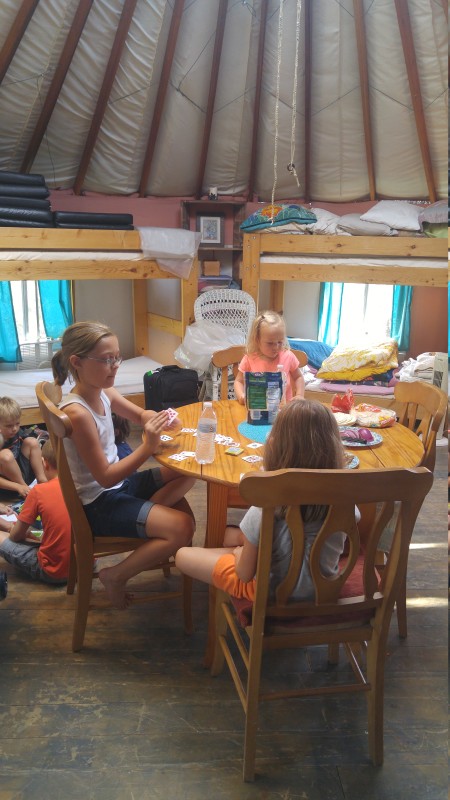 Before you get starry eyed you should know…it did NOT have running water. And as we found out after we got there, it did not have a potty either. It had an out house about 50 yards away from the yurt which for a Mama who gets up at least once or twice a night to use the potty…was a bit of a nightmare thought.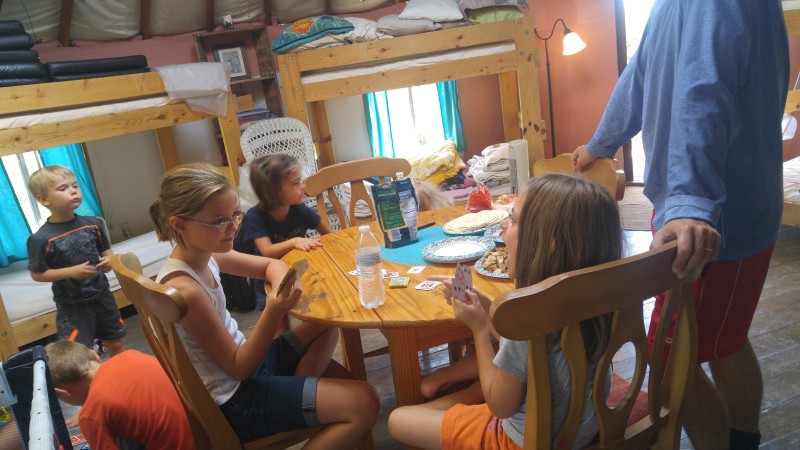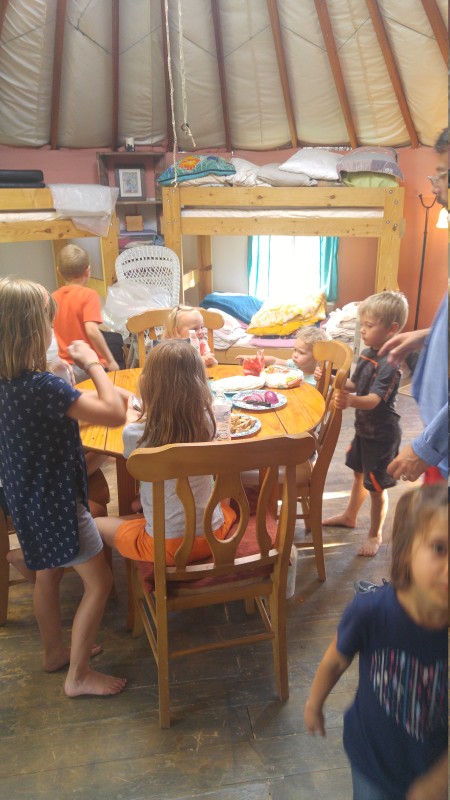 Again PHIL TO THE RESCUE. I will be forever grateful that he bought our family a real deal quality travel potty a while back to use for the beach side of this trip. That potty saved my….booty. We had some large mattress pads we set up in a corner to create a little bathroom inside the yurt. Phil later told me it was a good thing we weren't making hikes to the potty via moonlight because he had heard some kind of "animal" outside that night. Wonderful.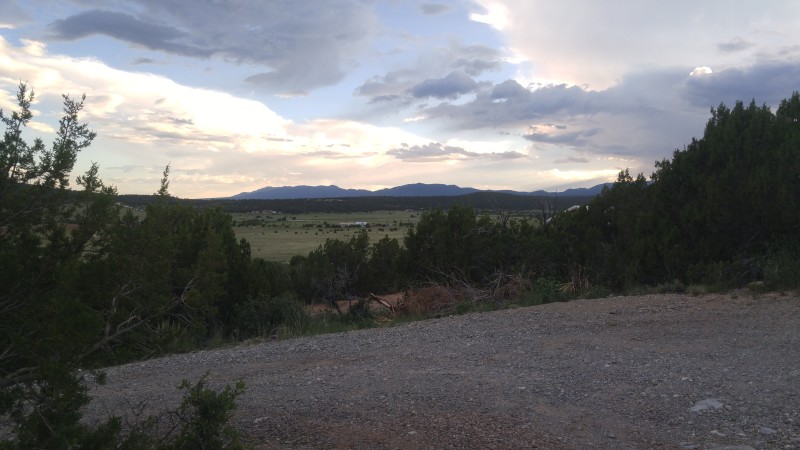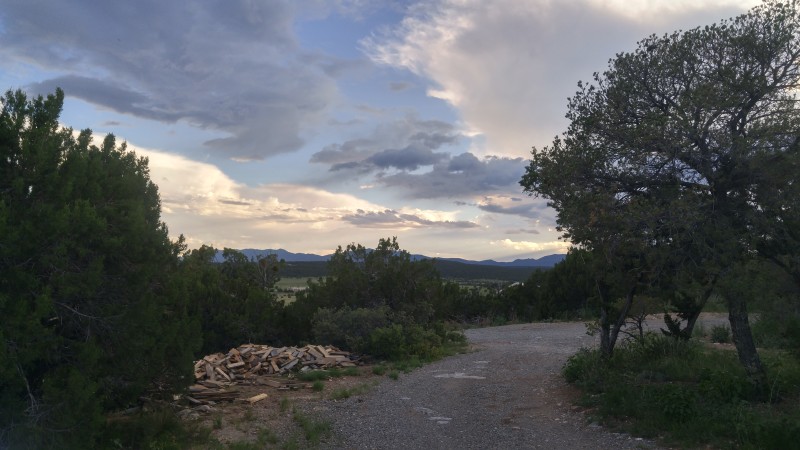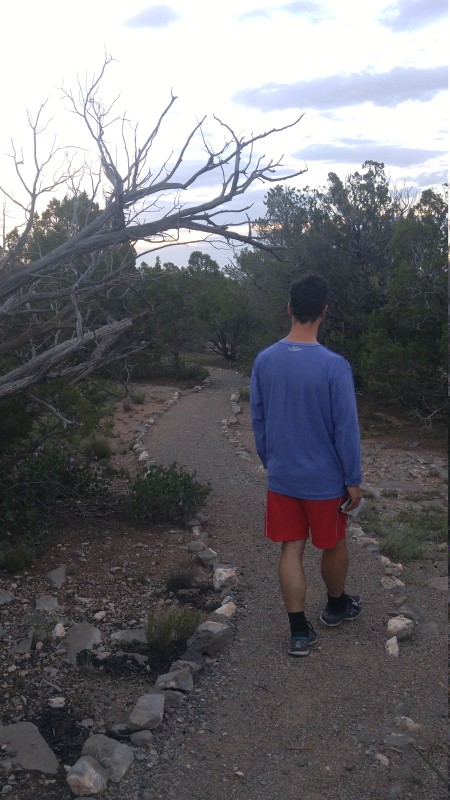 After the babies were put in their bunks Phil and I wandered around the grounds. We found the path to a prayer garden someone had set up. This was gonna be great.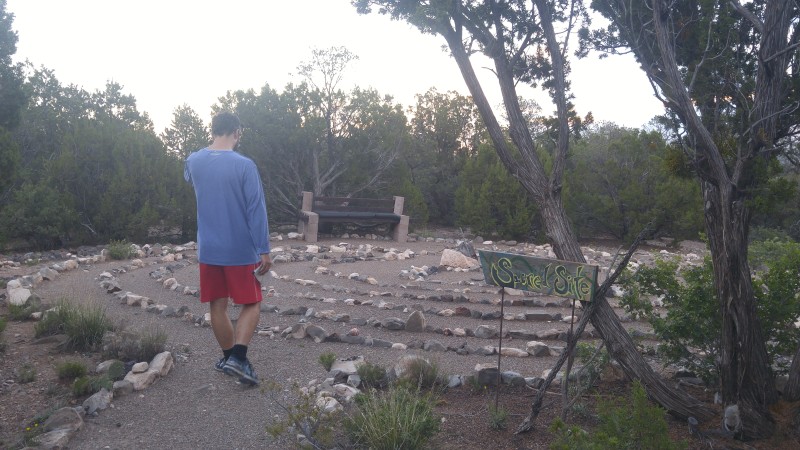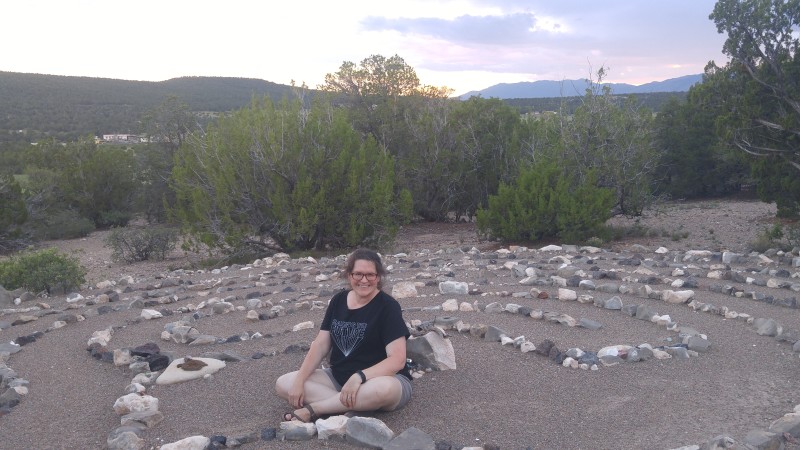 And it was. In the center an "altar" set up with trinkets and bobbles left by other visitors to the spirits of whatever it is people leave trinkets to.
My sister in law Lindsay said she wanted a picture of me in the middle of this "sacred" place. I was waiting for my tranquility to come…it didn't, but it was a quiet and beautiful night up here on this mountain.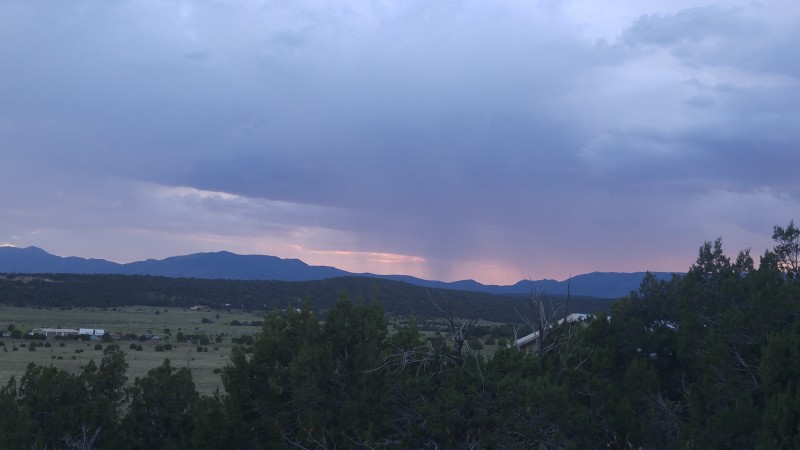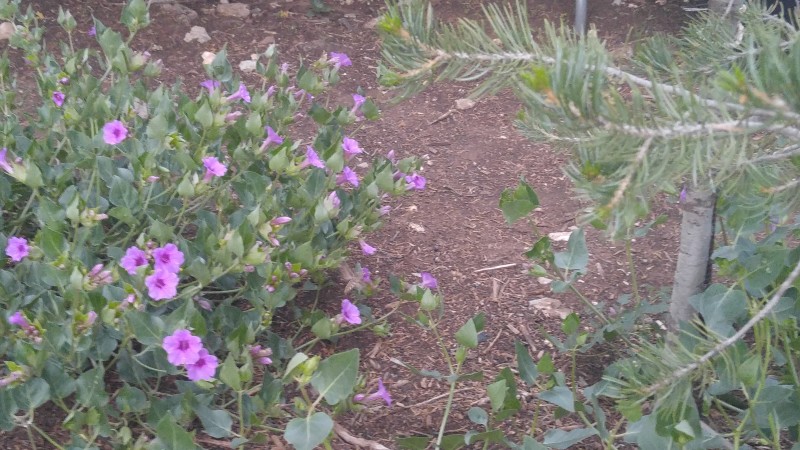 I thought I'd relax in the outdoor…dining area for a while, before the mosquitoes drove me too crazy. Soon I saw some sweet little hummingbirds flitting around these lovely flowers next to my table. At least I thought they were hummingbirds. I snapped some pictures and started recording them to later show the babies. As I looked closer I realized, these were NOT HUMMINGBIRDS.
They were huge nasty scary things. I got moving. Up out of the dining area and made for a safer place on the porch. This wasn't as safe as I'd thought. I think these things most have lived under the porch, they kept flying back under there.
I decided I was done being outside. I later mentioned these creatures to my friend who now lives in Colorado. She knew exactly what I was referring to. These are Hummingbird Moths.
*On this trip I not only learned about a species of insects I didn't know existed, but also confirmed that not only do I not like Hummingbird moths, I do not like Hummingbirds. But that's another story and probably not as interesting as this riveting tale was.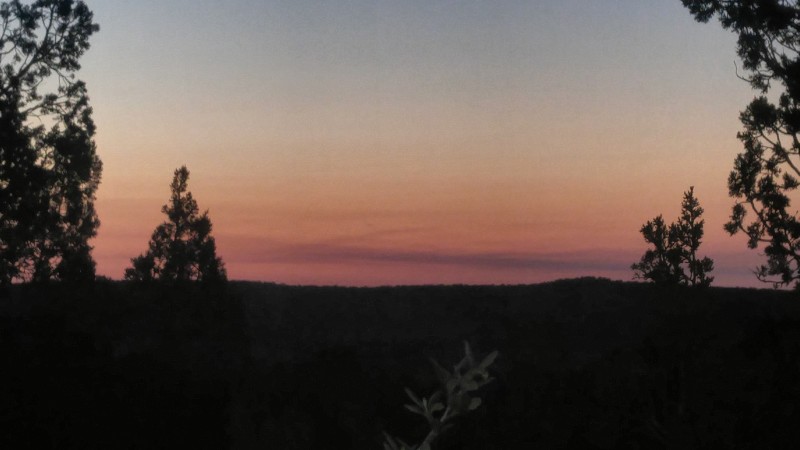 And that was the time we stayed in a yurt.
Next stop Vail!