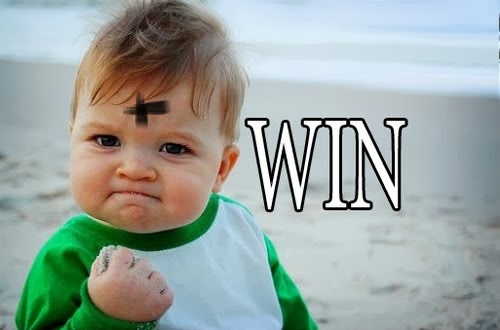 Ashes…check.
Every year I sit down to think about how our family will observe the season of Lent. What we will Take Up and what, if anything, we will Give Up. Which hymns we will work on learning, bible verses, lessons. I enjoy the penitential seasons of the church, the time to reflect, to hide God's words in our hearts, to commit to memory good hymns and to serve others.
I can start off with a bang but the inevitable fizzle comes quickly after a couple weeks…."weeks" if I'm lucky. Not that I don't want to continue what we've started, but it gets hard. With a lot of babies around even the simplest of plans can be quickly foiled. And really, that's ok.
So we begin with some good ideas and a good dose of being "realistic". Also, keeping very aware that Lent is NOT something I come out on the other side of holier than when I went into.  It is good for the Christian to pray, to fast, to give, to discipline and mortify our flesh. Lent makes me quickly realize how much I stink at praying, fasting, giving and disciplining the flesh.
But thankfully my "doing" or "not doing" doesn't make me righteous. That "Win" belongs to Christ who covers us in His victory. His "doing" and "not doing" won our righteousness. He wins over Sin, Death and the Devil for us.
So whatever you and your family decide to do this Lent remember you might keep very diligent, you might fall flat on your face, but through Christ you've already won. Won over the death and sin we stare in the face each day, not just during Lent but every day. Thanks be to God.
Well, I wasn't going to say any of that. But I saw the above picture yesterday and I laughed a really good laugh, then laughed some more and then it got me thinking….so there's that.