The third Sunday in Advent, Gaudete Sunday, the Sunday of "Rejoice." The Sunday to prepare for Christ's coming with a heart that rejoices with thanksgiving for His saving mercy, love and forgiveness.
Today for me the Sunday of Rejoicing became a Sunday of one battle after another with three of my babies and ended in me covered in Martha barf scurrying home from church just after the first hymn. Lily calls Martha "Marth Barf" for a reason.
Today I could only think that it is truly a miracle that moms of littles go to church at all. It is no easy thing to do this week after week. Most Sundays are hard then there are these Sundays that are harder than hard and it seems the Devil works overtime to discourage us from ever stepping foot in church again.
But today I was thankful. So thankful for the people who came to my aid. Who watched the other seven babies while I ran home to wash. Who cleaned up the carpet and brought the kids home.
Today I grieved my sin and the sin that makes babies disrespectful, disobedient and sick. Sins that make us poor indeed. Even though I was sent away in grief, embarrassment and weariness I have reason to Rejoice, for:
"The blind see and the lame walk; the lepers are cleansed and the deaf hear; the dead are raised up and the poor have the gospel preached to them." Matthew 11:5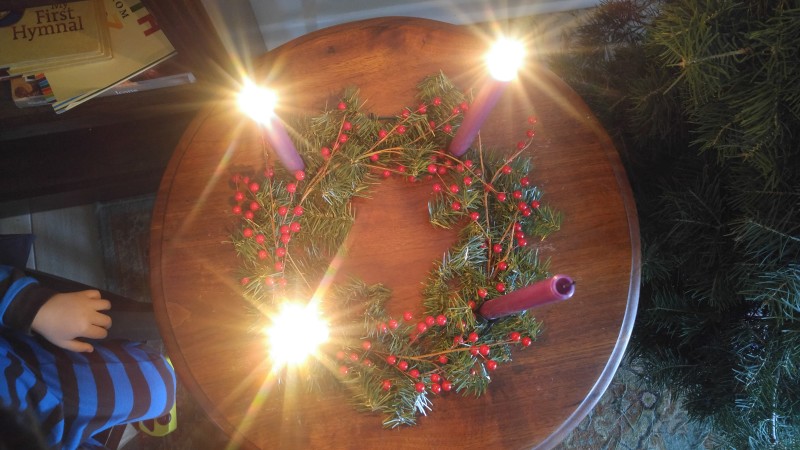 How great is my sin but, "The good and happy news is that Christ has paid for our sin, and through his suffering has redeemed us from eternal death." ML
God does not leave us wretched but sends His Preacher to, "Relieve them, give them comfort, and fill with joy their fearful hearts, which before were weighed down in heaviness and sorrow." ML
Rejoice! Rejoice! Emmanuel shall come to thee O Isreal.