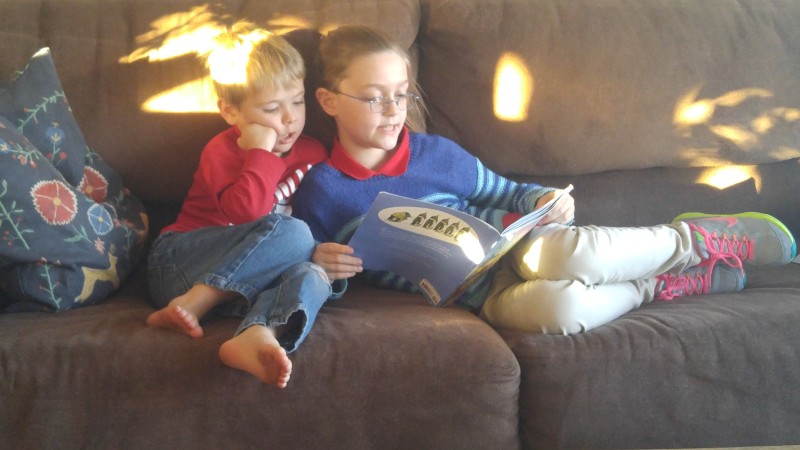 It's a particular delight of mine, seeing my babies reading. And when I see one baby reading to another baby my heart is fit to burst. I don't know if there's really a way to "make kids readers" and I don't know if they will always like reading but I'm so thankful that for now this is one way they all enjoy spending their time alone, with one another and with Mama.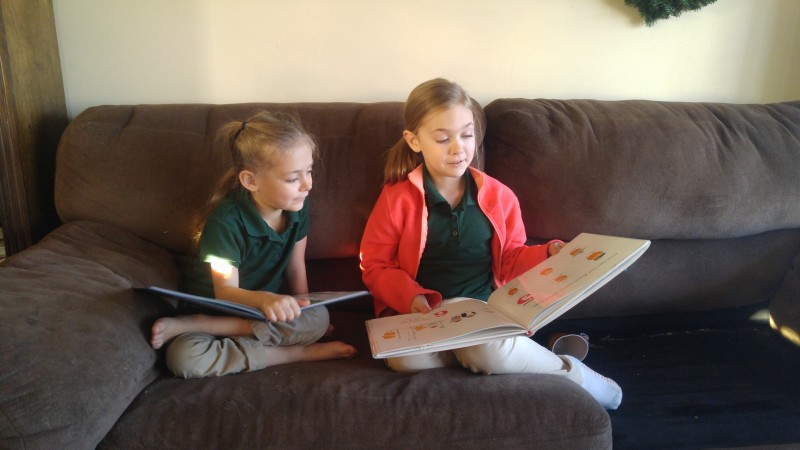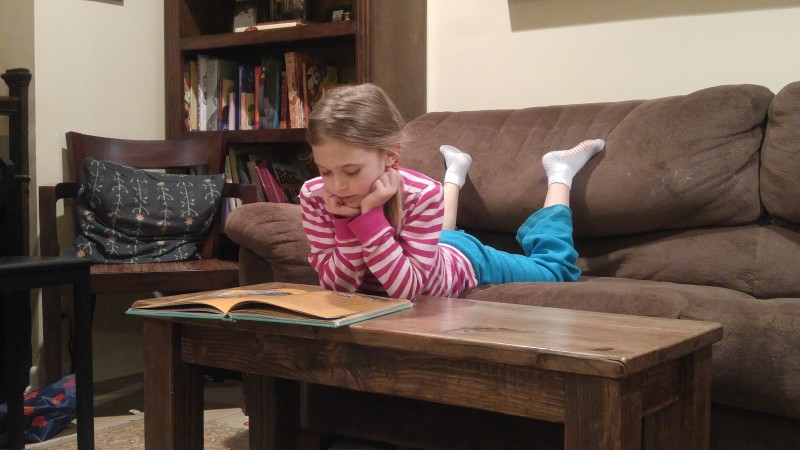 I do think it is a good idea to always have books available for kids to pick up and read. I've built our home library over the years and I take advantage of our public library very frequently as well. And as often as I can I do attempt a read aloud or on occasion play an audio book while they eat supper. I watch the "littles" mimic the "bigs" with books, sitting and 'reading' just like the older kids do.
In those ways, reading is a habit in our home I suppose. And maybe that is how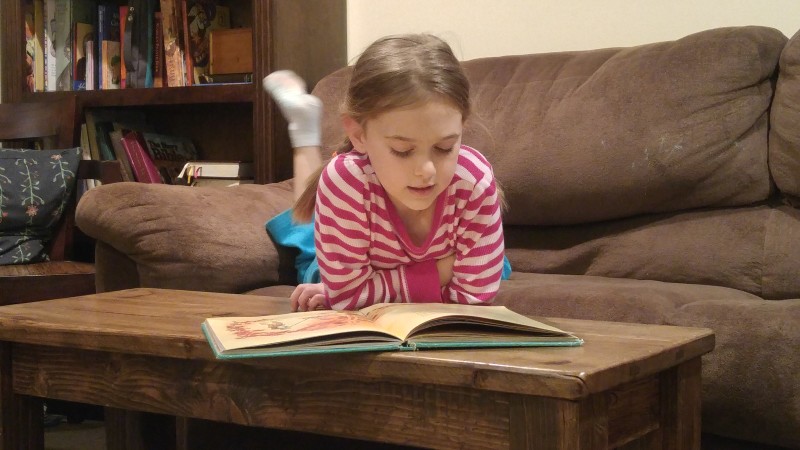 Some weeknights we allow the big kids to stay upstairs later than the others for reading time. Some evenings when it's just Clara upstairs she asks if she can read aloud to me.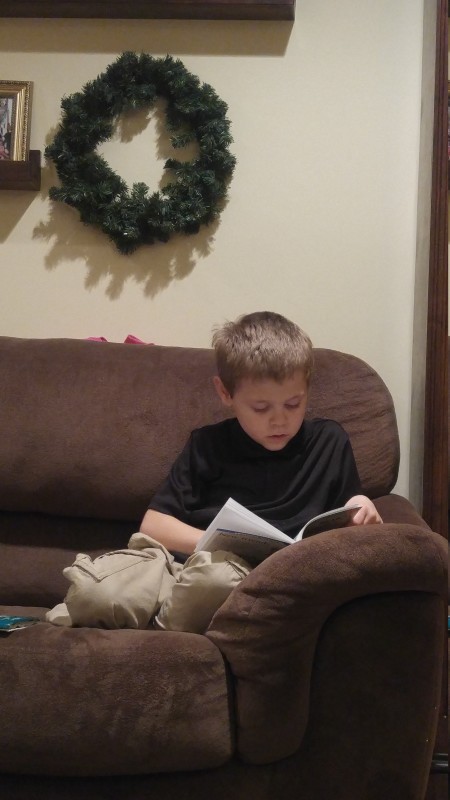 Some of the books the babies (and Mama) are reading this Winter:
Warm In Winter
Pride and Prejudice A Seek & Find Classics Book
Lizzy Bennet's Diary
King Midas and the Golden Touch
Doctor De Soto
The Divide
The Marvelous Magic of Miss Mabel
Owl Moon
Snow
White Snow, Bright Snow
Tacky The Penguin
Winter Story Brambly Hedge
National Wildlife Federation's World of Birds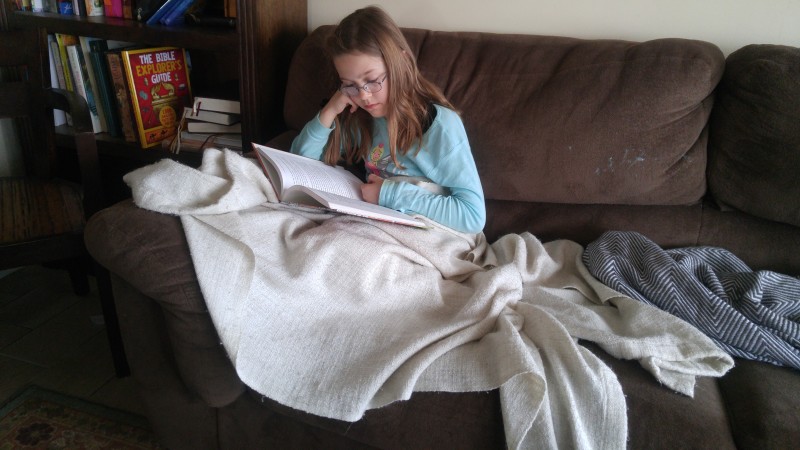 I decided to work in more independent reading time for the kids, a purposeful reading time. So I'm gonna see how taking 30 minutes or an hour on Sunday afternoons for this goes. I'm sure it will be hit or miss. Today it's been a miss. It requires a little overseeing on my part when I'd rather zone out and have some time allllll alone, but I think eventually this could be good for not just for the babies but for me too. I want to 'take up and read' more often myself.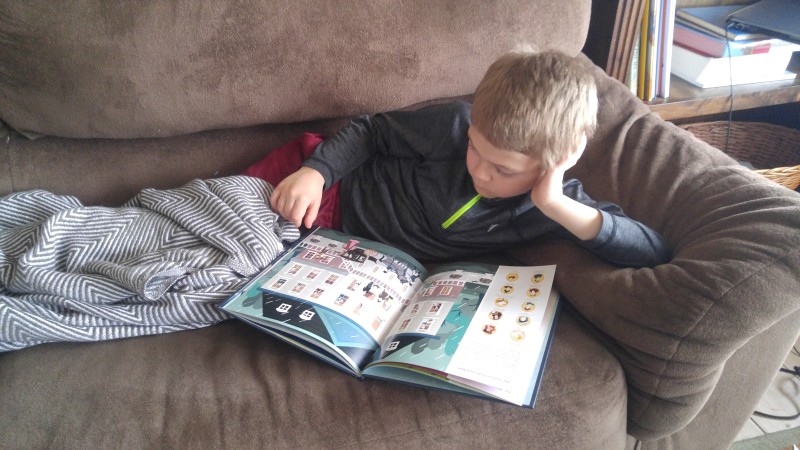 I do this after lunch with the younger kids who are at home during the week, we call it "Blanket Time." But the big kids miss out on it. Sunday seems a perfect day for more "Blanket Time."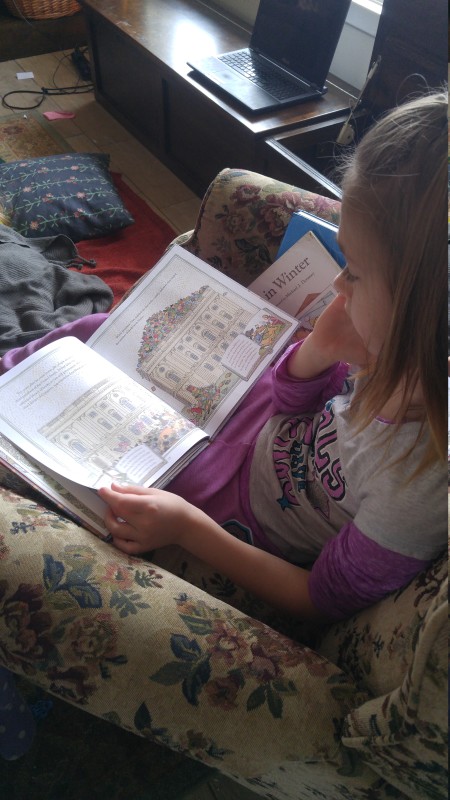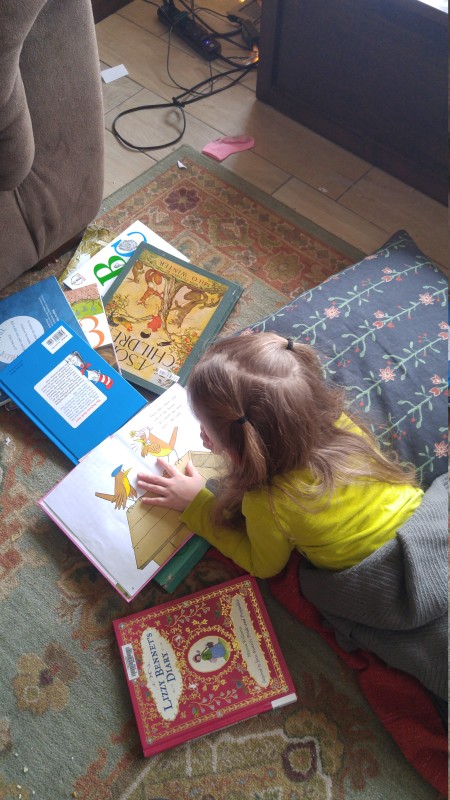 Now for the books I've been reading this Winter:
Bringing Up Bebe Audio
Emma
Simply Tuesday
Strong Mothers Strong Sons Audio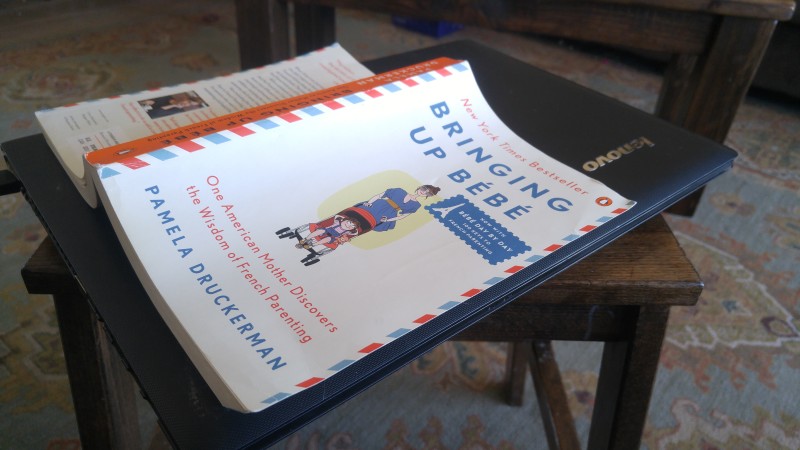 I finally got to Bringing Up Bebe. It's been on my "To Read" list for 5 years and I have to say I really enjoyed it. I checked out the Audio version from our library and zipped through it while I folded laundry, washed dishes or drove around running errands. It's just so fascinating to me how other societies raise their children. France has it's problems…some major sure, but they have a few pretty good ideas about this parenting thing. Yes, some bad ones too but this book presented such an interesting first hand study on how the French do it that it was easy to overlook the wacky mixed in. I mean France pretty much has one way to raise kids, everyone more or less does the same thing. There's no guess work and confusion and worry and guilt and wondering if you're doing it right and feeling judged by other moms with wildly different parenting philosophies. That just sounds kind of nice. Anyway, truly fascinating book.
Simply Tuesday I skimmed through. It's a long winded exposition of the truth and comfort that the Lutheran teaching on Vocation has given me in one paragraph. Meh.
What have you or your kids been reading?