Day 10.
On the Tenth day of Christmas we had our Annual Gingerbread Day.
Clara helped me assemble our houses, from kits again this year because I have learned that, yes, gingerbread from scratch is way better tasting than premade but that's something I'm willing to sacrifice for the sake of my nerves, my back, my feet and for the happiness of all involved.
We will get back to gingerbread cookies from scratch next year though, cuz…yum.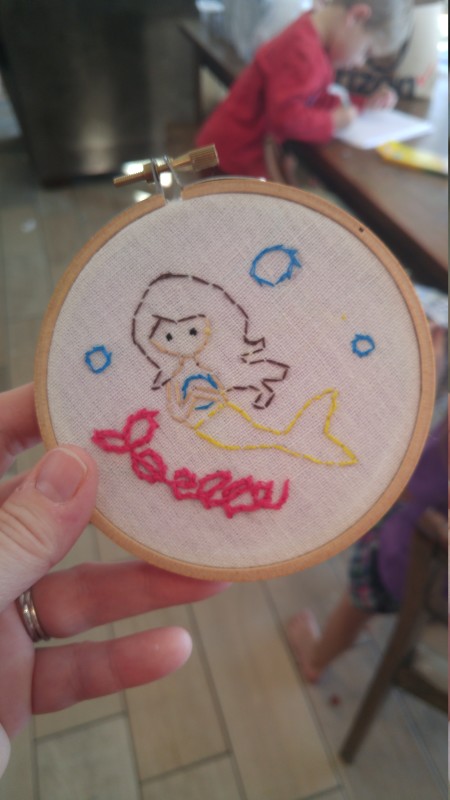 We invited a couple of the big girls' friends this year. Lily has been working on this cross stitch for her best friend for a while now and was so excited to finish it up in time to give to her for Christmas.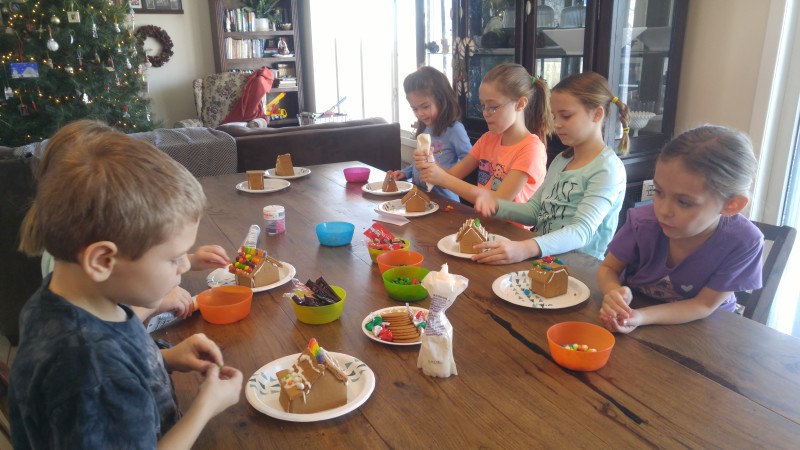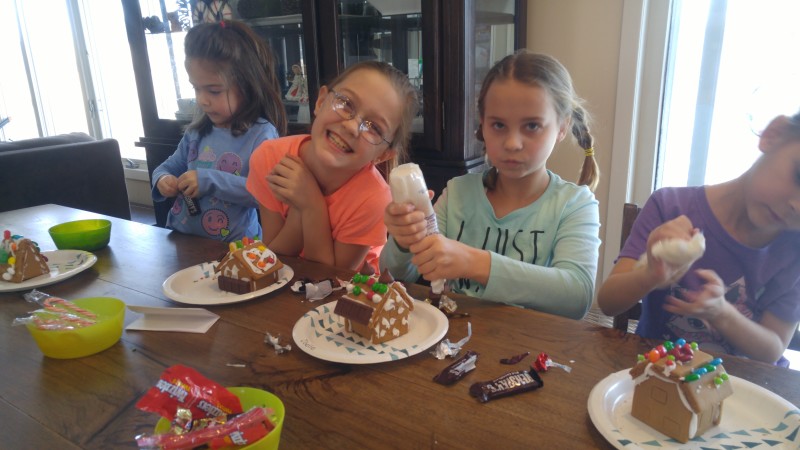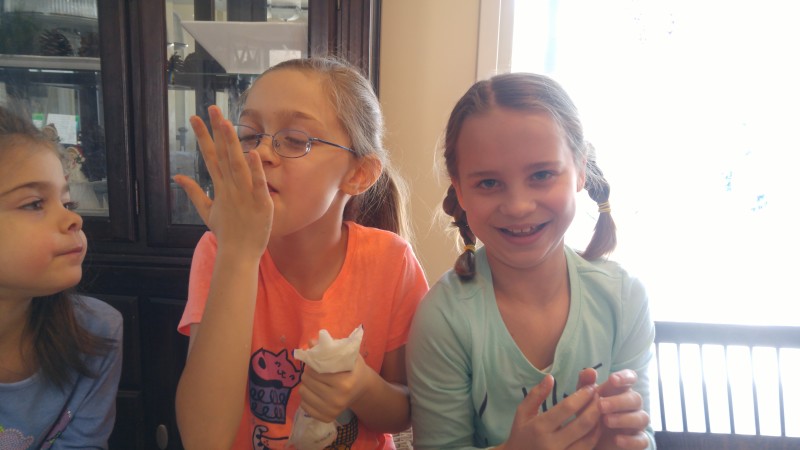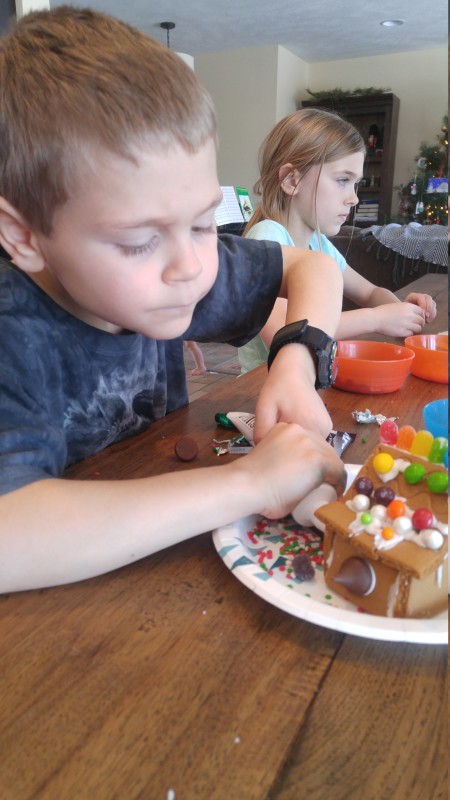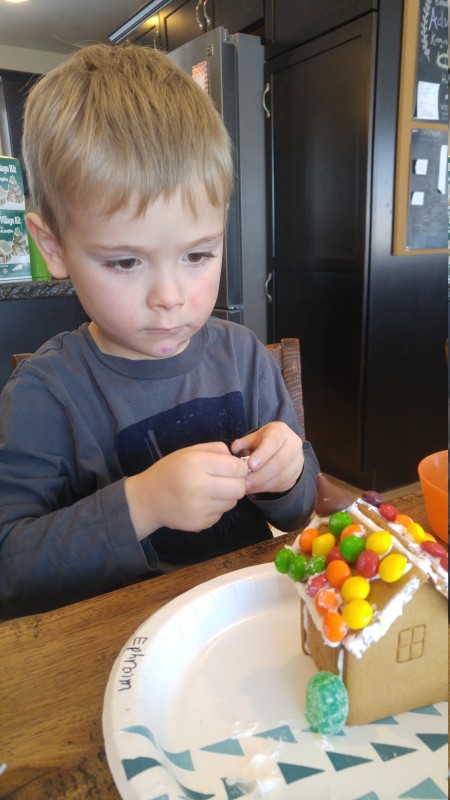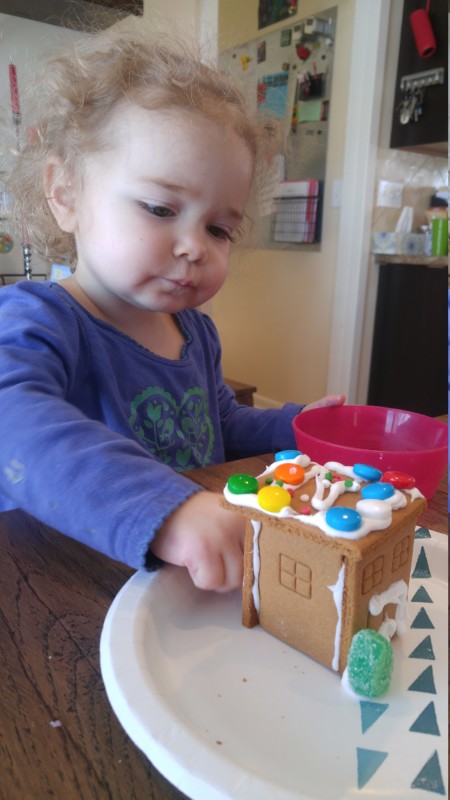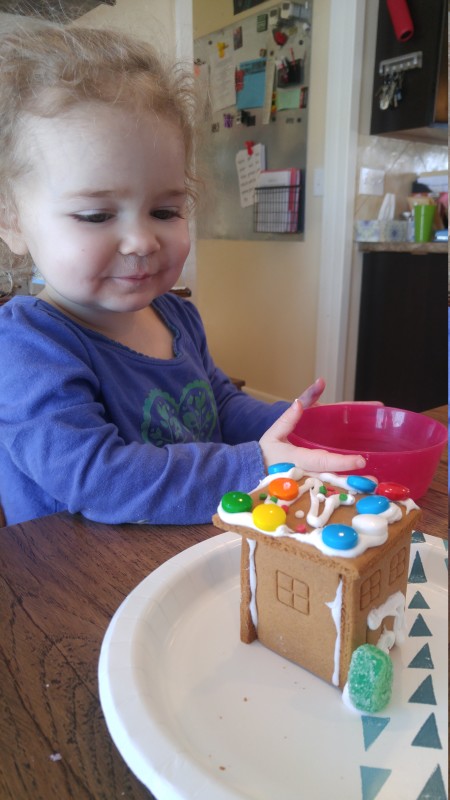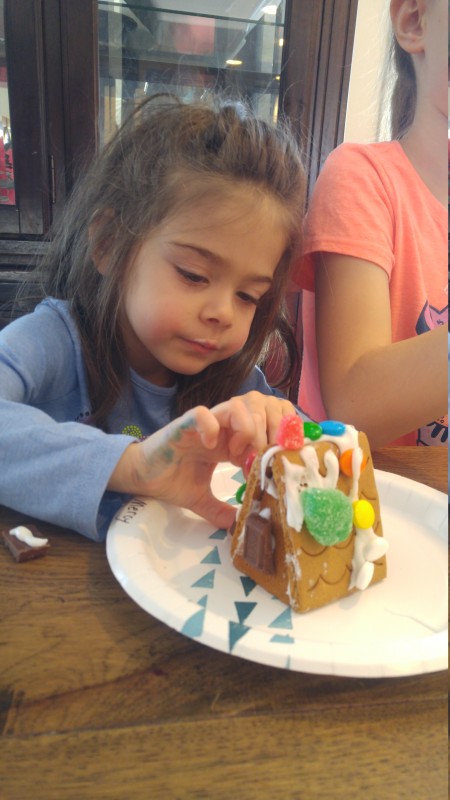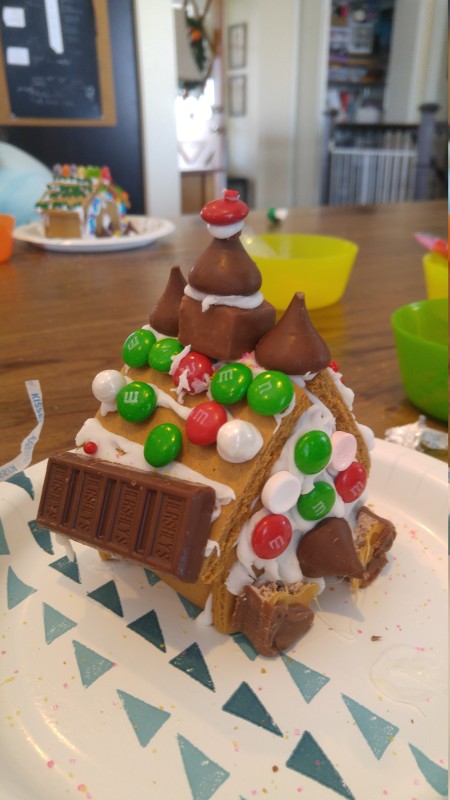 I loved Joelle's "Merry Christmas From Russia" contribution to our village!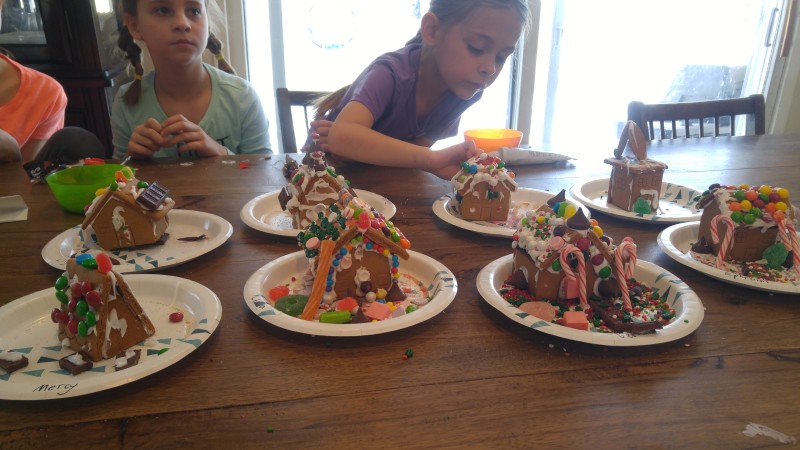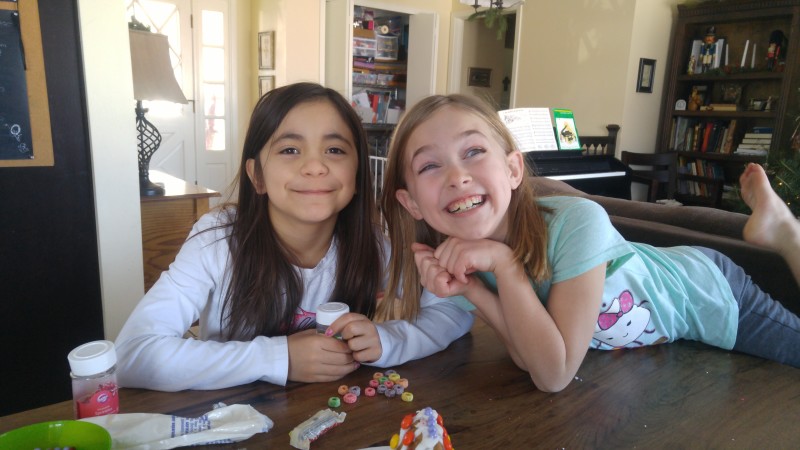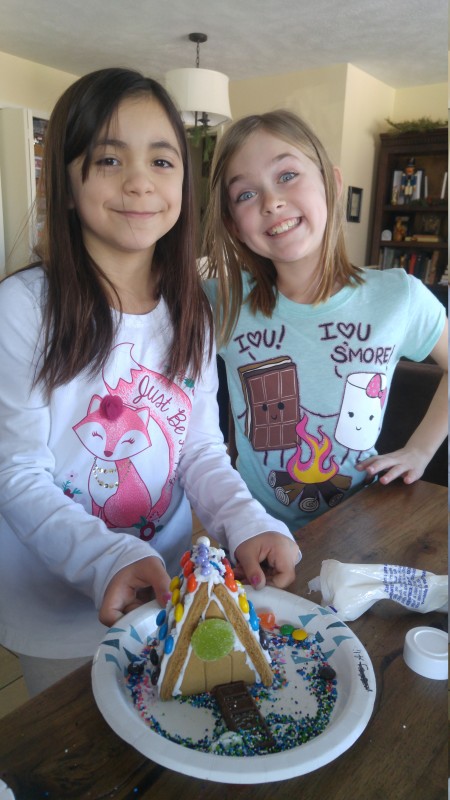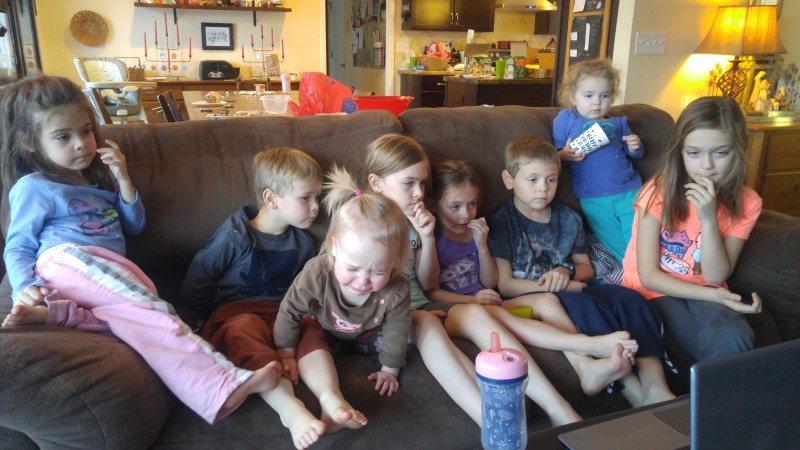 The day went South from there unfortunately. I think we are all tired by this point in our break from the regular routines. I know this Mama was. It was a long day and Phil had a meeting to attend that evening.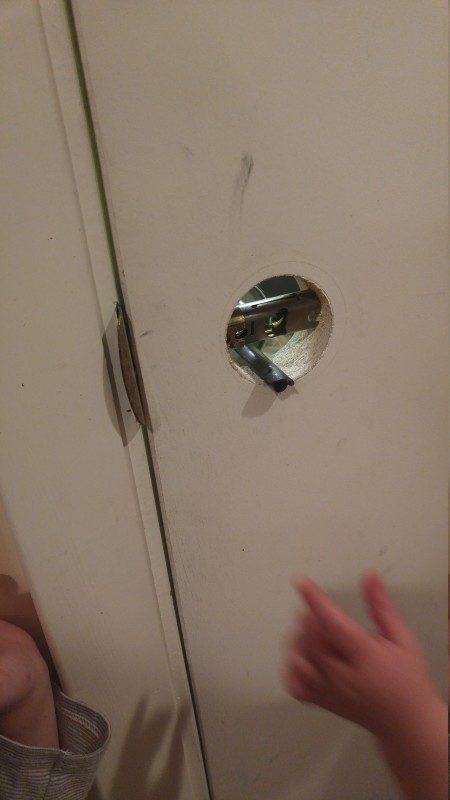 While he was at his meeting Martha locked herself in the bathroom. I tried everything I could think of for about 10 minutes. I really did not want to have to leave her stuck in there until Phil got home and was considering taking the door off the hinges. I tried one last thing that finally got this nob to unlock. Thankfully Martha was way cool in there all by herself the whole time.
So I decided I'd try to go ahead with our Christmas Book Roundup. The babies choose their favorite Christmas book from this year and I would read them all. But everything was working against me in this. There was crying and fighting and a mess in the kitchen.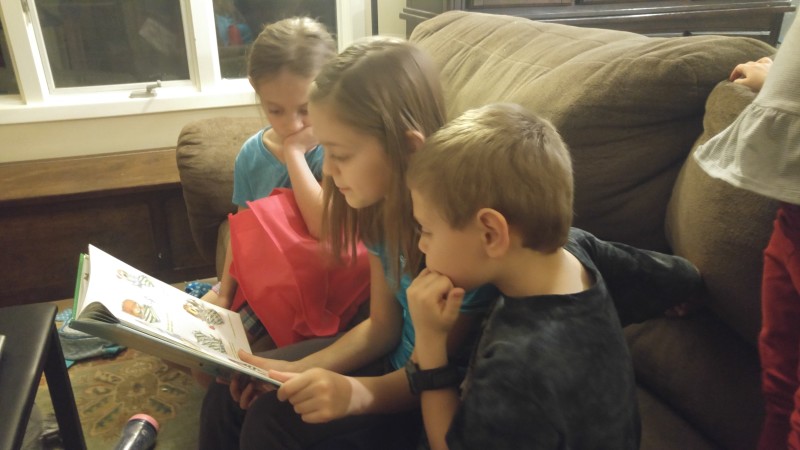 I was so proud of Lily for stepping up to volunteer to read the books to the kids for me. She's such a helpful little thing. Sometimes I really don't know what I'd do without her. When I was done in the kitchen I finally sat down to enjoy Lily's reading.
Then there was fussing over who sat with Mama….per usual. I was doing my best to roll with it until Josephine lobbed a huge wooden block at my nose and that was the end of my evening with the babies. Day 10 was done! Thank you Lily for finishig the stories while I excused myself to pout in a hot shower.