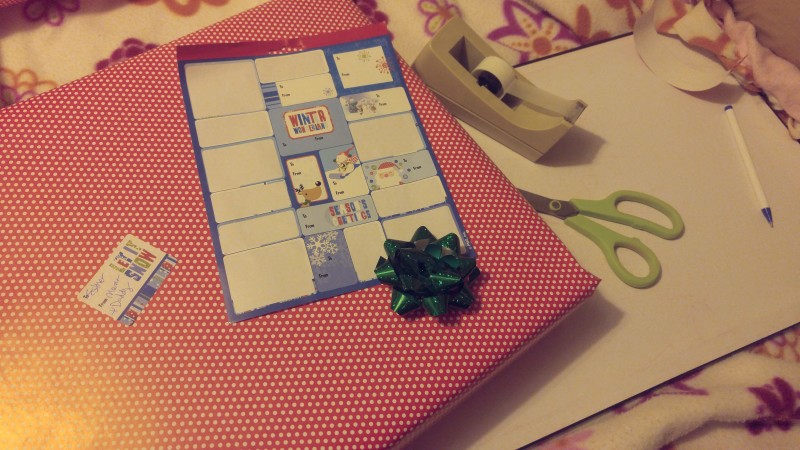 Day 8.
On the Eigth day of Christmas I was thrilled that it was January 1st and I was still having fun wrapping Christmas presents. While I was doing this Phil had the babies cleaning up the house a bit.
Once we were all done we opened some of the presents I had just wrapped.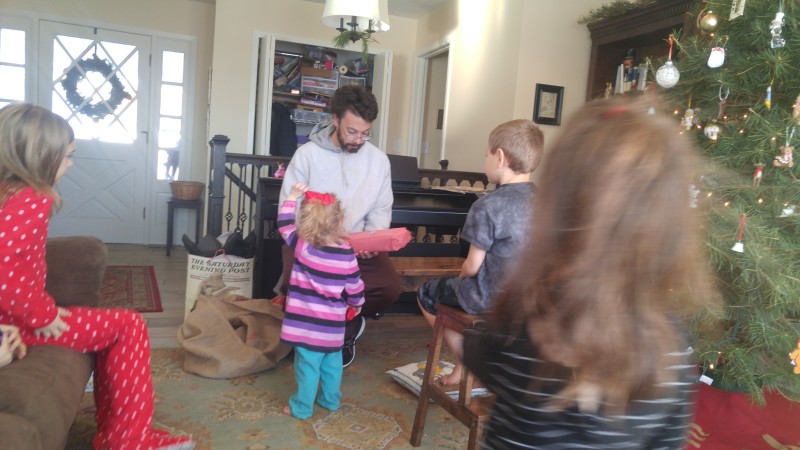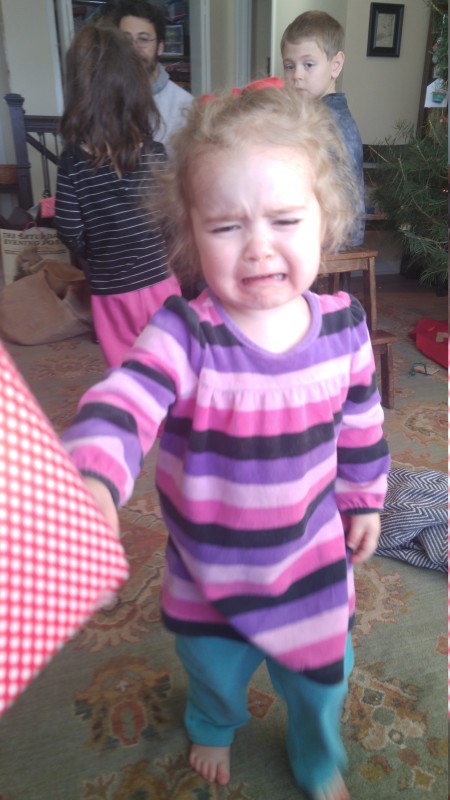 This was a record day in our family. I'm not sure what it was but I broke my 9 year streak of the "No Barbies" rule I've had in place at our house. The girls asked for "dolls the could take clothes off of and change" for Christmas. I really wanted to fill this request for some reason. So not only did I let the girls finally have Barbies, I actually went out and bought them a few!
It was way harder than I'd expected. Not because I was fighting my conscience or anything but the selection of dolls just wasn't what I wanted. I also discovered that buying clothes for Barbies was going to be a huge challenge. There just were no options! A few ugly short dresses and that was it. Maybe I just don't remember correctly but it seems that when I was little the shelves were full of different dresses and outfits you could buy to dress your dolls with. This was one of the best parts of playing with Barbies, changing their outfits all day long!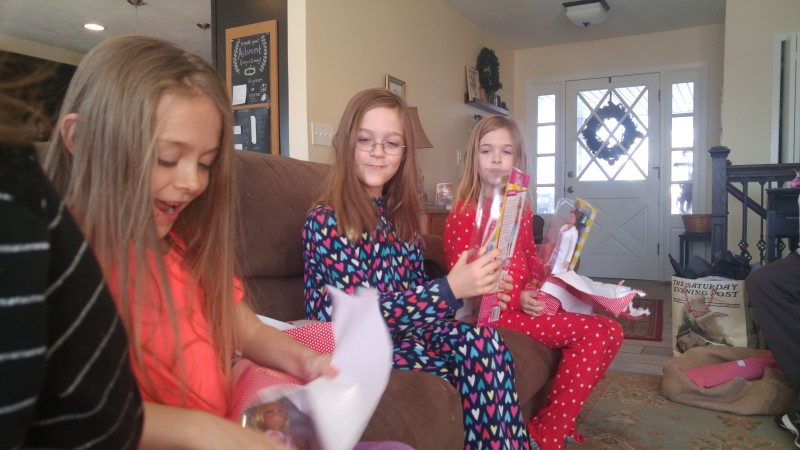 I turned to Facebook to see if anyone could part with some Barbie clothes and a sweet lady and her sweet girls came to the rescue! They donated clothes, a Barbie doll and a Barbie CAR to us from their own collection. Anyway, the girls were overjoyed when they opened their Barbie dolls that morning.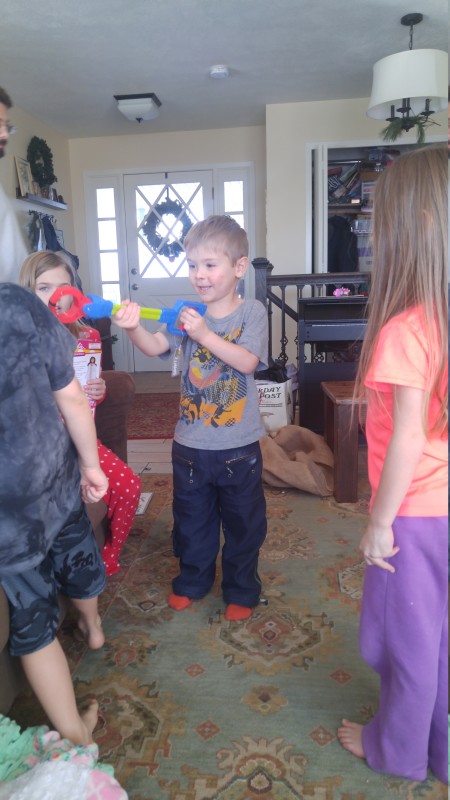 And Ephraim was overjoyed to open his "grabby thing." He'd seen it at Target with Daddy and asked for it. Then Daddy went shopping later and bought it for him seceretly.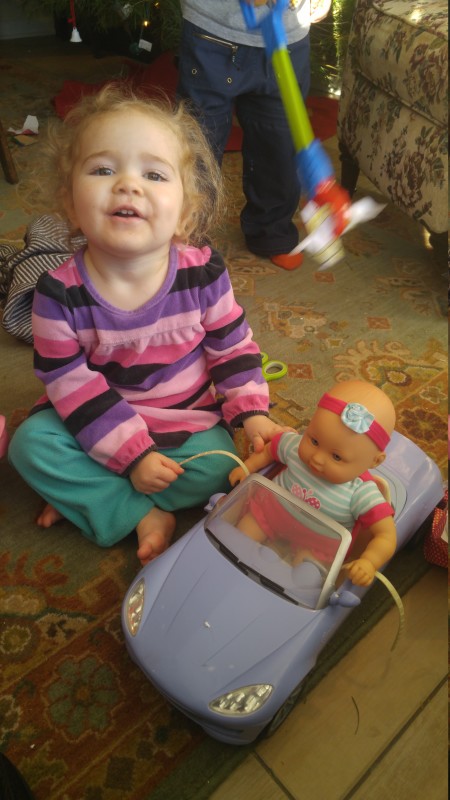 Martha assumed the Barbie car must be for her new baby doll. What a perfect fit!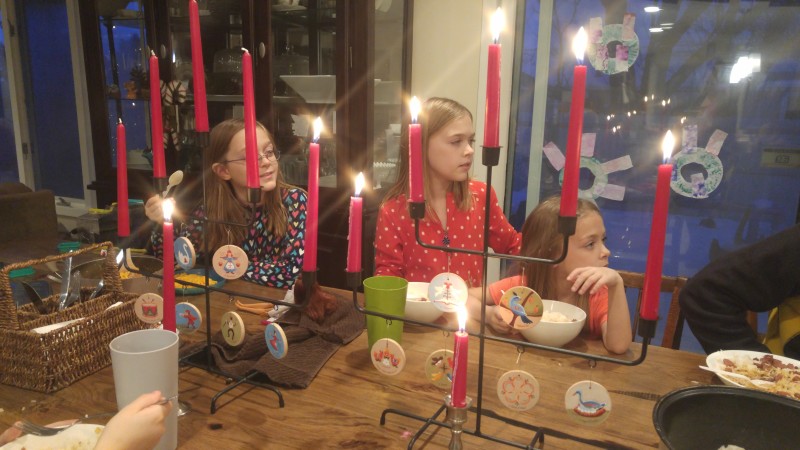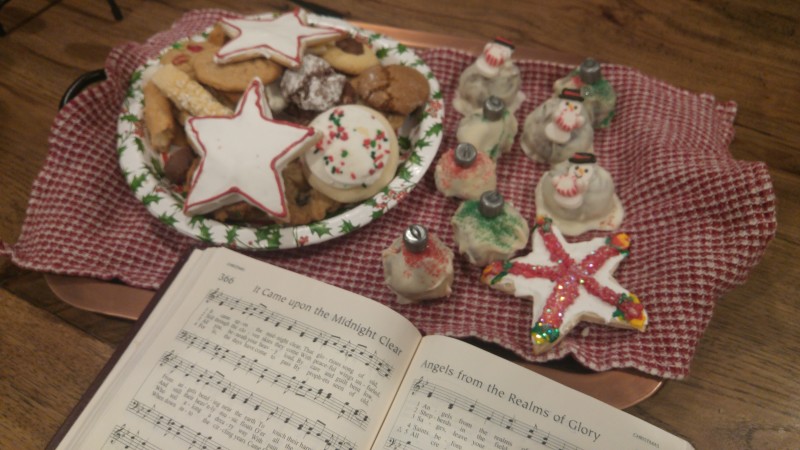 After supper Phil had to leave for a meeting at church. The babies and I had "Cookies and Carols" night.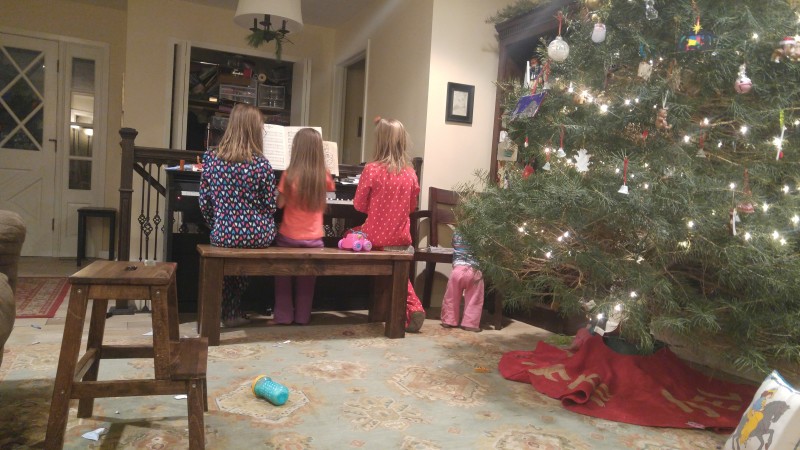 It started off pretty rocky with some fighting over who got to begin the "prelude music" on the piano first and who was playing what. Then there was some pushing and some overtired babies fell down or got a toy taken away or didn't have a seat on the couch. There was some yelling and a whole lot of crying and EVERYONE wanted to sit with Mama. Rocky.
Then, because God knew I needed it there was a moment like this:
And I supposed it was worth it in the end. I love sitting around with my babies and singing. And I can hardly believe any of them are now old enough to actualy accompany the singing on the piano. This was a wonderful few minutes.
We wrapped up the singing and got to the cookies. Then…there was more fussing and arguing and Mama banished everyone downstairs. I did allow them to watch Mickey's Christmas Carol but I did not join in as I had hoped to. I was done!
Day 9.
On the Ninth day of Christmas I did not take one single picture! I had the babies watch Rudolf the Rednosed Reindeer during Quiet Time. The 1964 version which includes the Island of Misfit toys. I had a reason for doing this which I will reveal on day Eleven.
That evening was a Supper and a Movie date night for me and Phil. Happy 9th day of Christmas!