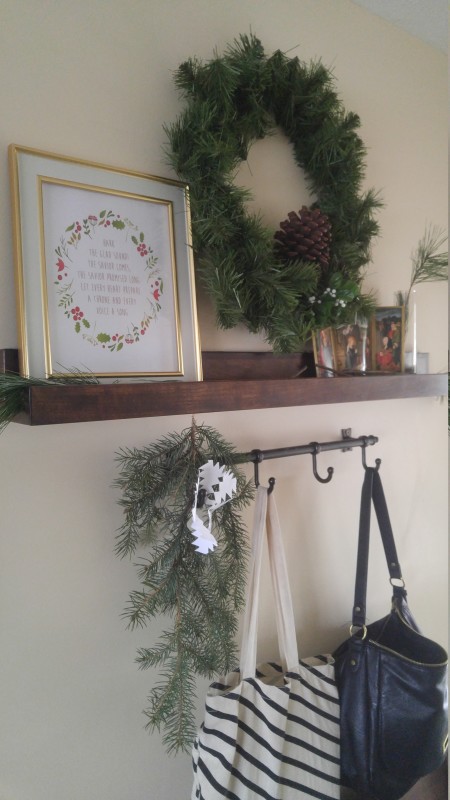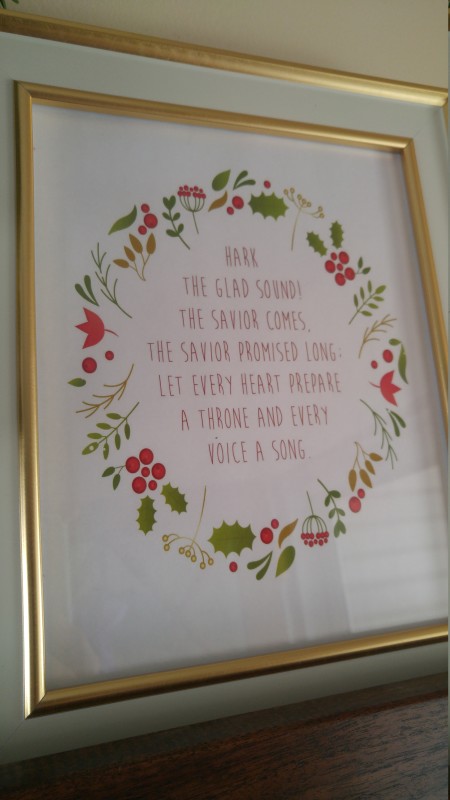 The Savior Comes! This lovely print I found on Meghan's Etsy shop, such a perfect piece for Advent decorating.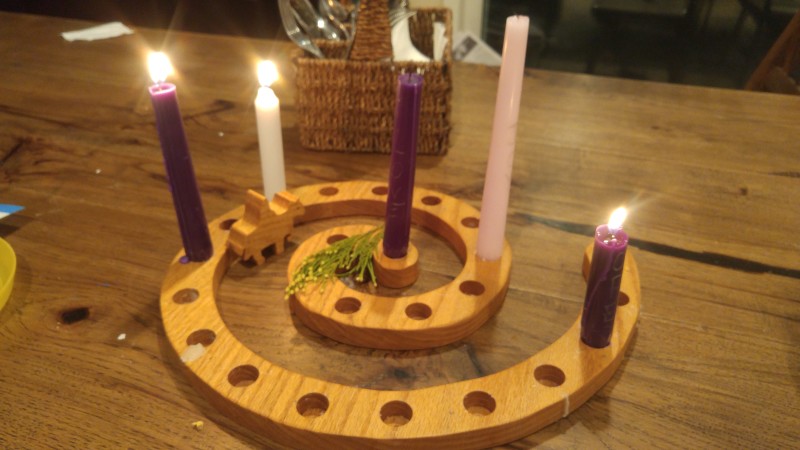 We're moving right along through Advent and truly it's been a blessed season thus far.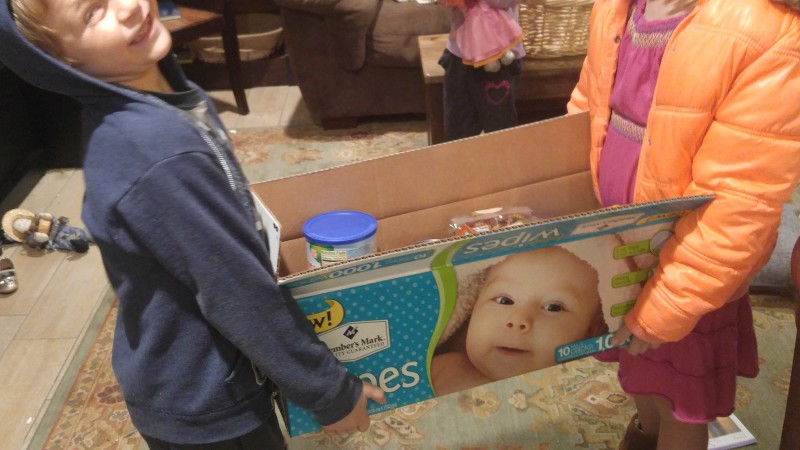 We gathered up food donations for Project Hope.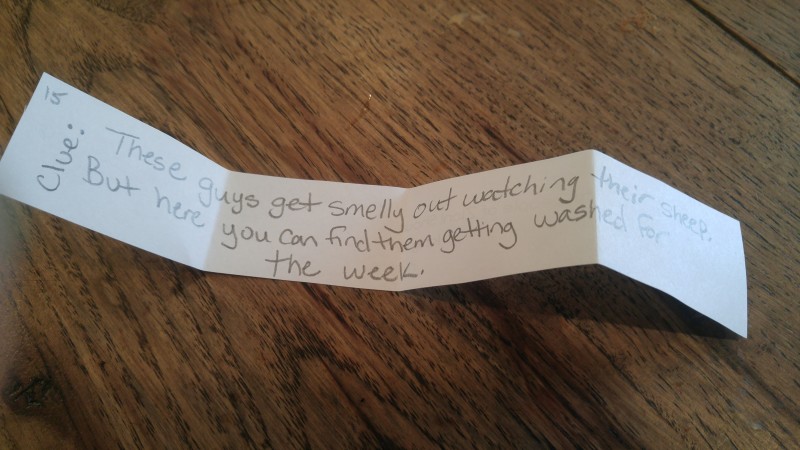 We slowly set out the figures in our Nativity this month. The kids got clues to find the pieces, a different part each week. That's been fun.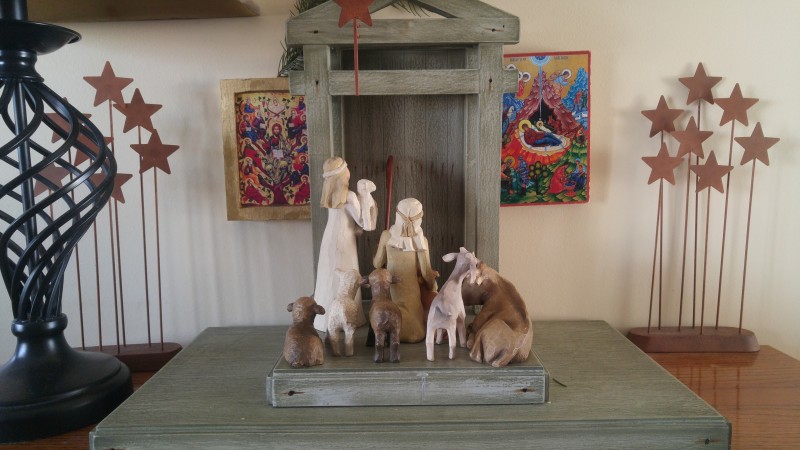 Waiting for "Wee-zus."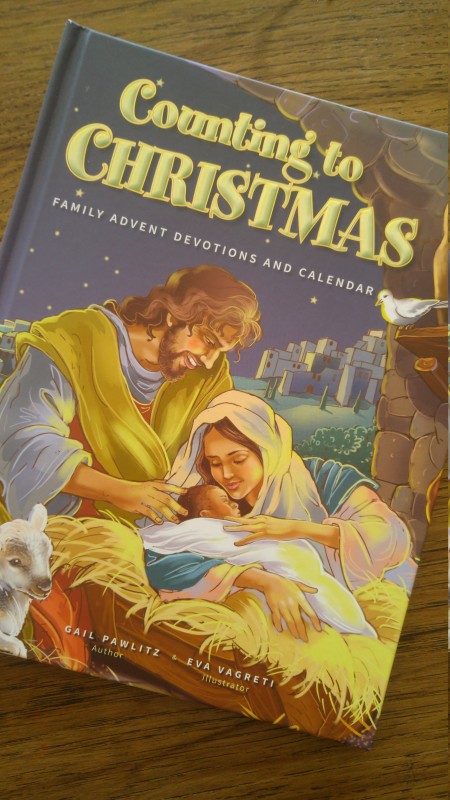 This year I bought this family Advent devotional book to use during our morning Bible Times before school.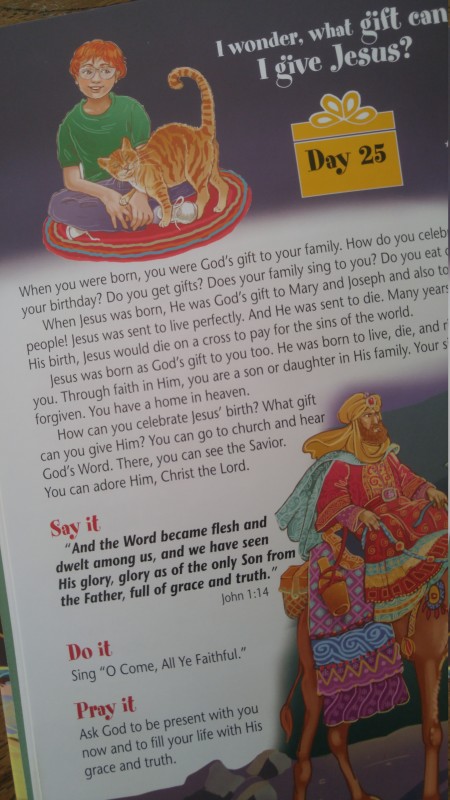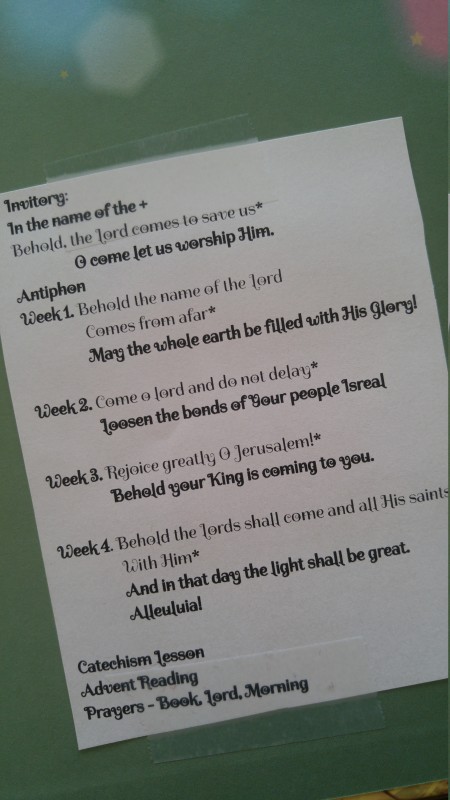 We usually follow Morning Prayers in our Lutheran Service Book but I wrote up a short service to follow through Advent using the Antiphons from Treasury of Daily Prayer. I included catechesis and our daily prayers as well. I like the short writings from this book. They're very simple and provide good conversation starters to expand the lessons if you have the time.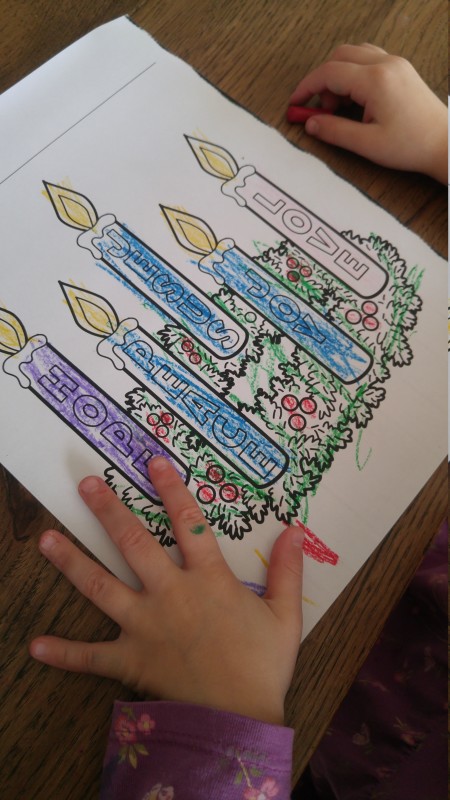 We've had some funsie Advent crafting. We aren't sticklers for candle color, "Purple? Blue? It's up to you!"
And speaking of Blue. This is the first year I've used the Blue candles at home. Both of the churches Phil has been called to use this color instead of Purple during Advent. Our altar paraments and wreath candles are blue at church. I purposely used red in our wreath at home one year. I like teaching the babies that there isn't one color we must use, that there are differences in this practice and that is ok.
But this year I wanted the Blue for our family Bible Time wreath. I had read many of the American churches with Scandinavian backgrounds went with blue during Advent and I'd read of the connection to Mary blue has as it is her traditionally liturgical color, but I also came across this explanation for the color:
"Deep blue is the color of the clear, predawn sky, the color that covers the earth in the hours before the sun rises in the east.  Most of us are not looking at the sky at that hour – perhaps we're still asleep, or too weary to notice it as we get onto the Metro or hop into our car for a long commute.  Nonetheless, a deep, dark blue is the color that covers us in the dark, cold hours before the sun dawns.

Thus we use deep blue for Advent to shade the season with a hint of expectation and anticipation of the dawn of Christ. 

The deep blue of Advent is meant to inspire in us the hope of faith, and to encourage us to keep watch for the promised light of Christ to break over the horizon, changing night into day, darkness into light, and filling our lives and our world with a holy and righteous splendor." source
After the Fall I've had dealing with sickness of the body and mind I have a new appreciation for the Dawn. The nights of not sleeping were long, morning was always such a welcomed sight. I have felt that with newborn babies as well. You just wanted to get through the night, the hope of a new day was such a comfort.
So this Advent I was happy to have our Blue candles reminding me of the Great Dawn to come.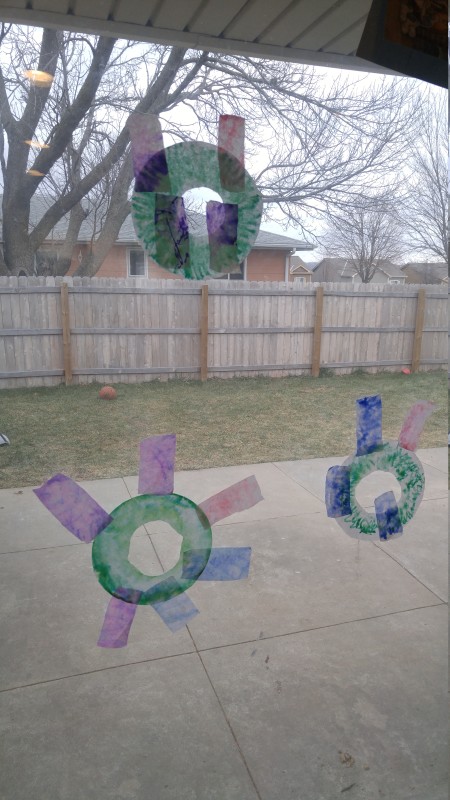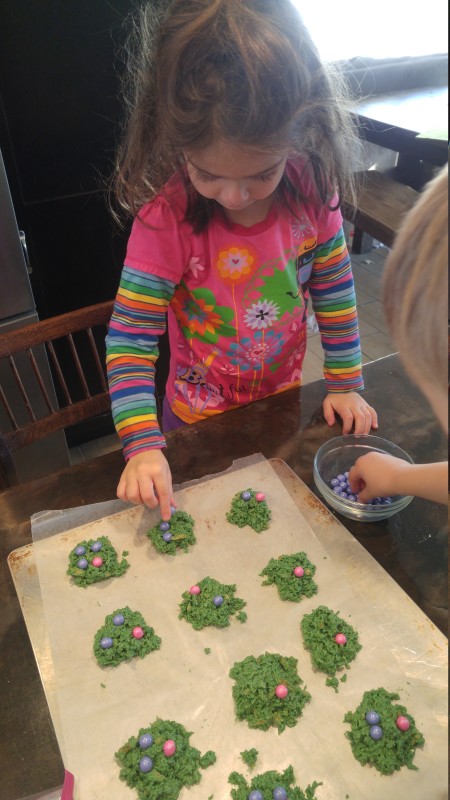 Advent Wreath No-Bake Cookies!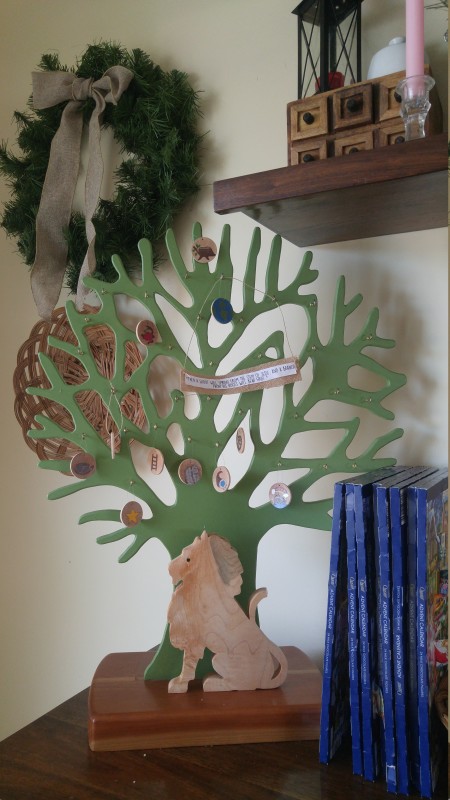 And I'm happy we've done so well with our Jesse Tree this year. I love that we've been able to have Evening Bible Times together for much of the month.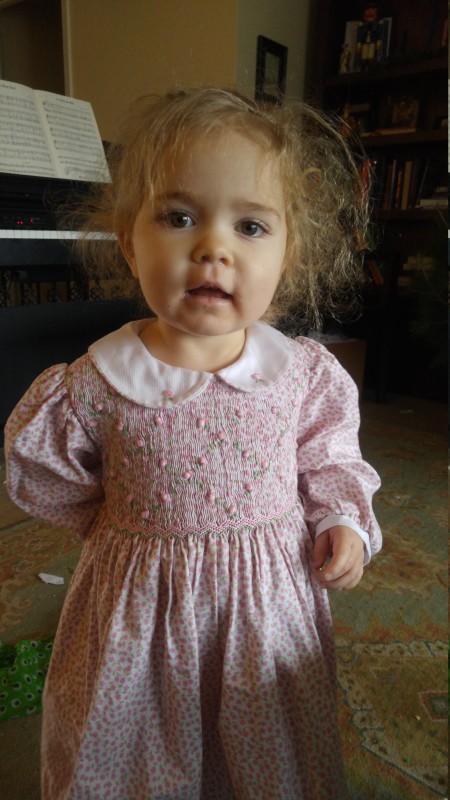 For Gaudete Sunday the babies wear Pink. I think we all feel a bit run ragged at this point. It really does not take many social obligations for me to start to feel strained and pulled. This month always is rough with so much going on.
But this is the Sunday to Rejoice for our King is coming to us.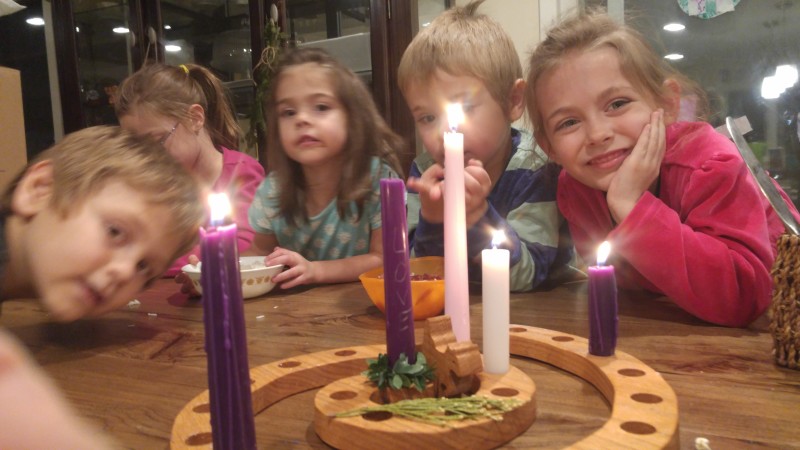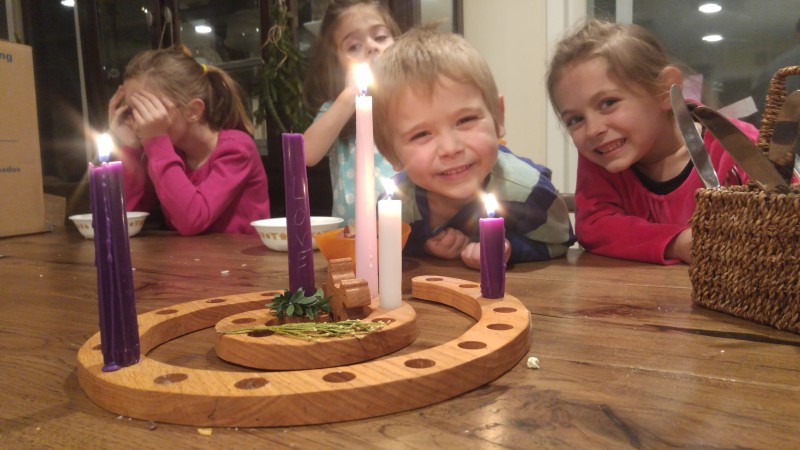 We near Christmas and we are one day closer to our Lord's promised return! Blessed Advent to you all!
 "Therefore stay awake—for you do not know when the master of the house will come, in the evening, or at midnight, or when the rooster crows, or in the morning— lest he come suddenly and find you asleep. And what I say to you I say to all: Stay awake."