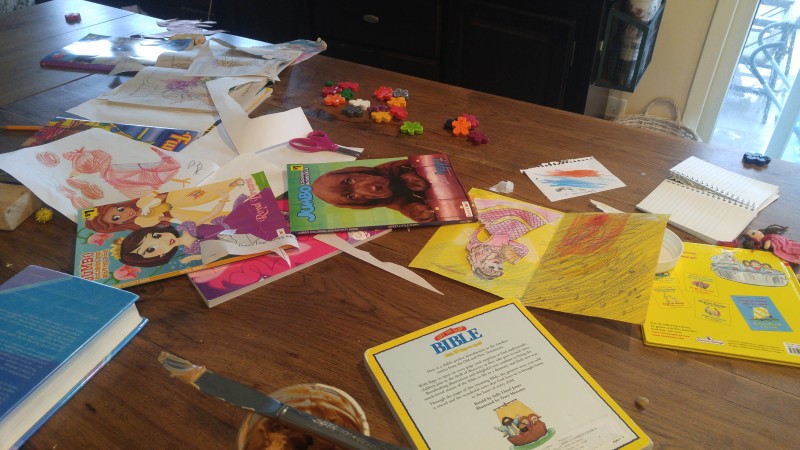 For the entire Hearth and Home Series click HERE.
Arts and Crafts
My babies have always liked making big messes art. They color and cut and glue and tape and tie all day. At one point in our family life I did more Mom led crafts with the kids. But once they started Preschool and were able to paint and paste at school I was relieved to not have to try to squeeze it into our day. More babies has a way of reordering priorities that way, but it also can make you sad that you aren't able to keep providing some of the "FUN" things for the younger children as you once did.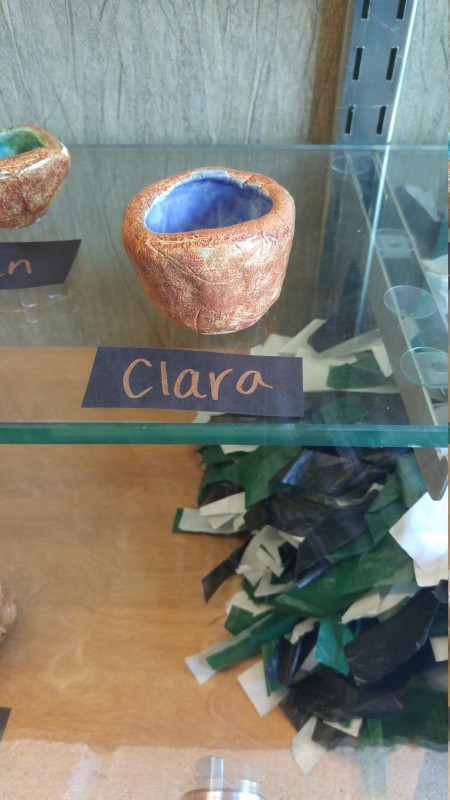 So I let most of the mom led arts and crafting go to school. Now that the 3 oldest babies are getting into bigger grades at school it has been so fun to see what they are painting, what artists they are learning about and what kind of materials they are getting to use there.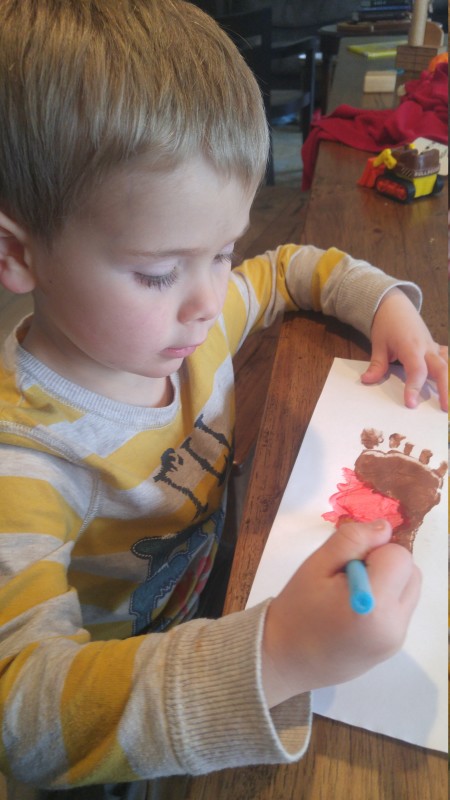 I still do some organized crafts on occasion, but with some of the kids getting older they usually come up with their own art projects. I just provide the supplies for them to use as they need or have gifted "How to Draw" books. Trying to give them inspiration to learn to better their skills.
The supplies has been an ongoing bane of mine. How to put art supplies where some kids can reach it on their own and where some other kids, like the TODDLERS, can't get to it on their own. It's something I'm always tweaking.
For now we have supplies in a closet in the hall in various containers and baskets. Y'all. Will you look at this Crap Town! (Sorry I just said Crap Mama.) It's been on my "To Clean out and Reorganize" list since we moved into this house…you see how that's gone.
Anyway, at least we can close the doors on this mess.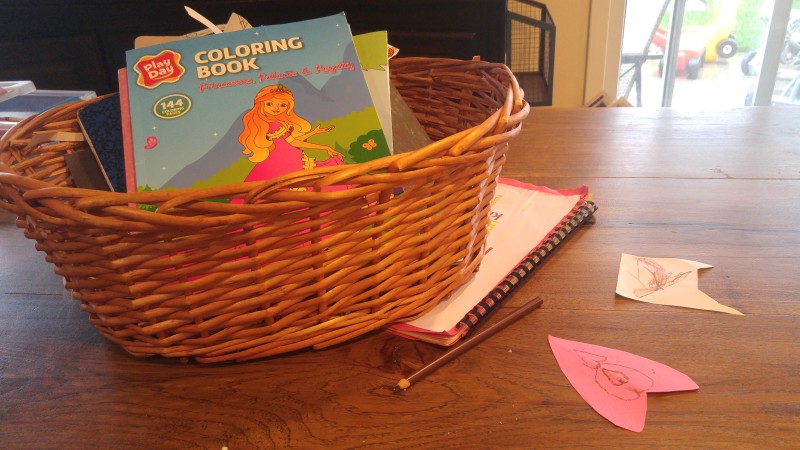 I also keep a large basket or box on the kitchen table so whatever is laying around there can be picked up quickly as meal time approaches.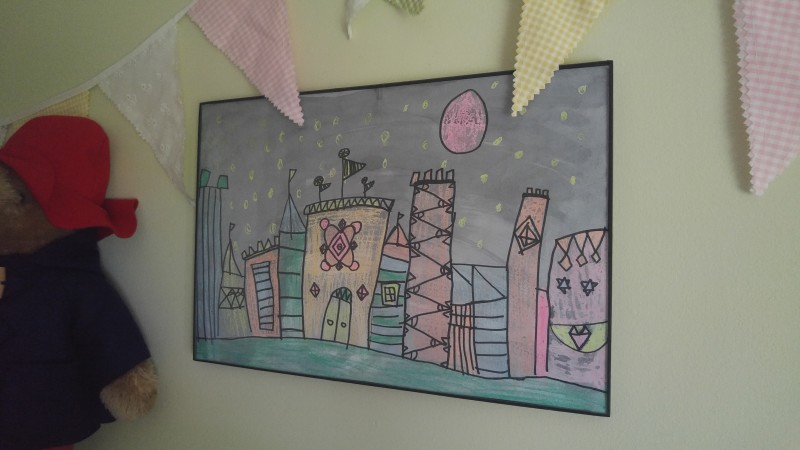 I like to expose the kids to the greater arts. The real deal artwork. This can be as simple as a book with good illustrations or framing a postcard of beautiful art and putting it on their eye level in the house or getting to a museum….dreamy.
I love this drawing Clara made in her first grade art class. It hangs in our nursery. I'm collecting all the artwork coming home from school and buying frames here and there to eventually make a gallery wall in our downstairs family room. I want the kids to be proud of their work and enjoy each others work as well.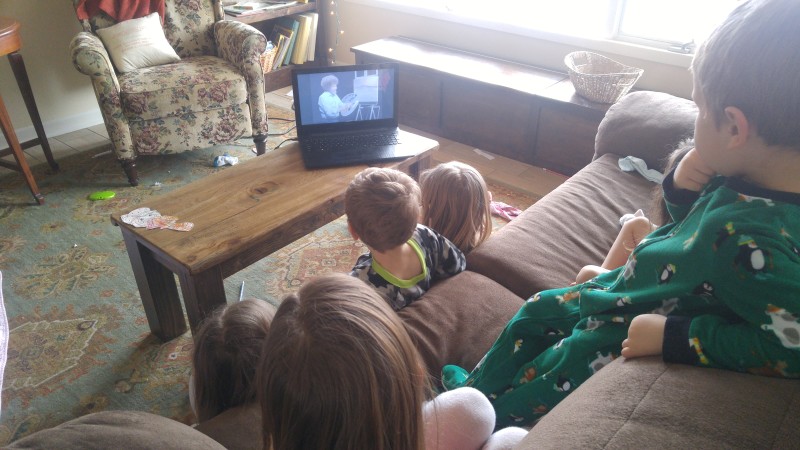 Oh and the babies do loooove them some Bob Ross.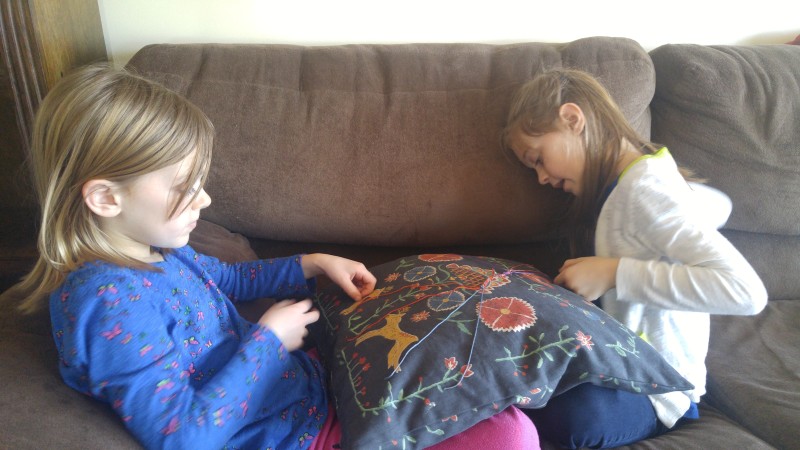 I have also introduced them to some embroidery stitching and making those fun friendship bracelets. I don't have much experience with embroidery myself so it's pretty wobbly and slow as we all learn together. But I'd like to do more of this kind of quiet activity in the future.
Eventually it would be fun to show them how to knit a little. I can only make scarves and dish cloths but we could just sit around making a bunch of rags. Sounds nice. This activity does require more from me as far as brain function, patience and baby/toddler free time to focus on helping the older kids with their craft. So far that's been like asking the stars to align.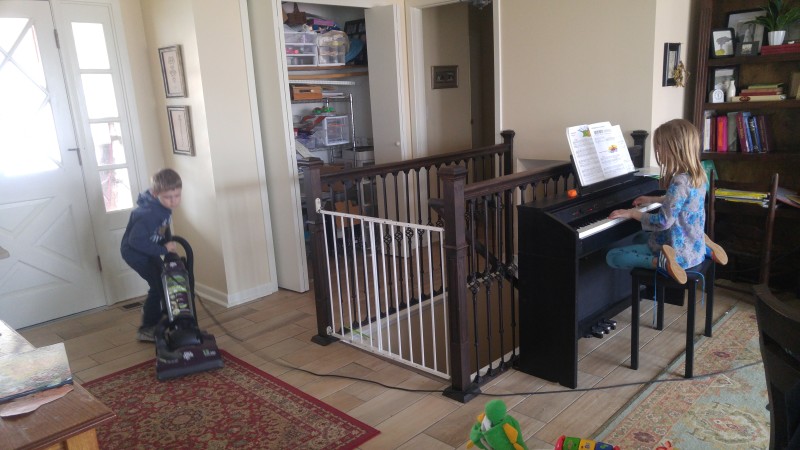 Music
I have always desired that my children will have some kind of experience in learning musical instruments. At least 3 years of piano was my goal and after that they could continue with it or move to another kind of instrument.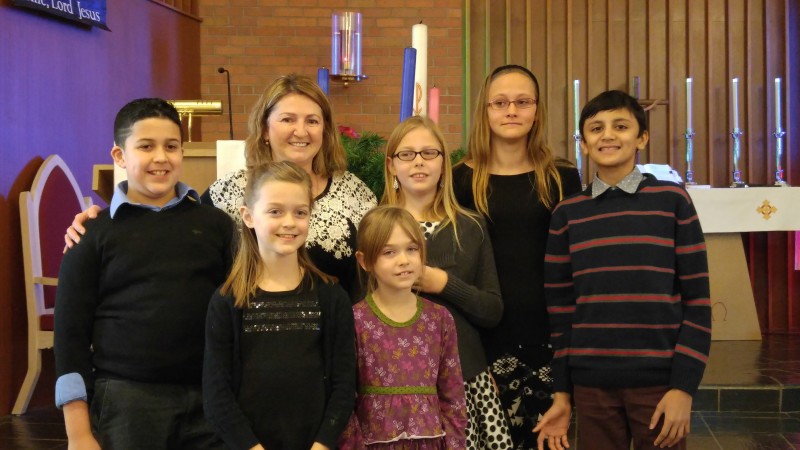 Lily and Clara are in their second year of piano lessons. They have progressed well. We hope to start Esther and Gerhardt next school year as well.
I finally found some of my old piano music and attempted to plod through it recently. Perhaps if the babies see Mama having fun with the piano or guitar they will want to continue with making their own music. In our public school the children can choose to participate in Strings or Band once they enter the 4th grade. Lily will begin Strings next year. I look forward to seeing how she likes that.
Also coming up for Lily and Clara is a trip to the Omaha Symphony. This year they are featuring Mahler, who although he isn't a favorite of mine, I hope the girls will enjoy seeing a professional orchestra and hearing the sounds that come forth!
And of course music in our home is important and just a natural part of our life. I typically have some kind of music playing all the time…well, unless the noise of family is just too much.
We like to listen to Bach and Bon Jovi, Wolfgang Amadeus and Weird Al, Dylan and Denver, Soundtracks and Sinatra. And hymns. Especially on Sunday morning before church. This has always been my way of letting the babies know it's Sunday even before they can ask me.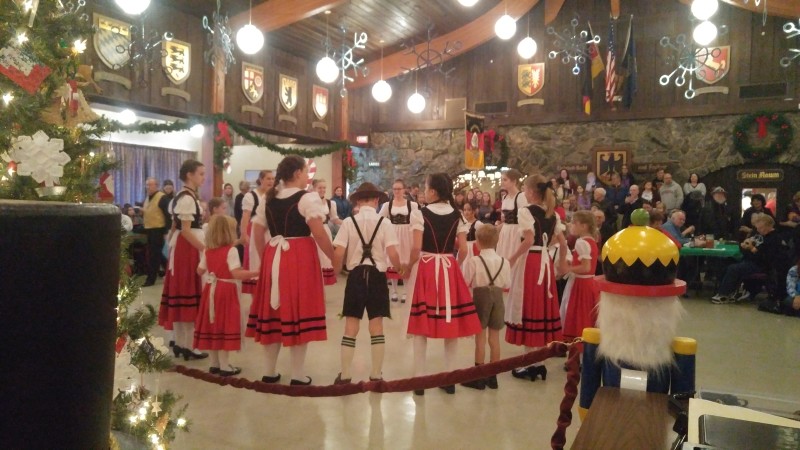 Dance
We have participated in the art of dance for about a year and a half through the Heimet Tanzer group at the German American Society. Seriously, watching these kids in their traditional costumes twirl and march around to German folk music makes me giddy. They're so cute and I'm happy to have them learn partner style dancing, learning to cooperate and follow steps. I like that partner dancing is one last frontier of male and female roles in society. The dances are mostly male led and emphasize some aspect of community life. (Though with the kids group there aren't enough boys, so girls do dance male…hmmm.)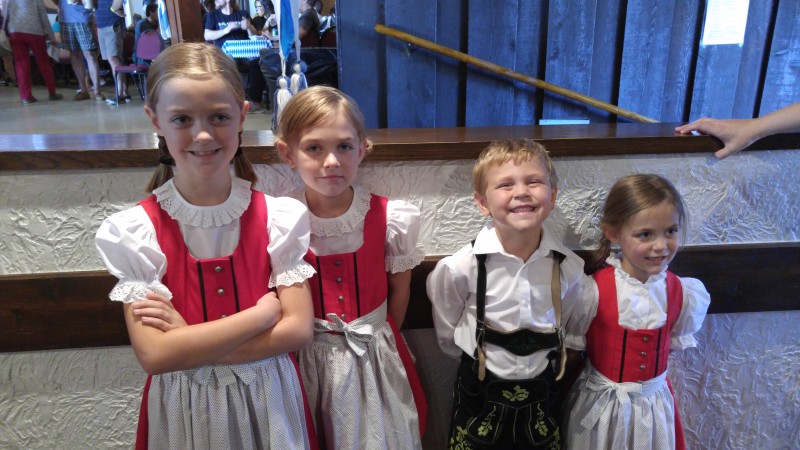 I like that the kids are, for a short time, taken out of this culture and plopped into another one far away. They are doing something hard, actually getting up in front of a huge crowd and dancing! I think they have fun too. And hey, it's also some exercise! Everybody wins.
So that's how the Finer Arts are fitting into our family life right now.