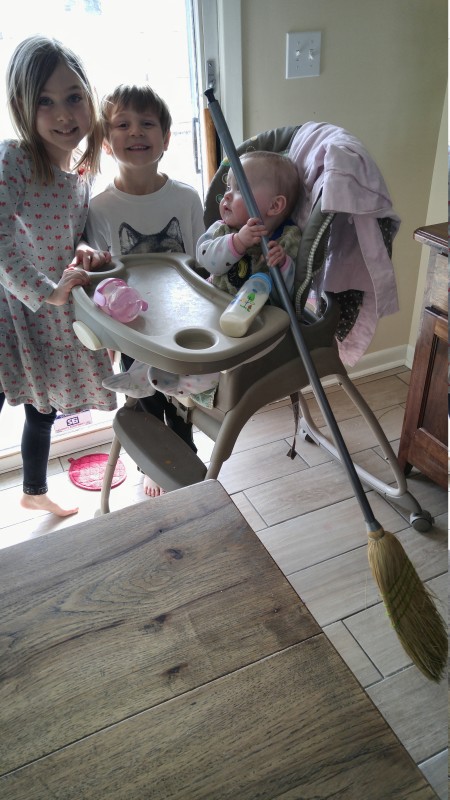 We saw pretty early on the importance of having our babies help clean house.  It's not only helpful for me and for one another, but teaching my babies to clean up is providing them with some pretty valuable life skills. It's a lot of work to take care of a home and a family. I want them to know they are a part of that good work.
It starts small of course when they are tiny. Giving them little jobs to show them how to "be helpers." And as with all things in our family, waxes and wanes depending on the phases of life. But now that I'm getting some bigger kids the small jobs are getting bigger too. It's so nice to see.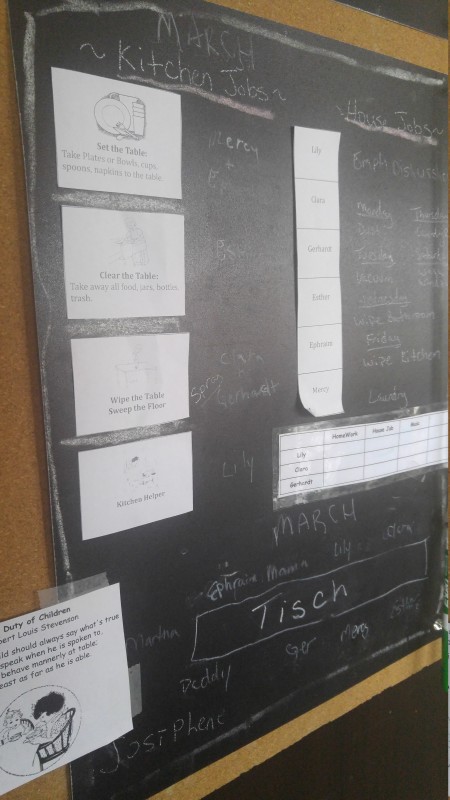 I keep a chalk board in the kitchen with the Jobs the babies are responsible for. It's not the easiest thing to write on and it changes often so excuse the mess of it!
There are 2 categories, Kitchen Jobs and House Jobs. Kitchen Jobs change Monthly. House Jobs they keep for 6 months at a time. My hope is that they'll get pretty good at a job if they do it that long.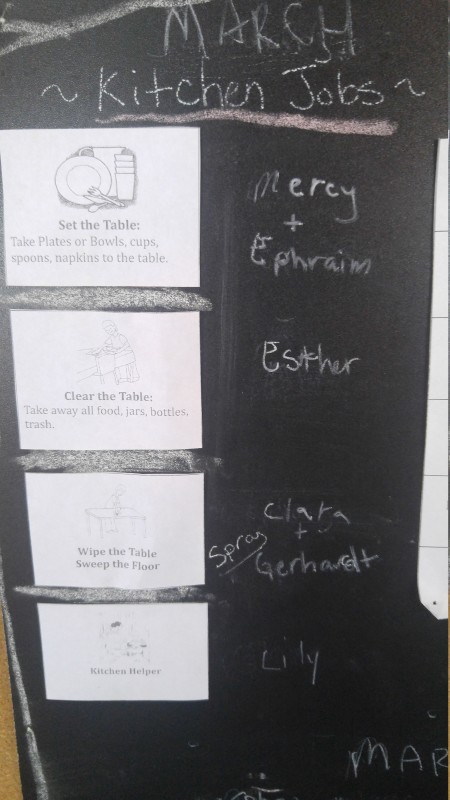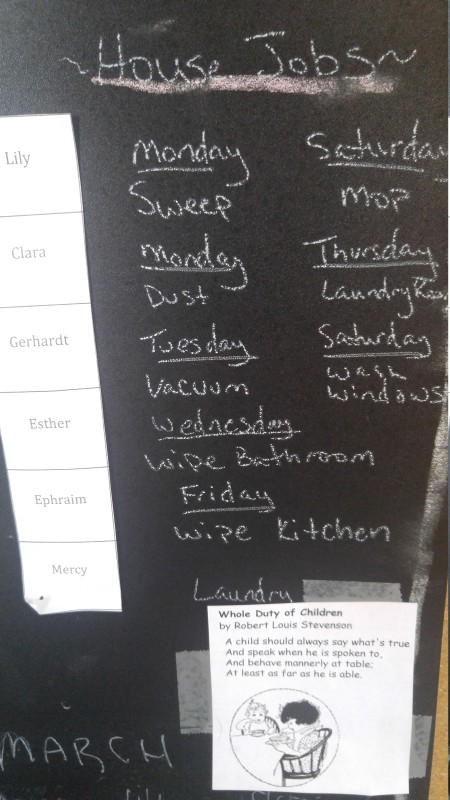 I also keep a Table Chart or Seating Chart so we don't have fussing over who gets to sit by Mama. That changes monthly, we just rotate around the table. Again, sorry it's a mess.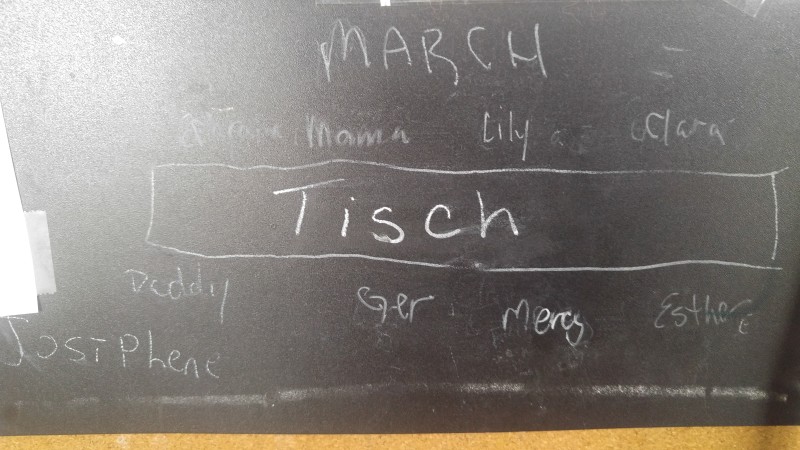 I decided that I could only oversee ONE job and ONE kid at a time. We don't have ONE chore time where we all do our jobs at the same time. I can't handle that. So each afternoon or morning (depending on which child) I direct one baby to the chart and have them do their job for the week.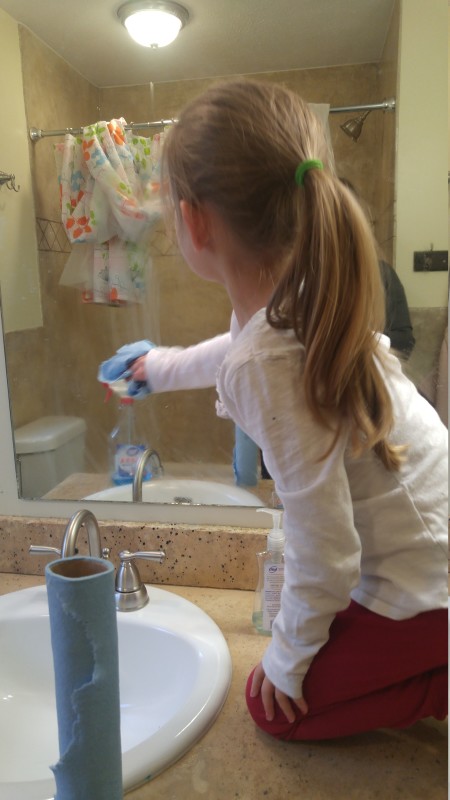 The big kids have a little chart they check when they come home from school. If they have a job that day they do it after school, if they have homework they do that and the girls need to have a few minutes at the piano. They can mark off the jobs they accomplish if they have any that day.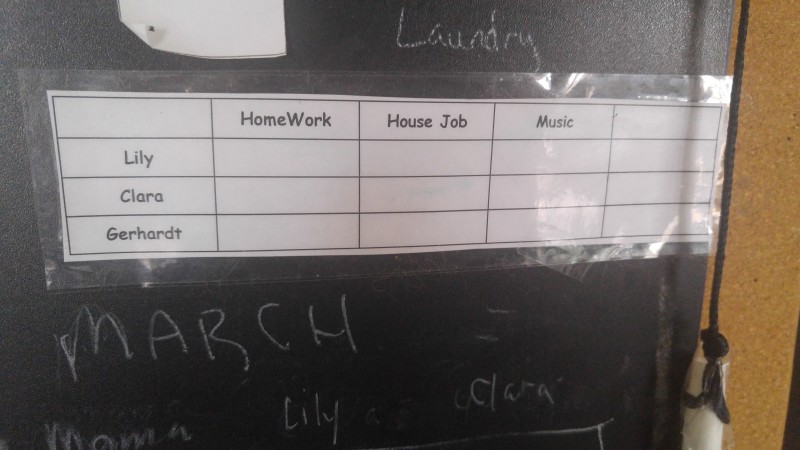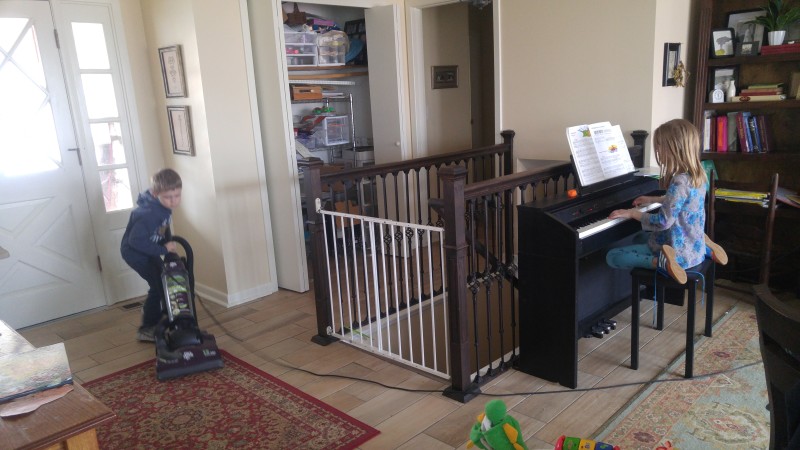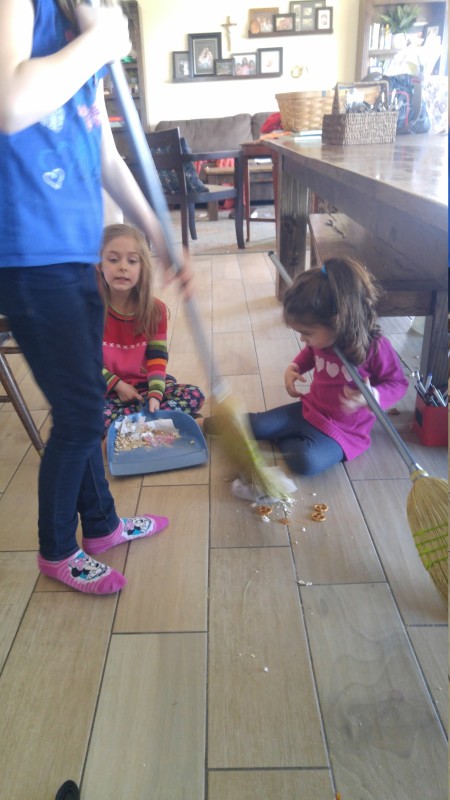 Years ago I sat down with all the work that needed to be done to keep the house clean. I then divided them up into categories of Daily, Weekly, Monthly and Quarterly. When I was deep in the trenches of pregnancy and several little babies this really was helpful to have just one Weekly Job to accomplish on a day in addition to the Daily Jobs. I didn't feel as overwhelmed by ALL of it at once that way.
I find this is still pretty much the schedule I follow but now I can give some of the Weekly Jobs to kiddos. AND I'm not WASHING DIAPERS anymore! Yaaayyy!
*Note, there are days I don't get to a task or just say "Eh, I'll do it next week." I can do that, I'm the Mama.
Daily:
Laundry – Washing, Folding, Putting Away
Sweep and wipe table – each meal
Dishes – ALL DAY
Tidy up living room
Weekly:
Sunday
Monday
Tuesday
Wednesday
Thursday
Friday
Saturday
Menu Plan
1-2 Monthly Tasks
*Mop Kitchen
Children's Bathroom
Other Bathrooms
Kitchen Wipedown
Straighten our room
 Pickup Downstairs
*moveable job,mostly done when we expect company.
Dust
Change all sheets
 Master Bathroom
 Mud/Laundry Room
 Clean Microwave
Straighten nursery
 Vacuum Livingroom
 Windows, Mopping
 Monthly:
Organize something; Laundry room, Pantry, Craft closet, Plastic Ware. Clean Porches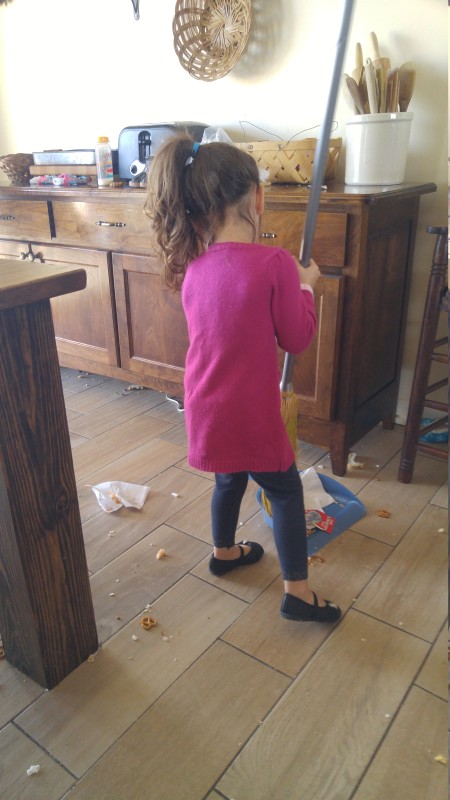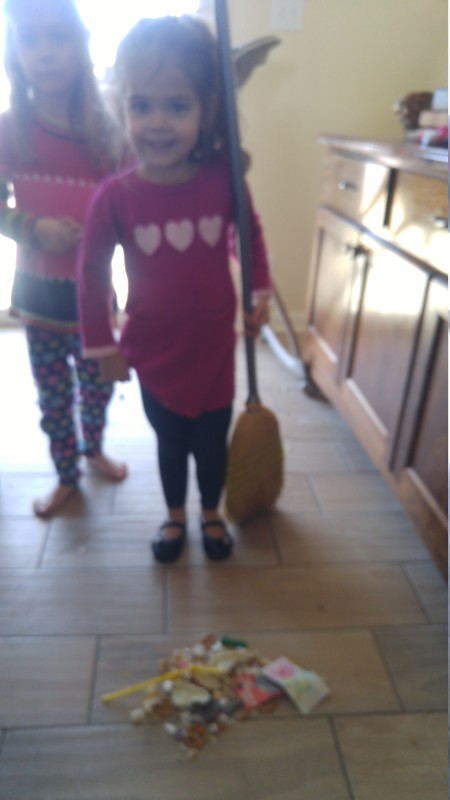 Adjustments get made and this will change as children grow. I've already changed Lily's house job since I started this post! She's in charge of emptying the dishwasher everyday after school.
But overall this is working well, or works well when we employ it. If we haven't used the schedule we go on a massive weekly cleaning rampages. That works too.