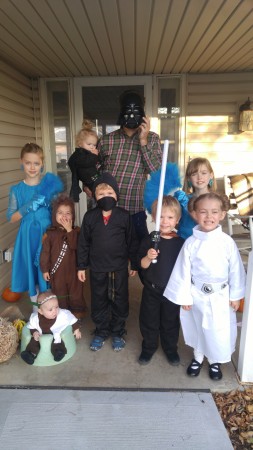 Happy Hale-O-Ween from us!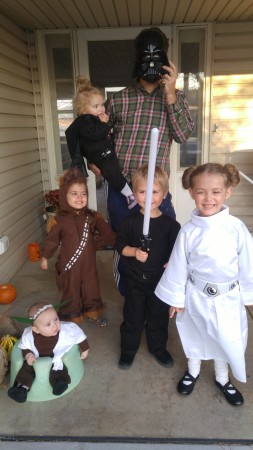 The Star Wars bunch.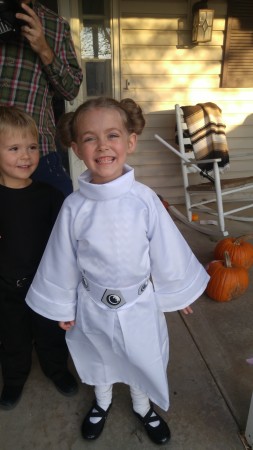 The Princess of course. And an homage to my 6 year old self who dressed up as Princes Leia one Halloween way back in 1980 something. I was very proud of the hair buns. Just cut some old Ephraim socks and rolled her hair all in it. Easy and perfect!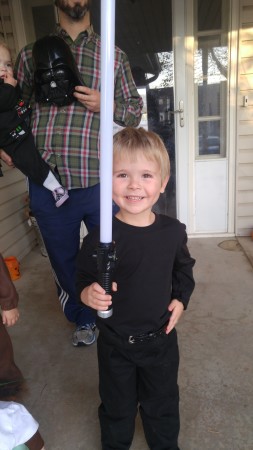 Dark Side Luke. Ephraim was originally going to be a Ninja with Gerhardt, but it was going to require a bit to much ingenuity on my part to get a head and face covering going. So we went to the Dark Side. One light saber later and we gotta legit Skywalker!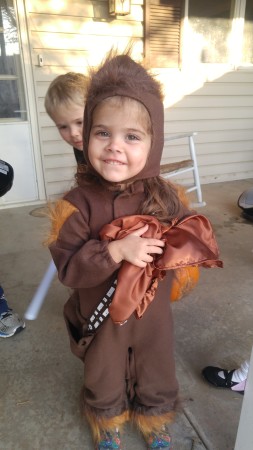 The Hairball! Of course Mercy was gonna have to be Chewbacca right? I mean she's practically half Wookie anyway.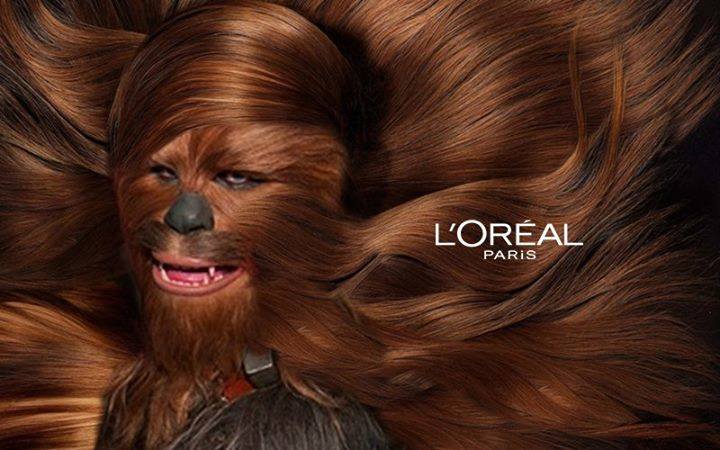 You know it's true.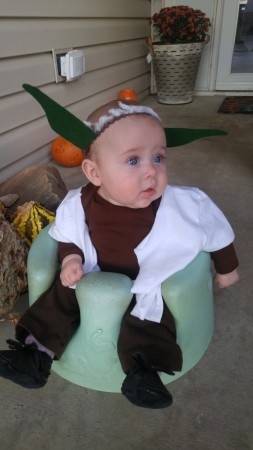 Then there's baby Yoda or "Joda" as we called her. Josephine wins the prize for "The only costume Mama made" this year. Well, half made I guess. I got crafty and made an ear headband and I cut a white t-shirt. She's easy to please.
I've never done store bought costumes (unless they were given to us) but cost wise it ended up being about the same amount after you buy supplies and so much easier for me. I'm not sure what we'll do next year since I don't like spending too much on costumes. I could just turn everyone loose in Goodwill and see what they come up with!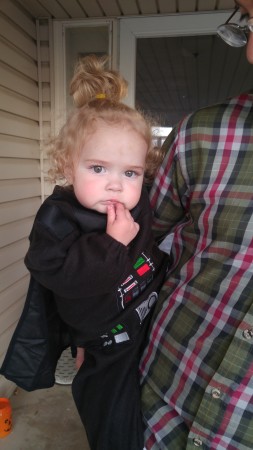 And the one who started the whole Star Wars Halloween craze in Mama's head. Our little "Marth-Vader."
Daddy's called her that most her life. It makes me laugh so, a Vader was born. Also in contention for the win this year was the Stay Puft Marth-Mallow. There's always next year.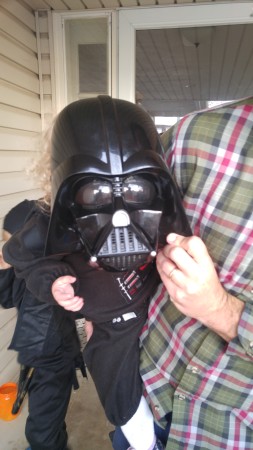 I am your father!
And pictured behind the Dark Lord is our sole Ninja Gerhardt who was so Ninja-rific I couldn't capture him on camera!
Ladies and Gentlemen, the Hayne's Sisters!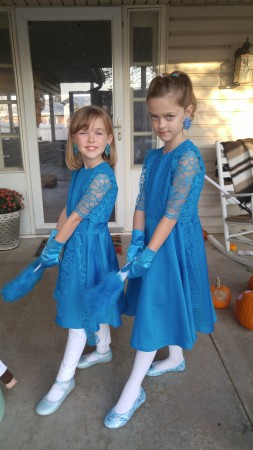 You know you wanna sing it now. "Sisters, sisters." My mom absolutely nailed these costumes! I told her my idea and she got to it. I did make some earrings out of stickers and glitter and I painted Lily's shoes blue, but I would never have been able to capture the essence of the Haynes Sisters without my Mama!
The Sisters song and scene from White Christmas is one with an ancient history in my family. Ok, sorry, not ancient. But it's got a long history at least.
My Mama and her three sisters made this song a part of every get together they've ever had probably since the 1970s. I grew up hearing it a lot and of course if we were in Alabama around Christmas time you could bet there would be a gathering of the sisters for a viewing of White Christmas.
I can't remember when it was or why, but when these two sisters were tiny I played this song and they watched it. And around here, the rest is….more history. It never gets old to them, they've been singing it, or trying to, for several years now so I knew it was the year to make their dream come true and turn them into The Haynes Sisters!
And, there will be a viewing of White Christmas at our house this year come December. They've already made that clear to me!
So that's the costumes. Now for the Candy.
I arranged with the Waller family at our church to get together with their bunch for trick-or-treating. Because I wasn't familiar with the brand new neighborhoods near us and because I knew no one would be coming to the parsonage to get candy (since we live in a parking lot) I wanted to have fun with some veterans in their time tested older neighborhood.
This family is serious about Halloween or they were in days past. Out of their 6 children, 4 are grown now but they were happy to have 8 more excuses to get out on a beautiful night and knock doors!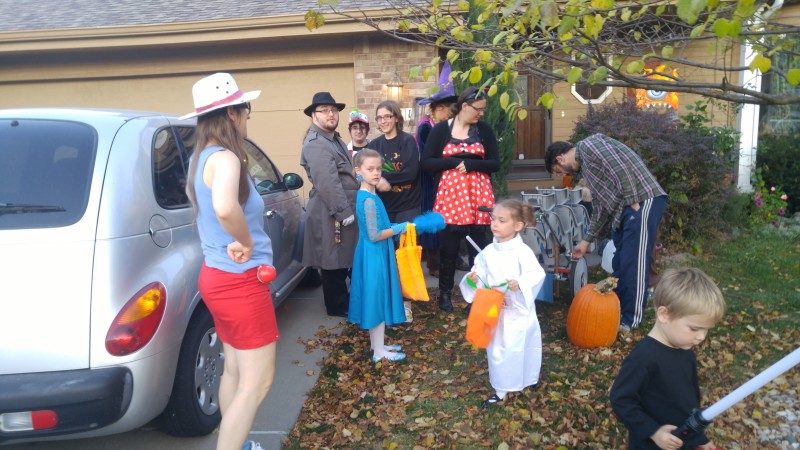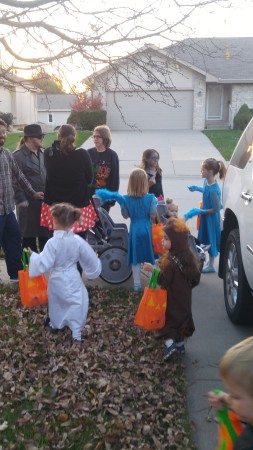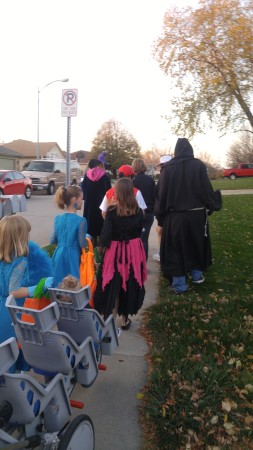 We were quite the motley crew walking down these streets!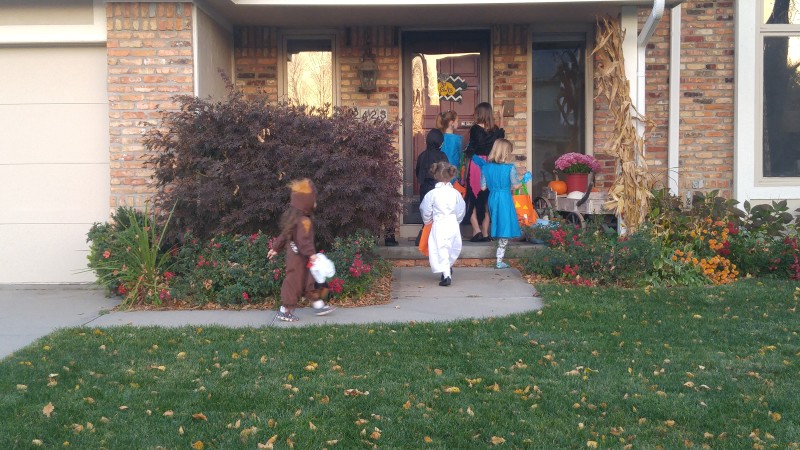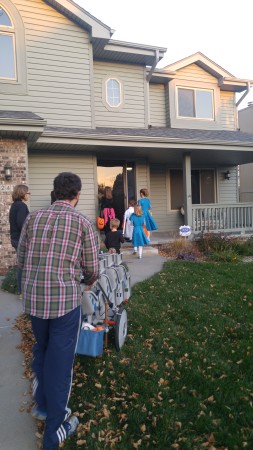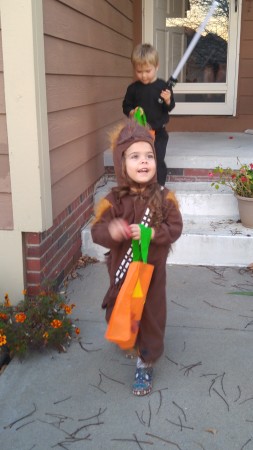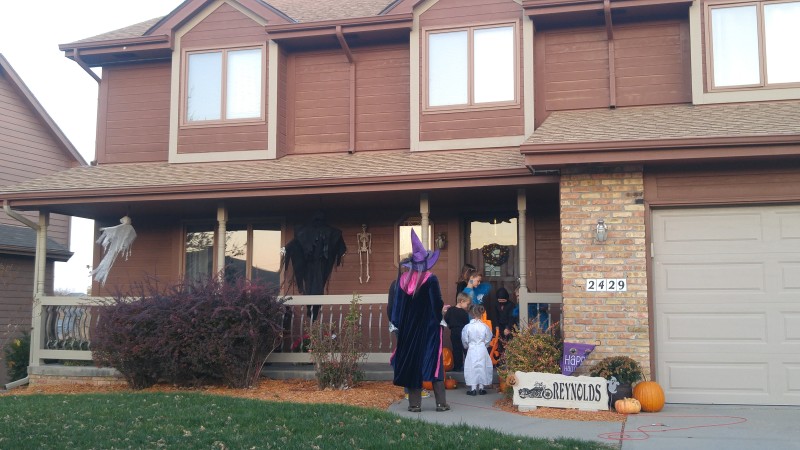 See? The Waller Mama being serious about Trick-or-treating!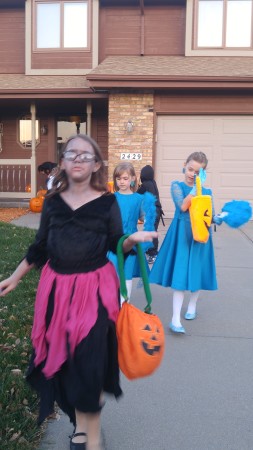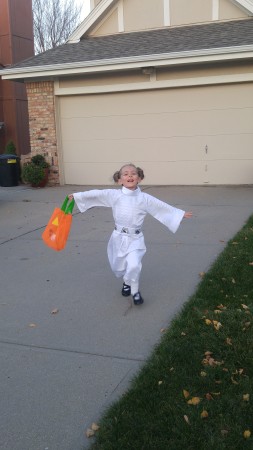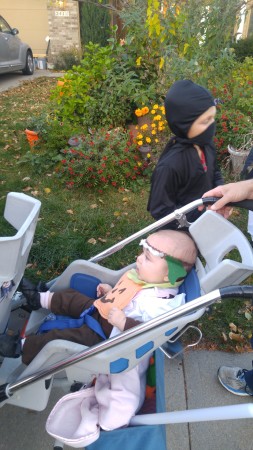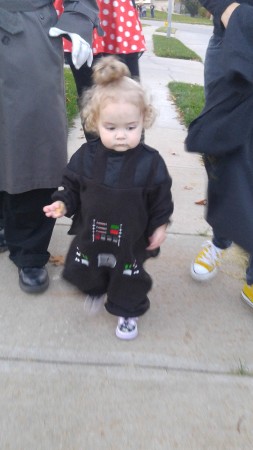 The Marth Vader exited the stroller for a few steps with her entourage.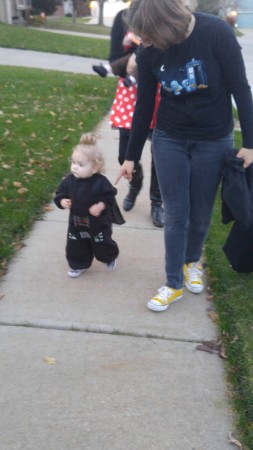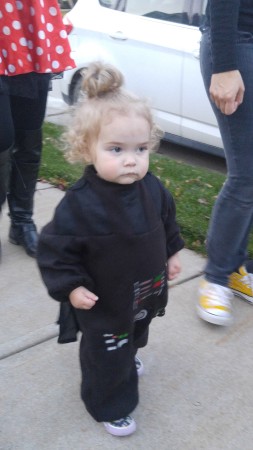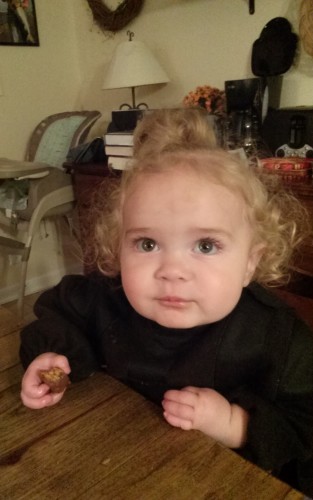 But she was happiest back at home, with chocolate.
And aren't we all?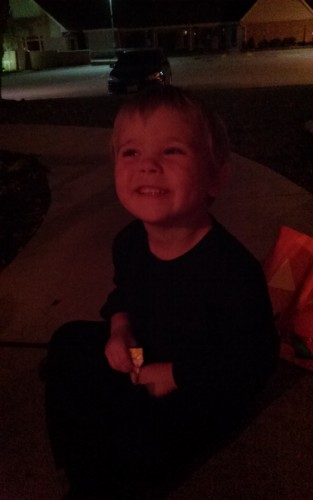 Daddy dropped off the littles and headed back out with the bigs to hit some of our other friends houses around town.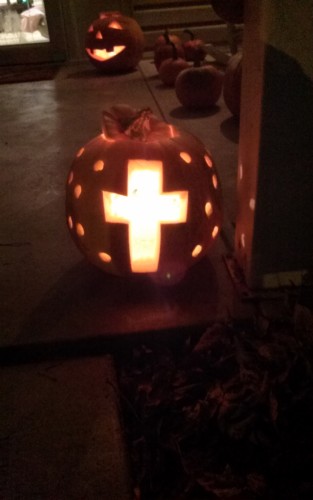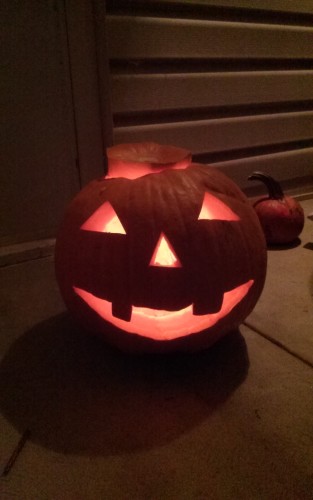 Halloween 2016 in the bag.