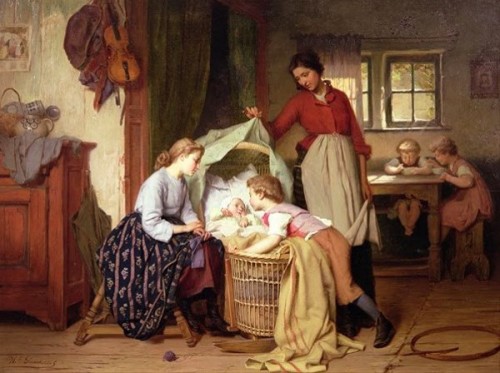 My sweet friend Carrie recently emailed me with this question:
Suppose I know a couple who is expecting their 8th baby, a precious baby girl. Suppose this couple already has 5 baby girls. I know from experience of 3 boys that some baby items could be replaced after being used so many times already. I also know there are always new fun baby items that someone may want. Do you have any suggestions on what we can get this couple?
Boy she stirred a pot! I started a response to her with a few ideas, then added a few more. My list became longer than I thought it would be. Then it occurred to me.
Really, after 5 babies a Mama should just get another Baby Shower. By this point, it's a good time for a "Out with the OLD, in with the NEW!" Or at least a good time to donate your gently used for some brand new.
Because I had fun with this I turned to a Facebook group I'm in with many other mamas who have lots of children. I posed a similar question to them and enjoyed reading their responses.
So, if one were wanting to get something for an 8th baby (or a 4th, 6th or 11th baby) here are some suggestions for you!
Also for the record. It's true, babies don't really need much and it's a good habit to live with less. But here are some things to consider:
A. There are items that after 4 or 5 or more children have used do tend to wear out.
B. Babies are born in different seasons, perhaps from any of their siblings.
C. There might be something the Mama did fine without for 6 babies but wanted and now she feels it's time to treat herself to it…or let someone else treat her to it!
D. Every baby needs to be celebrated. (And sure, you don't need stuff for that.)
Ok, now the stuff list I came up with.
1. A few new outfits cuz, see A and B above. Also in bigger sizes for when this baby grows!
2. A new diaper bag. Again, see A.
3. A few new bibs and burp cloths.
4. Diapers and wipes!
5. And if they cloth diaper maybe some new ones for their tired old stash.
6. I go back and forth on baby toys but I was glad to get a few new ones when Martha was born.
7. A new blanket. Each of my babies have their own fuzzy blankie they sleep with. My mom or aunt get a new one for each baby. So nice. See D.
8. Swaddling blankies like these. See D again.
9. New pacifiers.
And a few other things. These are the bigger items you usually get with your first baby but by the 8th might need replacing.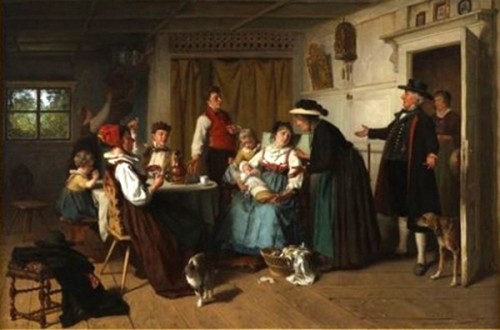 10. A new high chair. Mercy burned a hole in the tray of the one we had. No one should be surprised by that.
11. A bouncer. We've had several and one is still going strong. The others have gotten bent…big kids like bouncers too you should know.
12. A bumbo. This might be a C kind of item or an A. Mine is pretty A, grubby that won't come clean but still very much in use!
13. A baby carrier. After Mercy was born we finally splurged and got a really nice carrier. I'd survived alright without it, but it has been a great help!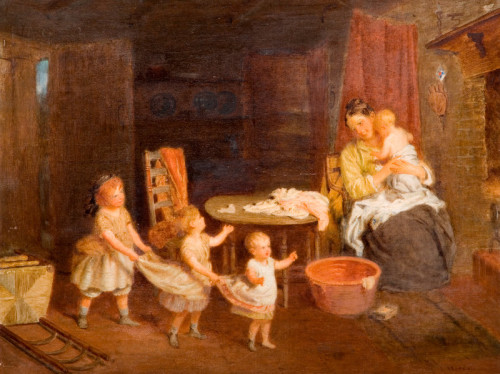 Now a list I put together based on my Facebook responses. In no particular order.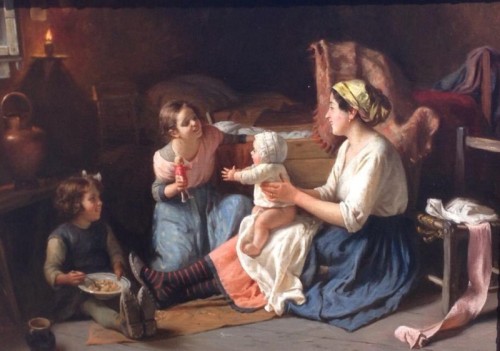 1. Carseat. I've added this to my list too. That whole "expire" thing that "THEY" put on carseats is ridiculous but we were told after Martha's birth by a nurse that she had to inform us that it was not safe to take our baby home in the 7 year old one we had. Thankfully there was no hassling.
2. Stroller.
3. A new ring-sling.
4. A triple-bunk bed.
5. A bigger refrigerator.
6. A high-capacity washer/dryer.
7. Laundry soap.
8. Grocery delivery service.
9. Pay for a month of Netflix.
10. Coffee creamer and a friend to share it with.
11. A new swing.
12 A membership to Amazon Prime because that two day delivery is amazing the first few months.
13.Velcro shoes for the next couple smallest kids.
14. A gift card to a place that sells good nursing bras.
15. A tablet or e-reader if she doesn't have one (with a $10 gift card loaded on for apps).
16. Taking younger kids for an hour or two so they can make noise and play without waking sleeping mommy and baby.
17. A stash of paper products, plates, bowls, napkins – no guilt/no expense easier life for a few days.
18. Season-appropriate baby pajamas.
19. Baby shampoo from Honest Co.
20. New crib sheets.
21. New baby socks.
22. Gift cards to Walmart.
23. Gift cards to Amazon.
24. A pack n play.
Well there you have it. Ideas for gifts for an 8th baby from Mamas who've been there done that several times.
Ok, since I mentioned it to my Mama and she thought it was a good idea, I made a Target Baby Registry. Fun! It's been a long time since I did that! 😀
Anything to add to this list? I'd love to hear any of your ideas!
Image 1, The Newborn Child Theodore Gerard
Image 2, Grandparents Visit Theodore Gerard
Image 3, The Bath John Morgan