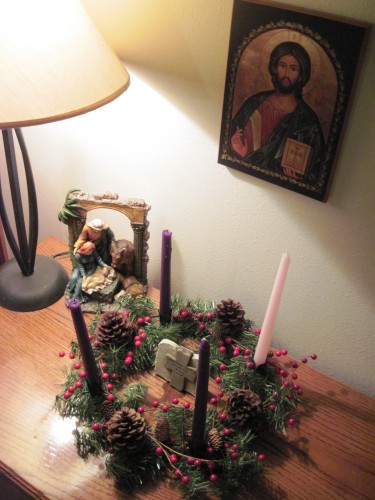 *Sorry about the spacing on this post, I couldn't fix it! I'm sure I'm the only one that gets annoyed by post spacing….
Advent is quickly approaching! As I begin to plan what our family will be doing I thought I'd share what we have done in the past, activities which are becoming our traditions.
I'm one of those people who really want to start pumping out the Christmas carols as soon as Halloween is over. To be honest, I'm also tempted to blast them in June. So holding off on Christmas while it's still Advent is very hard for me but every year I make it a goal of mine to wait. I find that waiting is hard but fitting.
We are reminded in Advent of how we are waiting for Christ's return. We are waiting through Advent to celebrate our Savior's birth on Christmas Day. And isn't the Feast always much more rewarding after a Fast? My putting off Christmas until the actual season is a kind of fast for me.
Putting off the Christmas celebration is made even more difficult once my family and I step out of the door. Our school has its Christmas program in early December, my children bring home their Christmas crafts from school throughout Advent and of course every house around us is completely decked out in Christmas finery.
So how do we "keep Advent" in our family?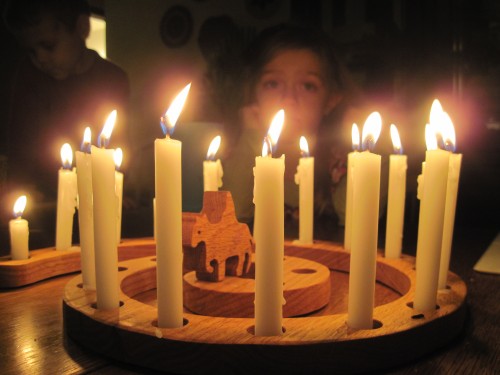 By teaching, by waiting and though we can't control what happens outside our home, we simply try to fast from the festivities within the walls of our home.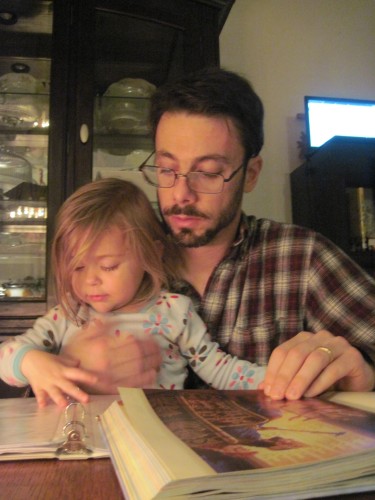 We teach our children about Advent, explaining to them that it isn't Christmas yet and pointing them to why the Church instituted this particular season of waiting for Christ's coming.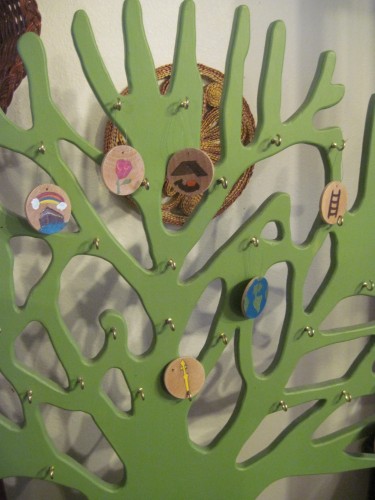 We use an Advent wreath with our evening meal. Each child takes a turn lighting the appropriate candles before the meal begins and we sing a verse of O Come O Come Emmanuel. After our meal we have a family devotion using a
Jesse Tree
and a
spiral wreath
marking our way through Advent. This allows the children to see how close we are getting to Christmas.
During Advent the Church also remembers certain saints. Our family has a lot of fun celebrating these days,
St. Nicholas
(Dec. 6) and
St. Lucy
(Dec. 13).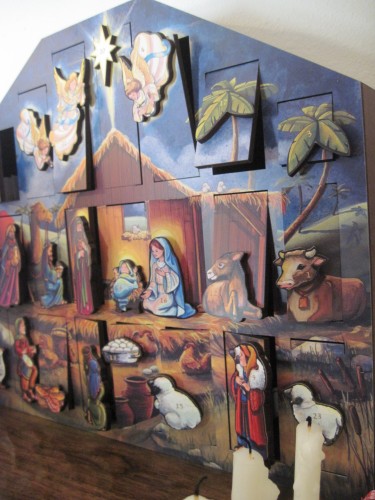 We also use an Advent Calendar that they can open each morning for a small treat. I will add a few seasonal decorations to our home slowly throughout the season. I put out Nativity sets without baby Jesus and we listen to all
the wonderful Advent hymns we have in the church
.
I want to add, I wasn't married until I turned 30 so I celebrated several Advent seasons before I had a family of my own. I actually did pretty much all of the same things. It seemed silly I'll admit, but I did use an Advent wreath just for myself! I loved it. I attended Advent services, waited on the Christmas carols as long as I could and used an Advent devotional book during those weeks.
But it is good to remember that with all of these things we are free to enjoy the Seasons of the Church in any way we choose and to "break the rules" if we like. These seasons are wonderful for instructing our children and ourselves in the Faith, but we are free from the Law and from making these observances burdens.
A very blessed upcoming Advent to you all!