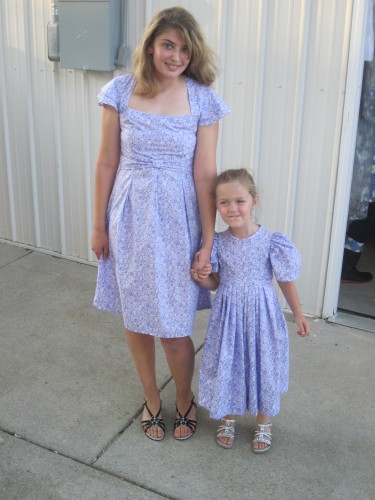 August is Fair Time up here. This year we went to two county fairs.
Lily was asked to model (ooo, la la!) in the 4H Fashion Show showing a dress made by this lovely young lady.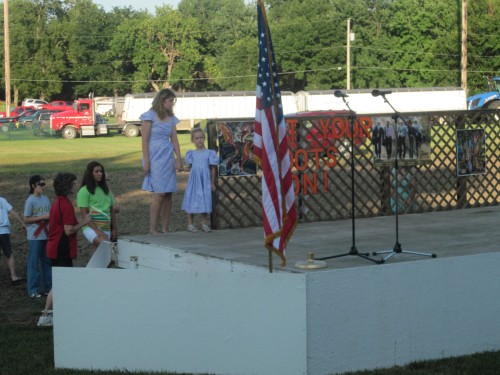 Lily was not happy about being a model when she realized she'd have to do this without Clara and in front of real people. So being the loving resourceful mother I am I ran to YouTube for a dose of 5 year old confidence.
I showed Lily some childrens' fashion shows so she'd know what a Fashion Show was first of all and to see that maybe it could be fun….but noted that she could leave out all that SASSY she saw coming from those other children….rural Nebraska is a far cry from NYC's Fashion Week…sorry baby girl.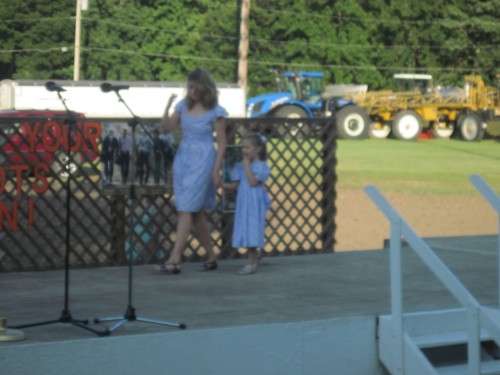 And though she had her finger in her mouth the whole time (way better than in her NOSE), she did a great job on the "CatWalk".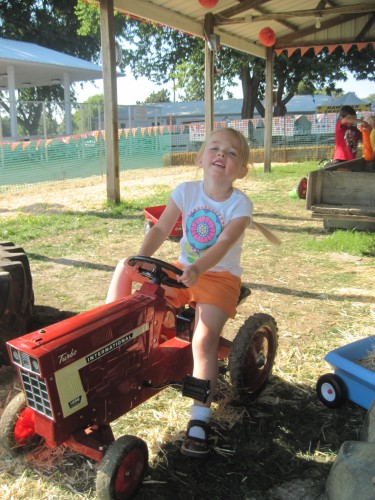 I thought it was a great idea that they had an area for kids to play in at this fair. The babies spent most the evening digging in the dirt.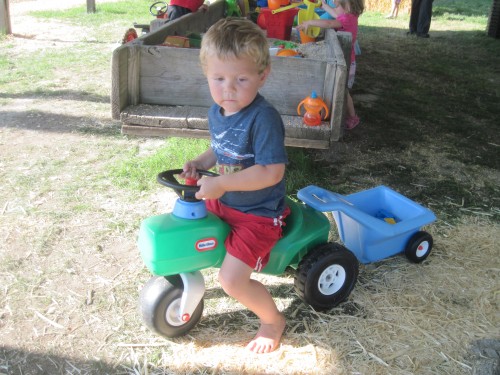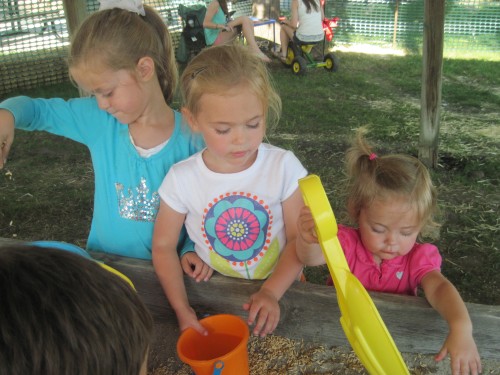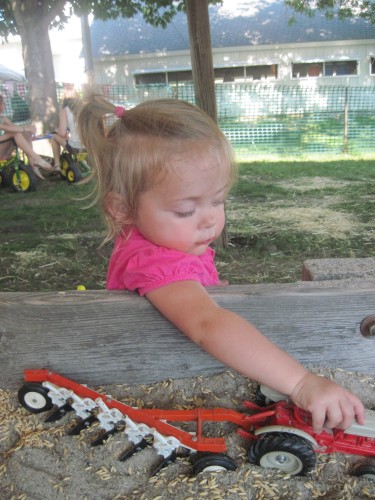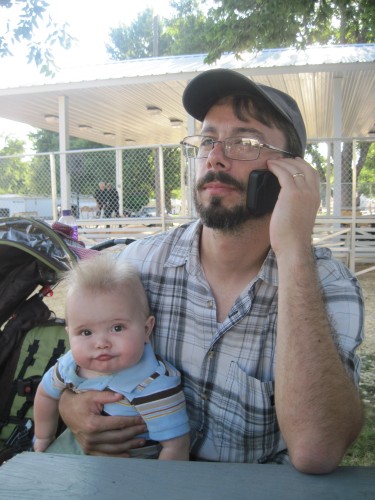 This past weekend we went to our county fair.
Six years ago it was only me and Phil at this fair, each year we tote along a new baby and watch with glee as they all get big enough to stop crying when we see the ponies, stop clinging to our legs as we walk past the roosters and of course it's so fun to see them as happy as they get to go on the rides! Even if they are the same rides they've gone on for years.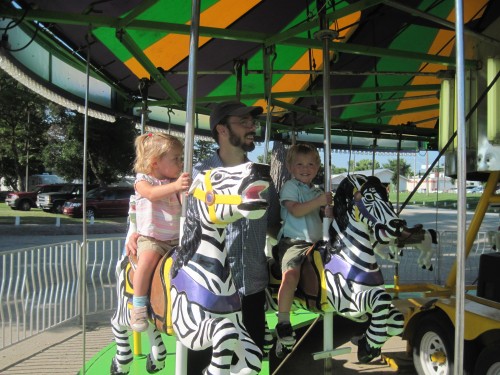 I can't believe THIS was a year ago!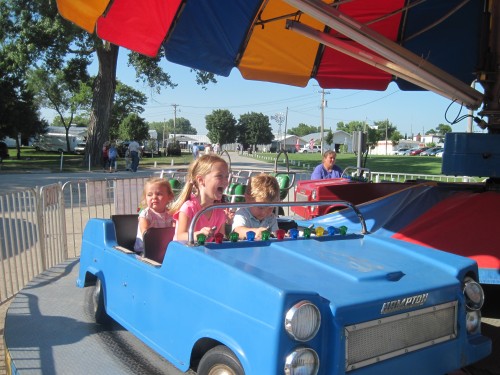 I LOVE Lily's face here….but DON'T MISS ESTHER'S look!
You can click on the picture twice and it will get bigger, it's worth it. She wasn't too sure about this ride. Cracks me up.
Another time around.
And this year I finally was brave enough to let them get on this baby roller coaster. They loved it! This Mama Bear has always been too scared to let my babies get on it before but I guess it wasn't so bad. Phil even put Esther on once which made me a ball of nerves till it was over.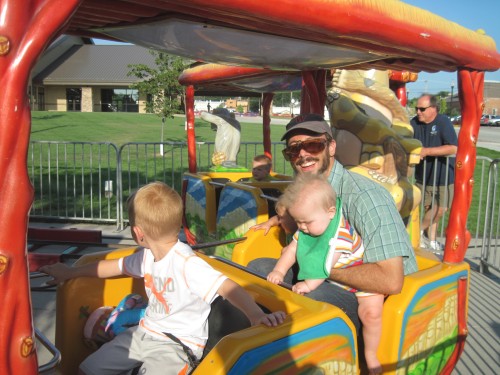 And Ephraim got a ride too. His chubby hands had that bar in a death grip, but he squealed happily the whole time!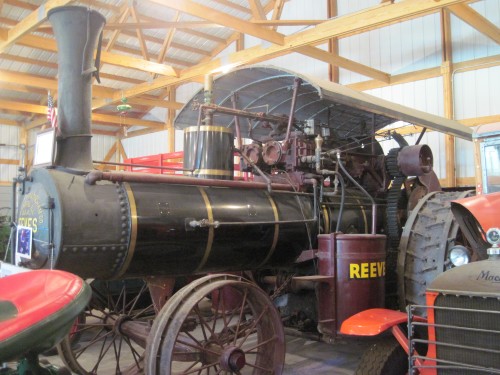 We checked out some very very old tractors.
Have you ever seen a STEAM ENGINE TRACTOR?! This thing was old, um and sometimes these would blow up.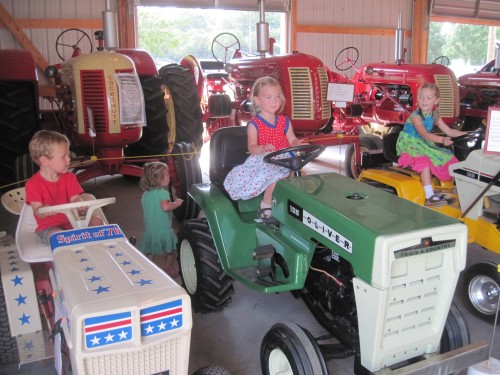 Lily told us the other day that she wanted to live in the country, have horses and a husband that would build her house with logs. And growing up in Ruralton, she'll probably be a lot more suited for that life than I would have been! Course if I'd had a tractor with stars on it I probably would have wanted to live in the country too. Look at that thing!
Besides the funnel cakes, one thing I love about being able to go to our county fair each year is that our babies will see over and over again the agricultural life of our country and who knows maybe someday gain an interest in taking part in some of the events surrounding the fair. But no bull riding please.
Came across this post I liked from Minimalist Mom. "Big City" me is learning to enjoy the simple pleasures of "less". I'll keep looking forward to our little fair each year.