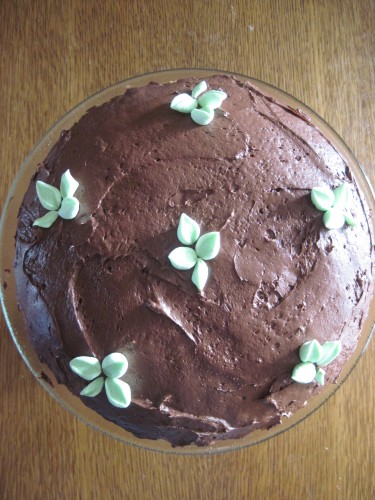 Our St. Patrick's Day cake…those are supposed to be shamrocks.
Living Seasonally
I'm a little sad to be leaving Lent. I'm not sure why that is, it's a very busy time in a Pastor's house. Perhaps I feel there's still something undone. What was once a time of being able to sit in silent reflection each week in our Sunday and Wednesday services has become a time of figuring out how I'll muster up the strength to just get all of TO our services! But we're here at the end of one season and  wait for the next, for Easter.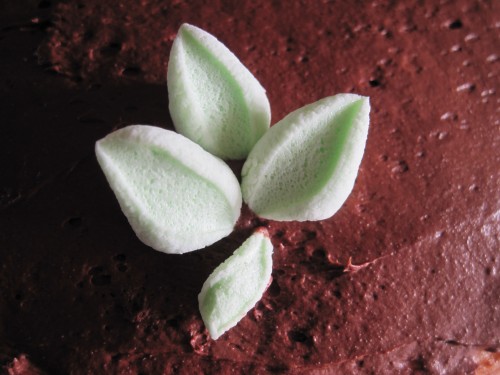 Giving Thanks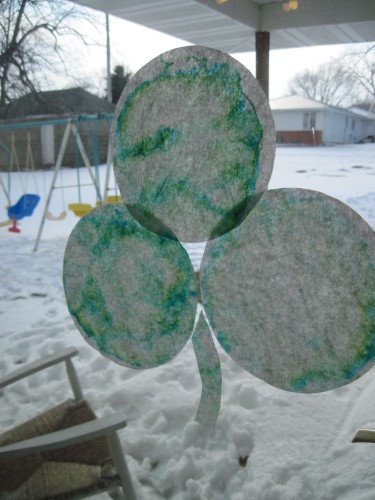 1. For simple reminders of the Trinity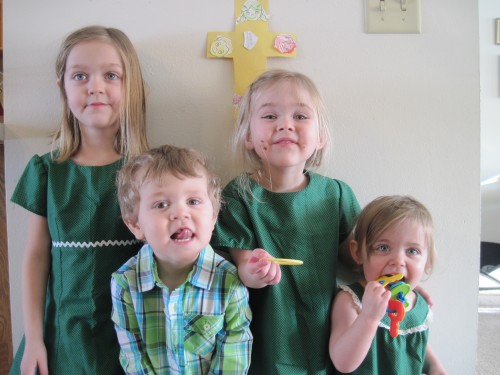 2. For babies wearing green.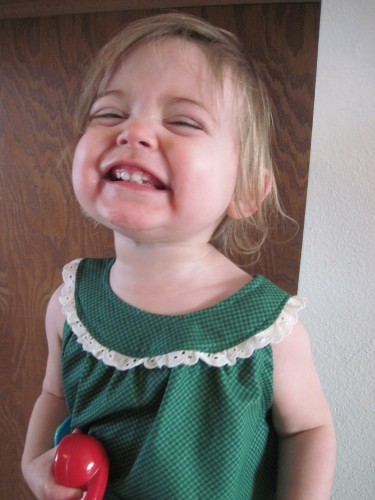 3. For the joy of having her picture taken.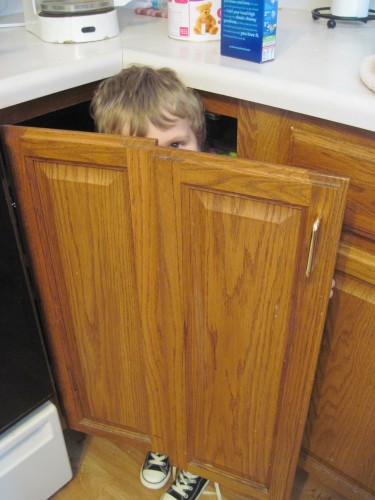 4. For hiding.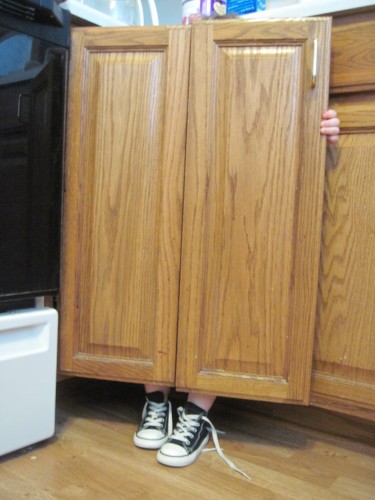 Thinking Deeply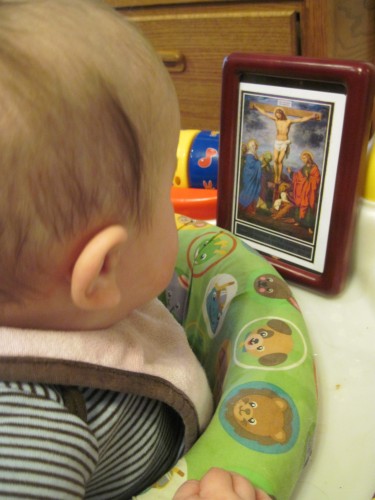 Jesus, I will ponder now
On Your holy Passion;
Let Your Spirit now endow
Me for meditation.
Grant that I in love and faith
May the image cherish
Of Your suffering, pain and death
That I may not perish.
Turning Pages
On my nightstand right now are: A Little Book on Joy, Clash of Kings, Tend to Me, One Thousand Gifts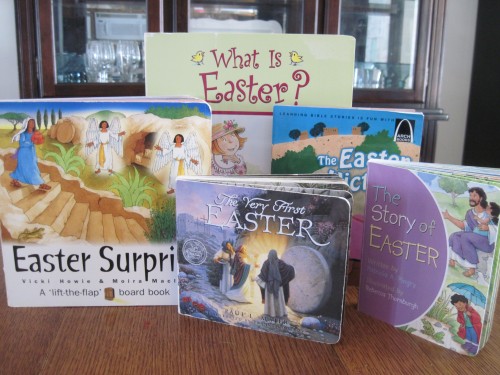 For Easter the babies will be reading: Easter Eggs for Anya, That's My Colt, The Easter Cave, Easter Surprise, The Very First Easter
 Establishing Rhythm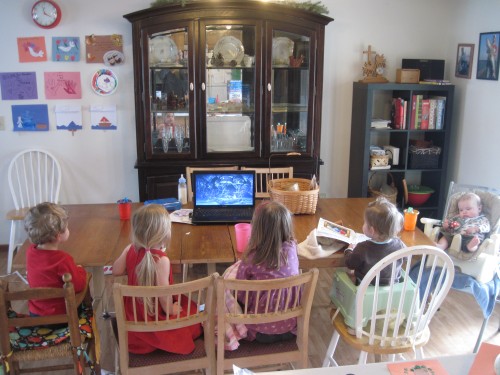 I'm sick with a cold again so our daily routine is mostly Mama walking around mumbling and blowing her nose while the babies run amok. I have been tinkering with our daily schedule finding there are better ways to do things and hopefully incorporate a little workout time for myself…once I'm out of this sick fog. Then, once school ends our Routine will need yet another overhaul!
Creating Beauty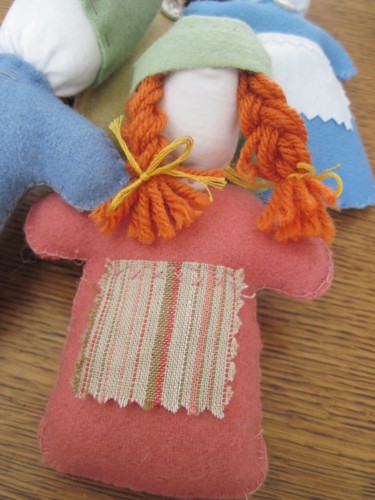 I've decided to give myself an hour once a week when I can work on something fun or crafty just cuz! I got the idea to make dollies for the girls and remembered making Steiner Dolls many years and another lifetime ago. I made these on a whim thinking they'd be nice gifts, but hoping that one day my own little girls might like playing with them.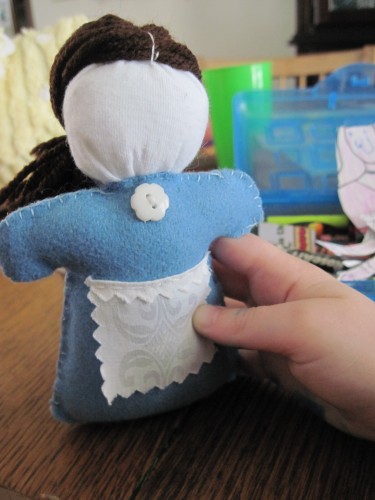 It made me smile to see that.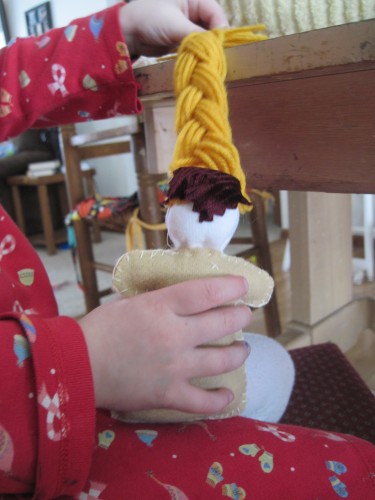 I'd like to make more. Also on my crafting radar: Wooden Peg Dolls (Mama I know you're making these too, it just looks so fun I have to add to the collection as well!), Embroidery Dolls, Rag Dolls
Nurturing Hearts
We got through three weeks of our Jesus Tree Lessons before I got sick and our days got messier. I'm hoping that next year we will do more. This year we remembered the Feast of St. Joseph, Guardian of Jesus, which I hope to continue each year.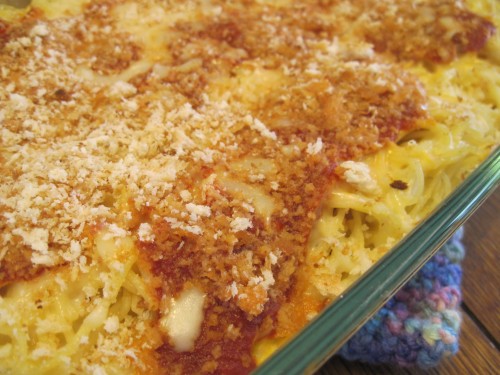 Baked Spaghetti with "Sawdust" Bread Crumbs for St. Joseph's Day
This is a great day to honor our husbands as fathers, honor our own fathers and to teach our children about their paternal heritage. We don't make an altar to Joseph but  a lot of good ideas for food on this day can be found HERE.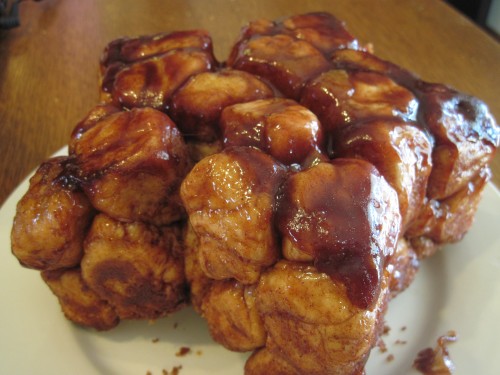 Goopey Star Monkey Bread also for St. Joseph's Feast Day
Nurturing Bodies
Essie's happy dance. We only see this one when she eats.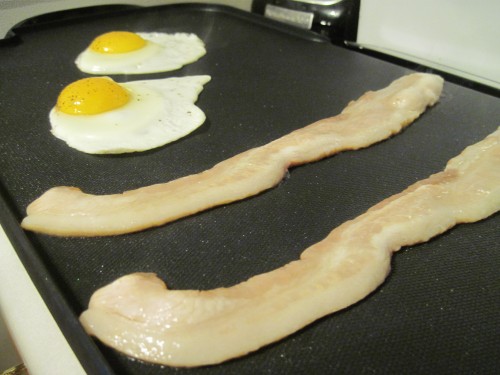 We finally got the bigger griddle I've really been needing to help me speed up breakfast prep. (So you know, I only make "big" breakfast on Saturdays or special feast day..not every morning!)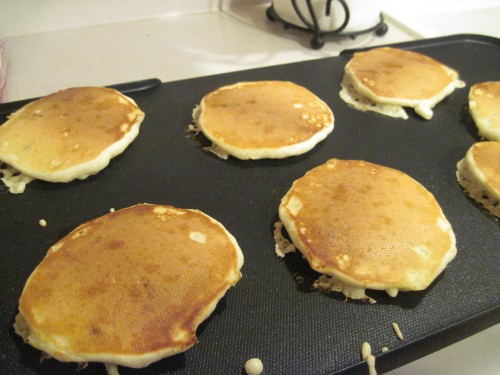 Now I can get 8-10 pancakes going at the same time, much better than 3 at a time no?
I've also been trying out some new recipes, most have been a hit and will stay in the rotation. Unfortunately these weren't. Too bad for me.
You should try some of these:
Korean Beef (So Good!)
Black-Eyed Pea Tacos (Sound crazy, but it's crazy good!)
Butterflied Rosemary Roasted Chicken (I could NOT get that backbone out, it still tasted delicious though)
Homemade Dirty Rice
Pea and Pesto with Linguine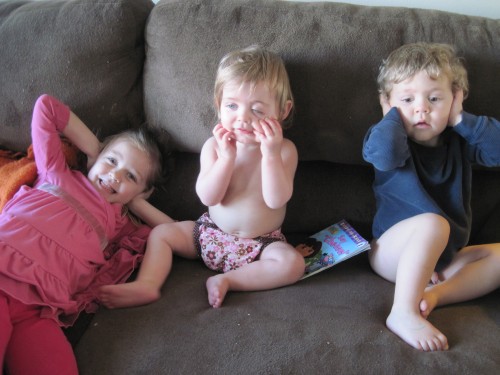 Tending the Earth
We're still getting snow days here and there, but nothing Phil has to get the snow blower out for anymore we hope. Spring is coming, the babies can get outside but they'd better stay out of that garden we are NOT having all that mud in the house!
Capturing Time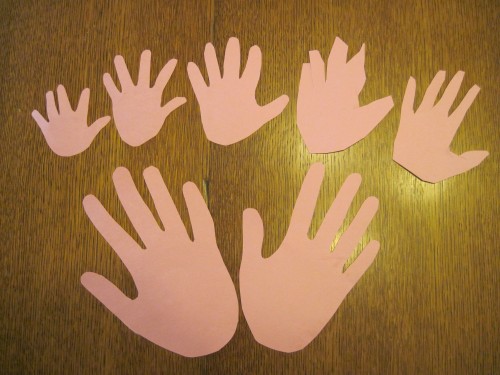 Our hands cut out for a school project the girls are doing. Seeing these, I was struck with how blessed we have been.