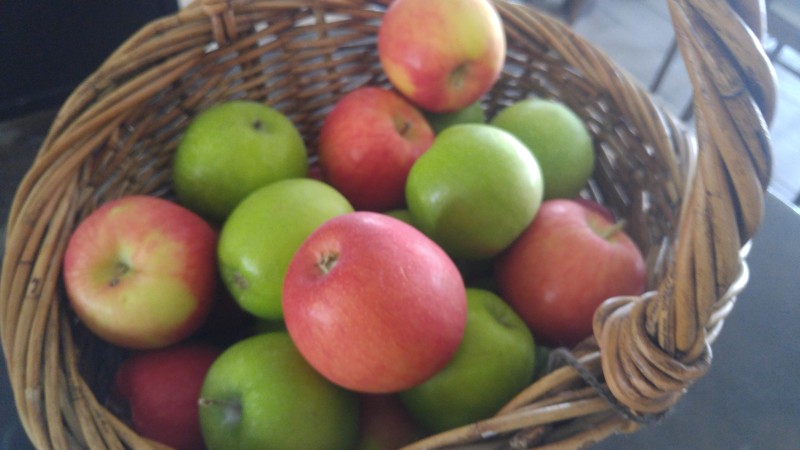 Living Seasonally:
Fall you beautiful you. Finally you have graced us but you could have been a bit more obvious about it instead of acting like Winter…then Summer…then Winter. I forgive you. Today the sun is shining, it's cool and all I hear is wind and leaves crisp and falling. You remembered what you're to be up to, thank you.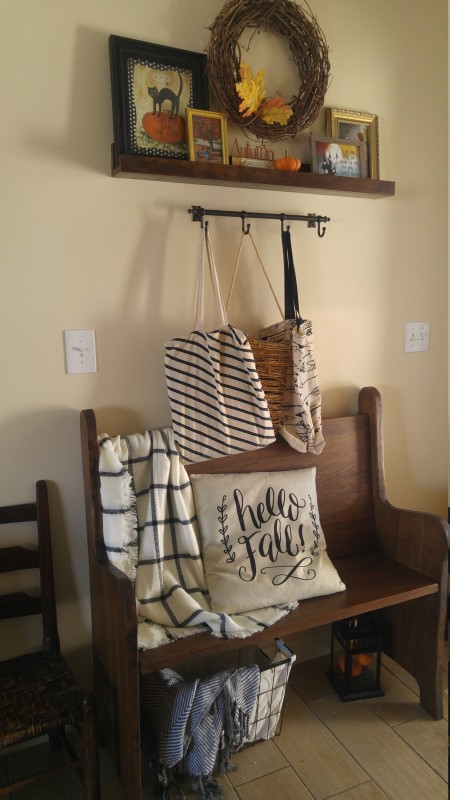 This is one of the seasons of life that start to get busy and you know it's only going to get busier. I use a lot of my time making lists and planning ahead for what is to come. I wish I could do more of this but I'm not one to be accused of being overly organized. Alas, my brain is getting foggier with baby on board.
But with all the busy and the busy to come I still try to keep myself mindful to enjoy this particular season for what it is right now.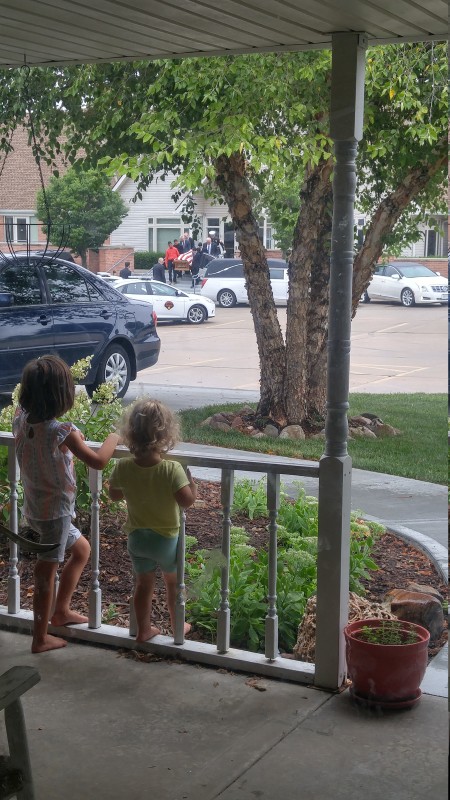 Giving Thanks:
There is always something to give thanks to God for. We have recently been so blessed with many earthly gifts.
1. Restful days. Everyone is sleeping through the night. I've even been sleeping pretty well. 24 weeks pregnant makes me very thankful for the rest I'm able to have right now.
2. Health. Though we are heading into allergy, cold and flu season and I do have a cough, I am thankful that we are pretty healthy. Phil had so many set backs health wise over the past year and many came all at once but he seems to be on the mend with nothing much new on the horizon.
3. Our camper. It's been a good diversion from the daily routine, we have enjoyed the few quick trips we've taken and look forward to many more. Time together and enjoying God's creation as a family is something I hope we fondly remember through the years.
4. For 11 years of marriage this October. God has been so good to us.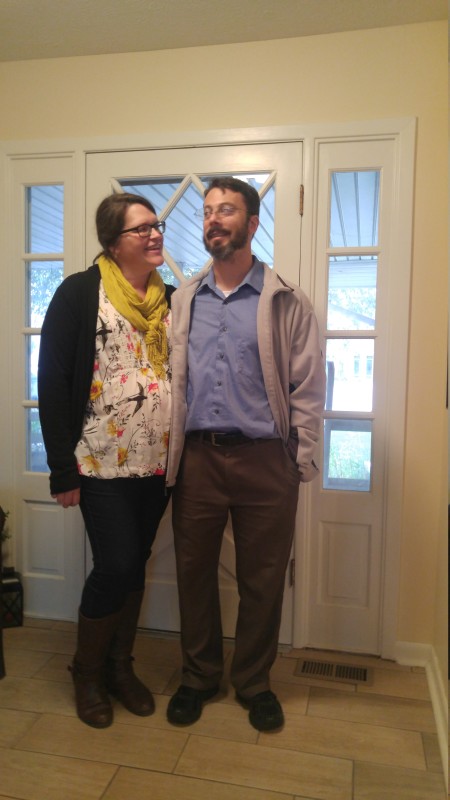 This is what I got when I told him to "gaze lovingly at me."
Turning Pages:
For September we didn't have a book we were reading together but Gerhardt did get way into the Dragon Masters series and has been pretty proud of himself for finishing 3 of them now. For October we have so far finished Ruth Chew's No Such Thing as a Witch which animal lovers will…love. And we just started another of her books, What the Witch Left. I know, very witchy this month. Next month I hope to read Little House in the Big Woods together.
On my own I'm currently reading:
One Beautiful Dream. Honestly just because I was curious about it and the Kindle version was on sale for $1.99 a while back.
The Neverending Story. I loved this movie as a kid. The book has been on our shelf for a couple years and I just wanted to see how it differed from the movie, so I picked it up.
And since we have it and I've never read it I might begin The Hiding Place soon.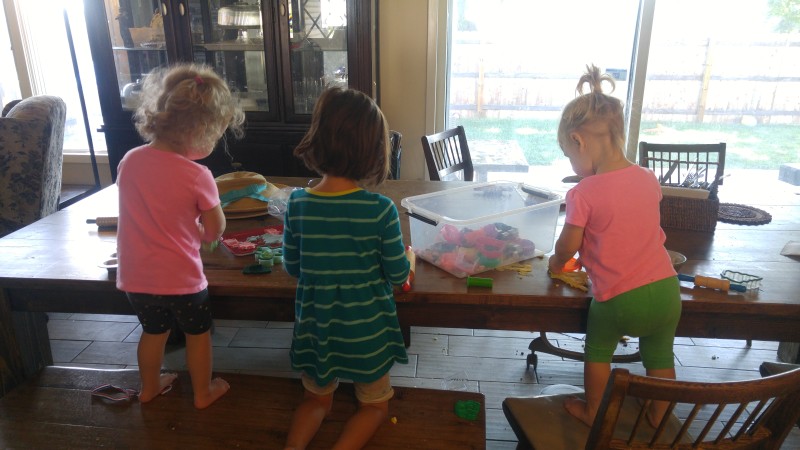 Establishing Rhythm:
We've now got a good couple months of school under our belt. Our dance, Midweek classes and piano lessons have resumed so we now have the routines going that keep us busy. Only 3 babies stay home with me all day. This has allowed some freedom but not really as much as I had assumed. I still don't leave the house very often and still have plenty to do around the house but these 3 play pretty well together which is very nice.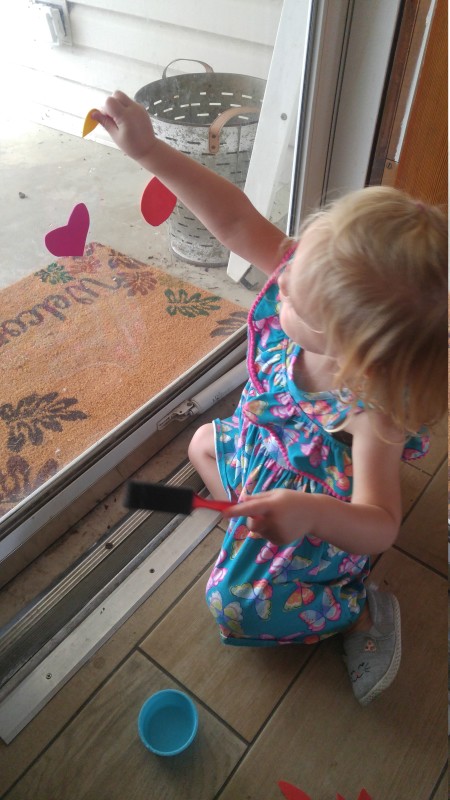 Before my energy completely runs out in a couple months I'm enjoying getting back to my sewing machine a bit. Halloween is coming and once again I chose to be all complicated. The babies will star as the cast of Harry Potter and to save money I'm making much of their costumes. Didn't I say last year I was just gonna open the play clothes and let them dress themselves this year? Yes, I did. Well, there's only one ore year they have to all be in the same school and I just couldn't help myself with this idea of students at Hogwarts.
So, I'm sewing and gluing and drawing and scouting Goodwill for odds and ends to create my little wizzards and even with all the work it has been fun to do.
I can hardly believe our years of Catechism classes have finally arrived. Ours going from 5th to 8th grade here. Lily begins her studies of our Lutheran doctrines. For 4 years she'll memorize and learn her way through the Small Catechism and that's only the beginning. It turns out the entirety of the Christian life is one of learning and relearning and memorizing and holding on to our Christian teachings.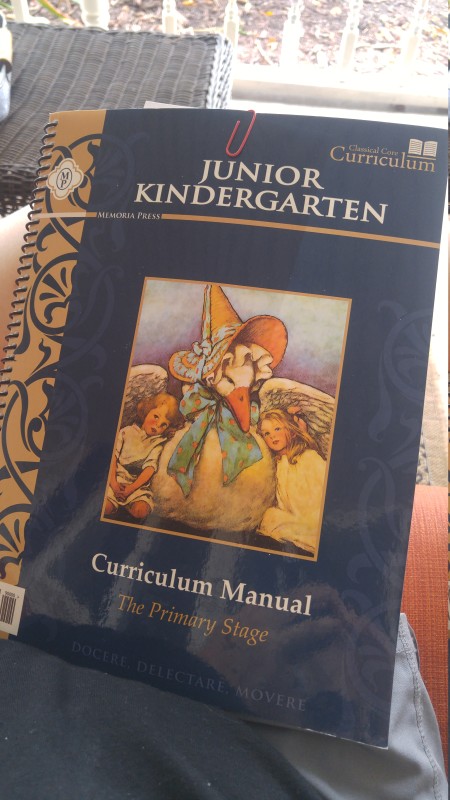 Nurturing Minds:
Since we don't send our babies to preschool I do a little at home. And I do mean "a little." Mostly because the biggest left alone at home with the youngest ones wants to or needs to be occupied with something "organized" for at least a while during the day. For years I've just used the internet as a resource for free materials but it actually takes a lot of time to search and print and organize yourself, time I didn't want to be using this way. So I finally went ahead and treated myself to preschool material all mapped out for me.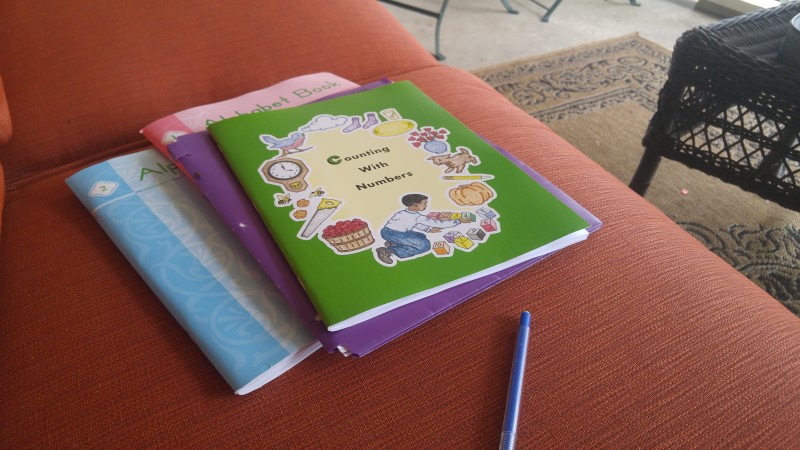 I've been using some of the Junior Kindergarten books from Memoria Press along with their suggested read alouds which I can usually get from our library. I shoot for 3 or 4 days a week for about 30-40 minutes with Mercy going over letters and numbers, recitation, nursery rhymes and sometimes a craft.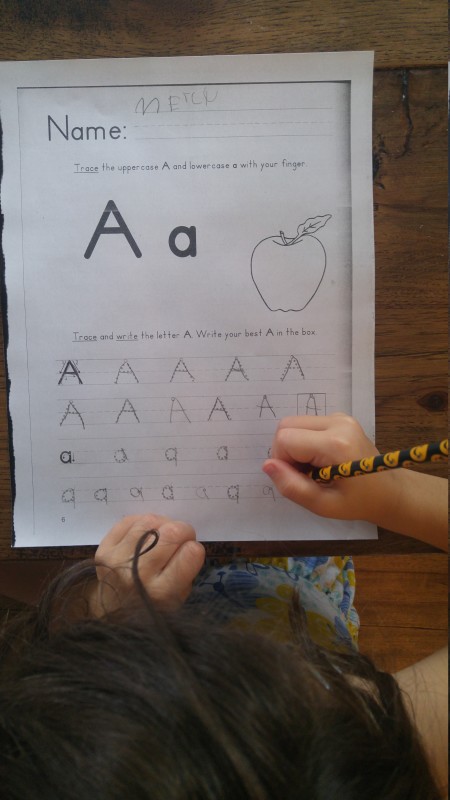 She loves it and everyday asks if I'm going to "teach her a lesson." Mondays I reserve for catching up on housework after the weekend but most days we do a little something.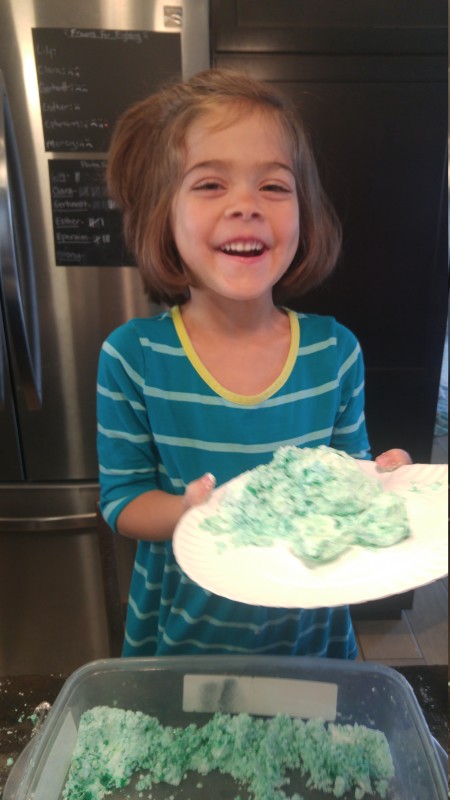 From our Green Eggs and Ham week.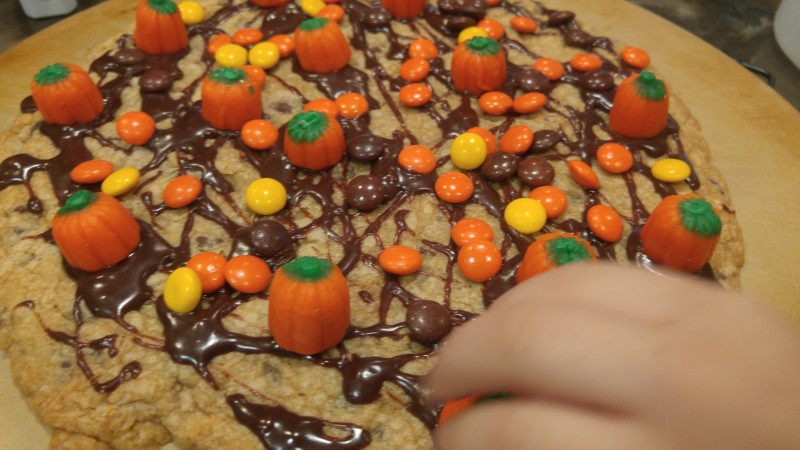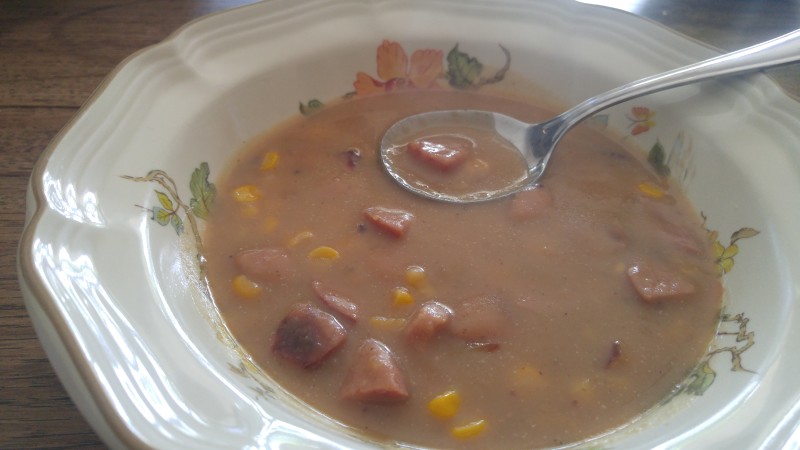 Nurturing Senses:
Fall came on way too strong with days and days of rain and cold. I took the opportunity to make soups and chili and slowly begin to bust out the Fall snacks and desserts. In the meantime the babies, cooped up all day, made obstacle courses.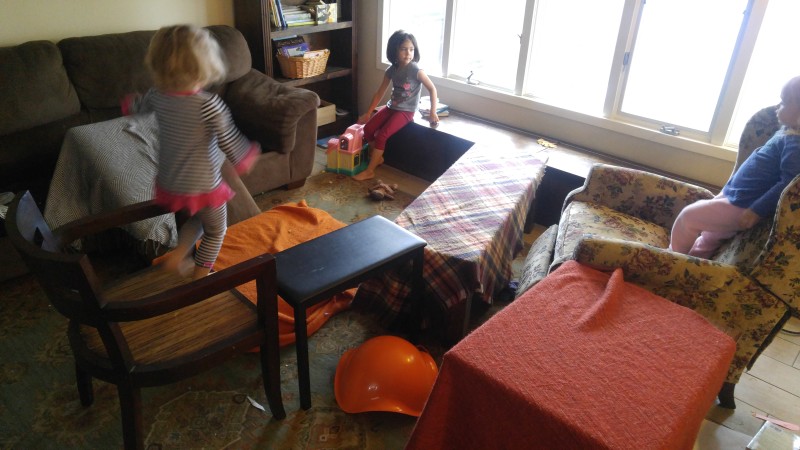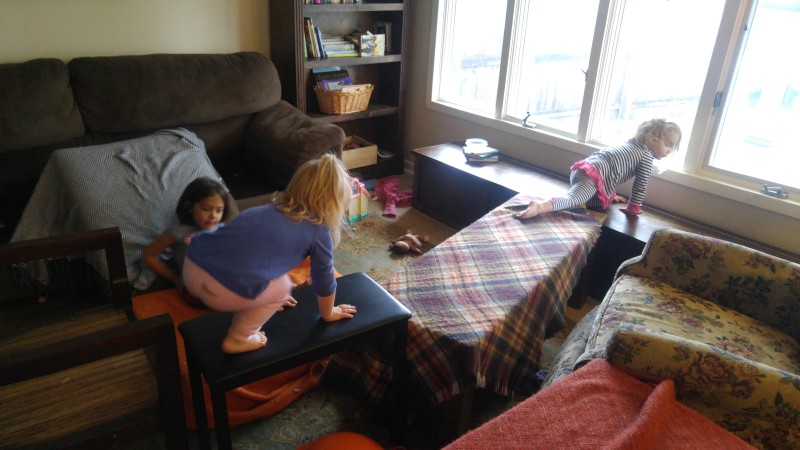 Fall means lots of apples drizzled in caramel and chocolate. And of course….pumpkin bread. Delightful delicious pumpkin bread. My favorite way to bake it is with a bunch of chocolate chips inside but I have found a pumpkin bread recipe without chocolate chips that will probably change your life if you wanna try it.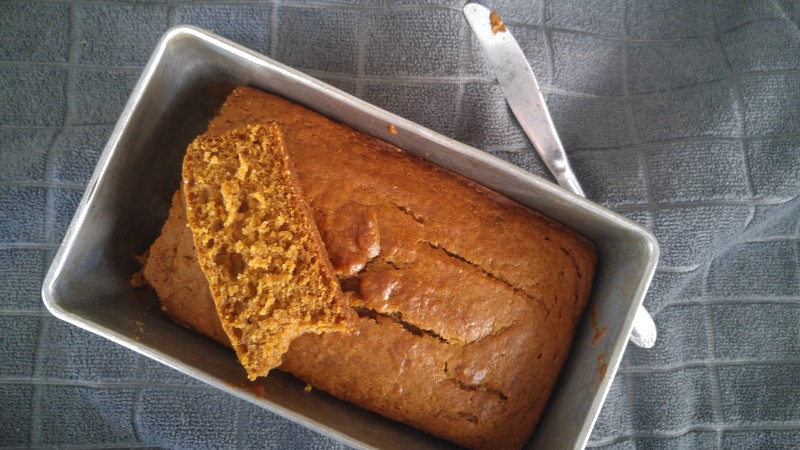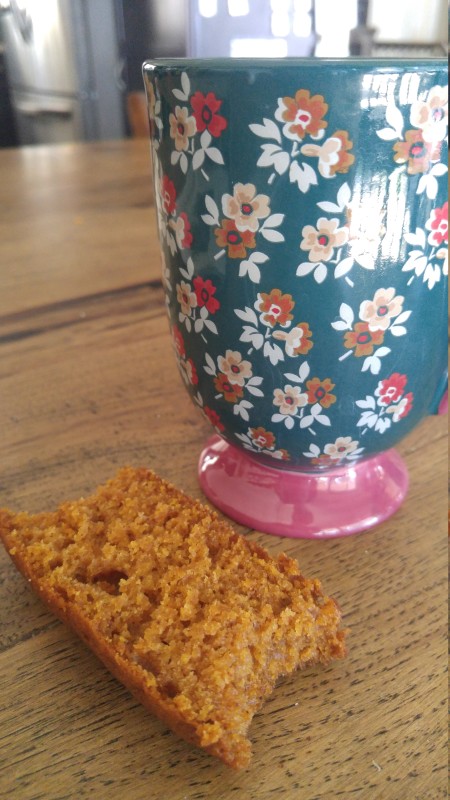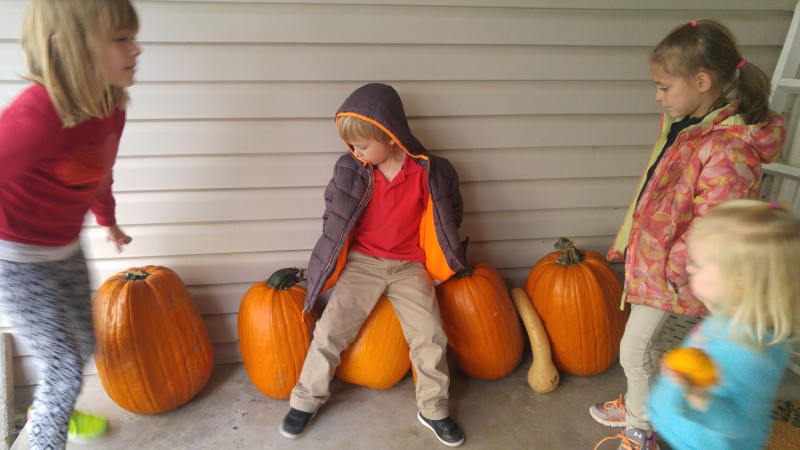 Tending the Earth:
Last week I asked Phil to run over to the pumpkin patch to have the babies pick out some pumpkins for our porch and a JackOLantern later in the month. Mission accomplished! They came home with more and bigger pumpkins than I'd imagined, the biggest we've ever had (excepting this one.) These beauties deserve their own post so more on them later.
But our porch and for a couple days, our living room is finally decked out with Fall colors and…pumpkins!
Capturing Time: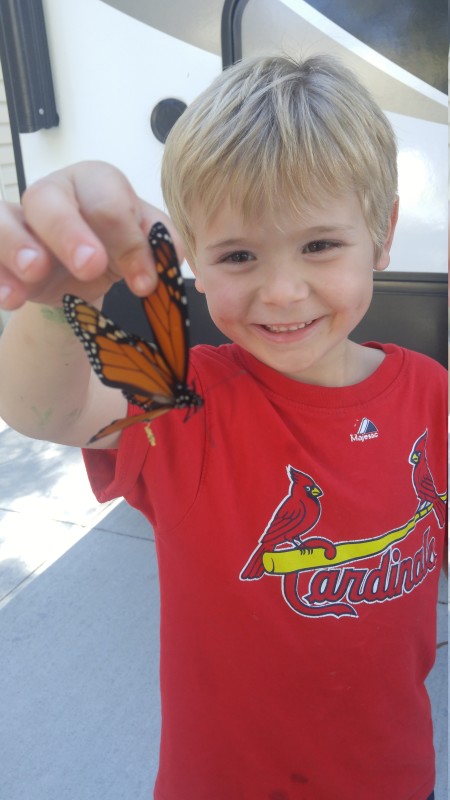 Because one day very soon he'll lose his baby teeth and possibly some of his impishness. No, he didn't kill this lovely butterfly but being a boy couldn't keep his hands off of it's dead little body.