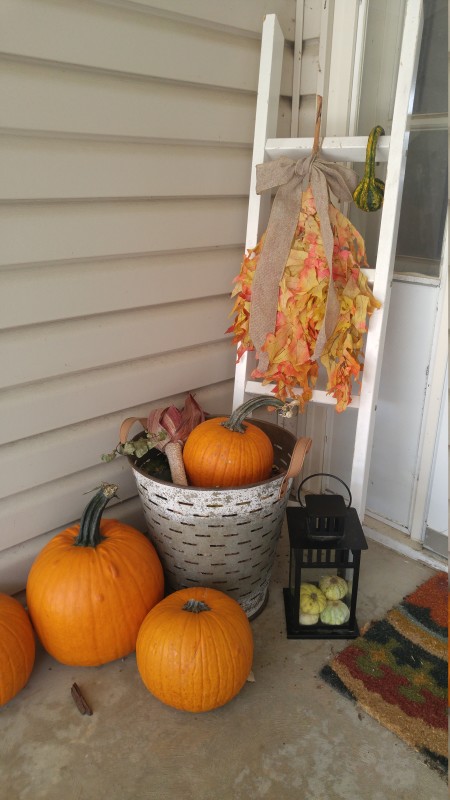 Living Seasonally 
Thou comest, Autumn, heralded by the rain,
With banners, by great gales incessant fanned,
Brighter than brightest silks of Samarcand,
And stately oxen harnessed to thy wain!
Thou standest, like imperial Charlemagne,
Upon thy bridge of gold; thy royal hand
Outstretched with benedictions o'er the land,
Blessing the farms through all thy vast domain!
Thy shield is the red harvest moon, suspended
So long beneath the heaven's o'er-hanging eaves;
Thy steps are by the farmer's prayers attended;
Like flames upon an altar shine the sheaves;
And, following thee, in thy ovation splendid,
Thine almoner, the wind, scatters the golden leaves!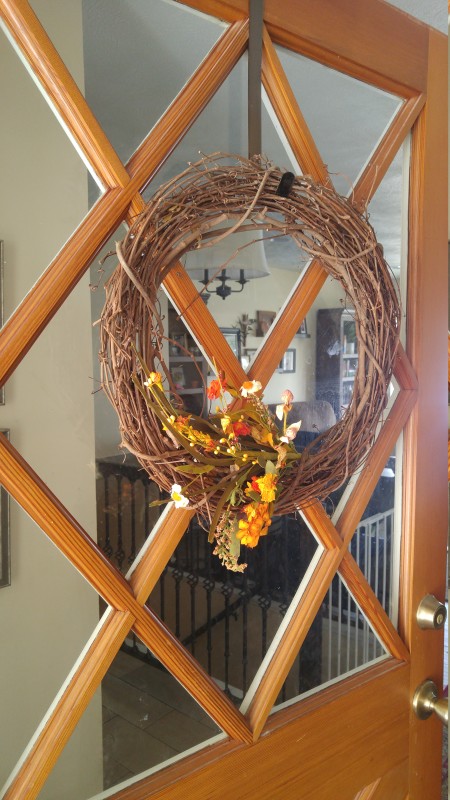 The Fall decorations are going up in the house. A new cozy throw is on the couch. Our weather is back and forth. When Fall began it was too HOT to even think about cozy throws, I held off on putting that out so I wouldn't gag.
But our days are finally starting to be more pleasant, warm or cool and rainy, but pleasant. And as always as I begin to prepare for this next season my brain shorts a circuit from excitement and too many wonderful ideas I know I'll never get around to.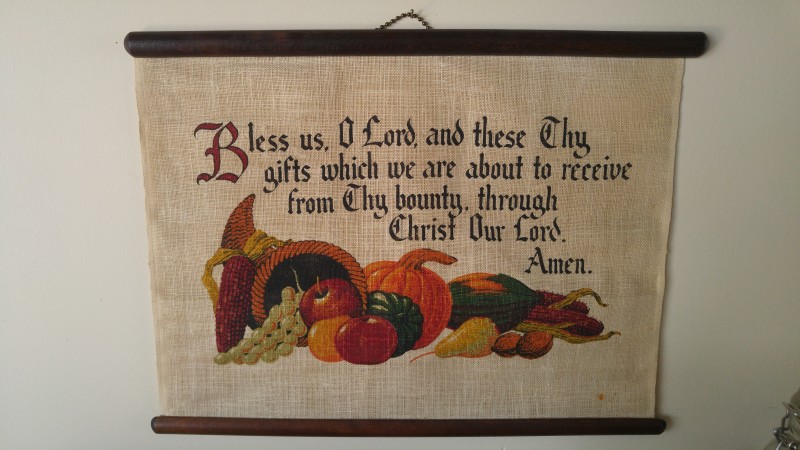 Giving Thanks
1. For quiet mornings. It's strange to not have a baby up and crying in the wee hours of the am but that's where we are right now. I'm up before the babies.
2. Phil and I have been able to spend our evenings going out together more often. It's been fun.
3. For good and safe weather.
4. For healthy children.
5. Knowing that soon it's gonna get cold and KILL these evil little black bugs that bite like the dickens.
6. For this wall hanging that my sweet cousin sent me for my birthday. It hung in my Grandma's dining room for more years than I even know. Now it hangs in mine. I'm honored he gifted it to me.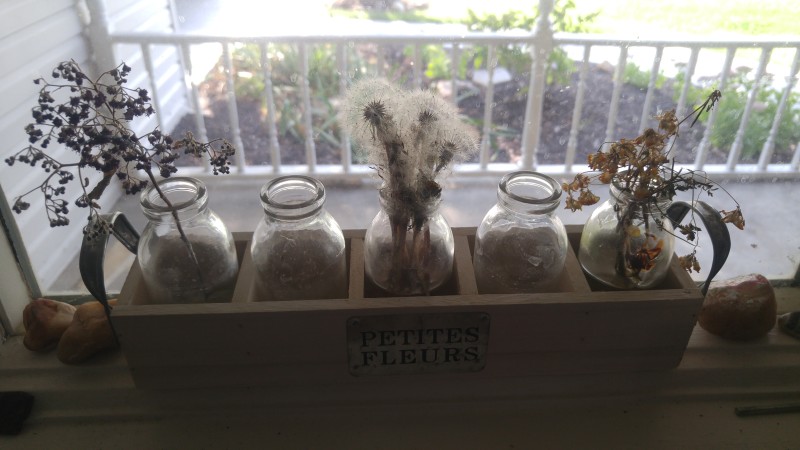 Thinking Deeply
"For it is meet that those who are not satisfied by the present should be sustained by the thought of the future, and that the contemplation of eternal happiness should solace those who scorn to drink from the river of transitory joys." St. Bernard of Clairvaux On Loving God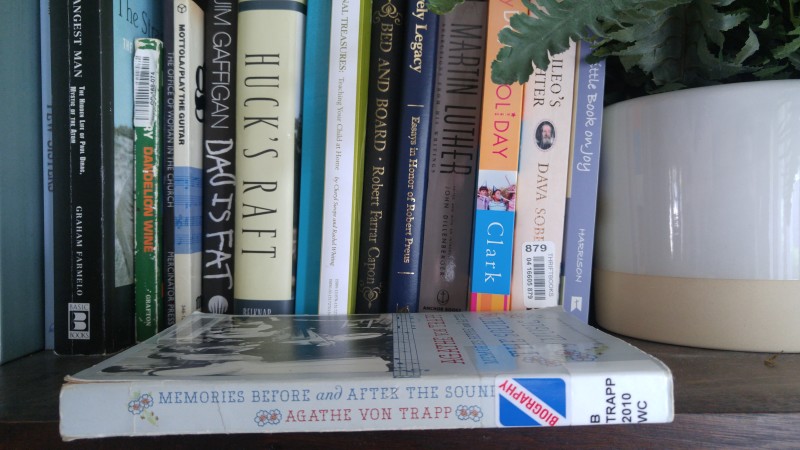 Turning Pages
I've enjoyed many books over the past few months:
The Mother of the Reformation – Ok, I'm seriously 3 pages from being done with this one that I started over a year ago. I would highly recommend it. But it's dense with names and places and how much the Luther paid for pieces of land etc. Not for everyone. But I thought it was worth it to get a better picture of a woman we have little information about.
Going Public – Being a large family that does not homeschool is a rare thing. I did not agree with everything in this book since I hold a different Theology than the authors and that does affect how you come at things in life, but I was very thankful to find this book and read it. I was encouraged and given some very practical advice in how to navigate public school.
Hillbilly Elegy – I downloaded the audio version of this book. I was curious about this guy's story how he came from poverty and an unstable childhood to being a Yale Law graduate. It was a good story but hard to listen to due to some of his experiences and *warning* a LOT of F-Bombs since he quoted his family members a ton throughout the book. It was fascinating to hear how small choices can make a HUGE difference in someone's life.
Ten Ways to Destroy the Imagination of your Child – I really wanted to like this book. I took it on after hearing a podcast review and understanding that it was written to encourage parents to create and sustain a sense of wonder in their children despite the culture's leaning toward mindless indifference and imitation. I was disappointed that the author took so much time to paint the bleakest picture of public schools, or "Poison Chambers," and blame traditional education for the vacuous state childhood is today.
Instead of this book I would recommend COMMON SENSE as a parent and some blog sites that I have turned to over the years such as this one; Like Mother Like Daughter.
Light in the Dark Belt – Yes, here is another book I have had on my shelf for 100 years reading bits here and there. I especially like this book because of it's being set where I claim my roots, Alabama, and even more specifically around Selma Alabama where I was born and still have family. The Gospel is for all people, God's love and the truth of His Word is for all, regardless of skin color or culture. That is obvious. But it's a delight to read about that truth coming to the poor black people of the rural South.
Raising Godly Girls – I heard Deb Burma at a ladies retreat at our church a few weeks ago. I thought she did a good job pulling Christian truths out of familiar fairy tales. Since we are in the height of fairy tale world with our girls and I do have a lot of girls I got one of her books. It can't hurt to read up on some good parenting advice from time to time right?
Memories Before and After The Sound of Music – I just started this autobiography of Agathe Von Trapp, the oldest of the Von Trapp children. It's lovely.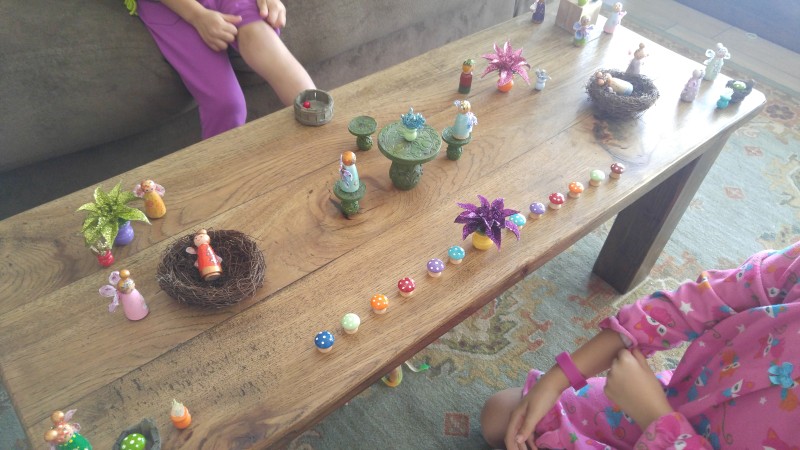 Establishing Rhythm
Sometimes this category makes me laugh. Rhythm? I got Rhythm but it ain't in the form of daily schedules. Well, I do have a very nice daily schedule. But the days don't always cooperate with that schedule. So there you have it. But for the most part here is our Fall rhythm;
6:30 Mama wake up
7:15 Wake up Call
7:20 Bible Time, verse, prayers, Catechism, Psalter
7:30 – 800 – School Kids Dress, pack lunch, hair
8:00 Breakfast
8:30 School Kids Go Mama Eats and plans day
9:15 – 9:30 Housework, Kids Play LAUNDRY IN
9:30 – Preschool
10:30 – Snack
11 – 11:30 – Lunch Prep – EMPTY DISHWASHER
11:30 Lunch
12:00 Clean Kitchen
12:15-12:30 Tidy Time
12:30-1:00 – Blanket Time FOLD CLOTHES
1:30-2 Housework or Workout
2-3:00 Mama Down Time
2:00-3:30 – Quiet Time
3:30 – 4:15 Snack, Play Outside
*4:30 – Prep Supper – Kids House Job, homework, Piano practice Time
5:30 – Supper LOAD DISHWASHER Clean Kitchen
*6:00 – 6:30 – Piano practice Time, Tidy Time – WASH BIG DISHES
6:30 – 7:30 Bible Time, READING WITH MOM or AUDIO BOOK
*FRIDAY NIGHTS – CRAFT WITH MOM, LESSON OR FAMILY GAME NIGHT
7:00 – 7:30- Big kids Reading Upstairs or more Family READ ALOUD
8:30 – Lights out
Tuesday – German Dance Practice
Wednesday – Church Midweek
Thursday – Piano Lessons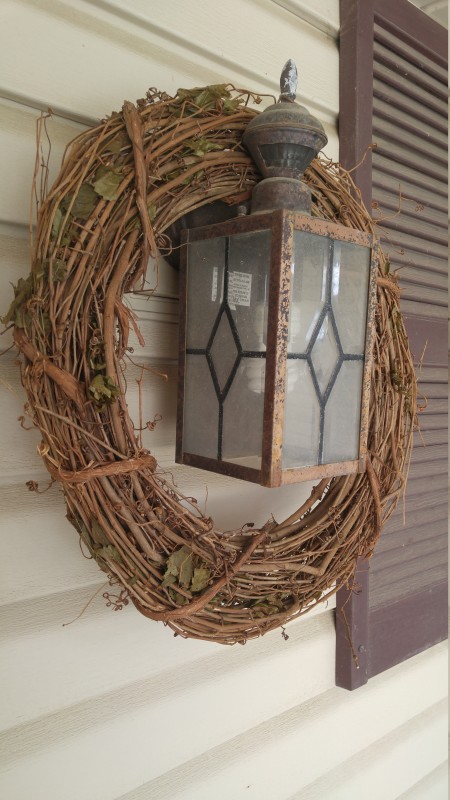 Cultivating Simplicity
Well, this could be one more of my cockamamie ideas but I'll admit it, right now I'm super pumped about it. As I've related ad nauseam on this blog, CLOTHES are the bane of my existence. I'm glad we have them and I'm so so glad we have so many good quality cute clothes…but. Keeping clothes cleaned, put away and organized for 8 children is HARD! And constant! I have had many 'systems' of order over the years and they work for a while but there is always change to bring an end to "what works right now."
We have 4 in school this year and I have a great system for organizing school clothes for the week, trust me it's good. But I think I've found something gooder, easier, less work and all around GLORIOUS.
It's called….UNIFORMS! WEEEEEEE!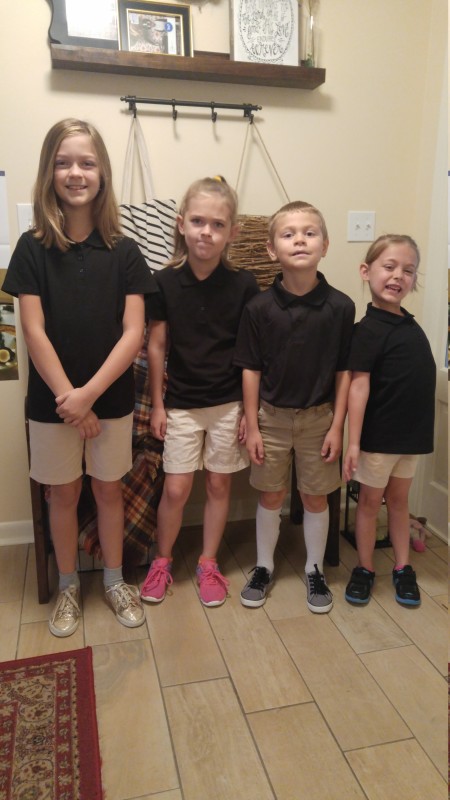 This week I kick off Operation School Uniforms. I bought 3 colors of polos in the kids' school colors along with Khaki pants and shorts. Now all the kids have to do is decide what color shirt to wear each day NOT what outfit to wear NOT what shirt goes with these pants NOT is this shirt long enough to cover my booty NOT 'hey Gerhardt you wore that yesterday how bought you change your shirt?' Because now HE CAN WHERE THE SAME THING EVERYDAY and it will be awesome!
After school they put their clothes back in their School Clothes Boxes ready for the next day and then put on the one outfit they can wear at home ALL WEEK. I'm giddy.
So, let's meet back here in a couple weeks and I'll let you know how Operation School Uniforms is going.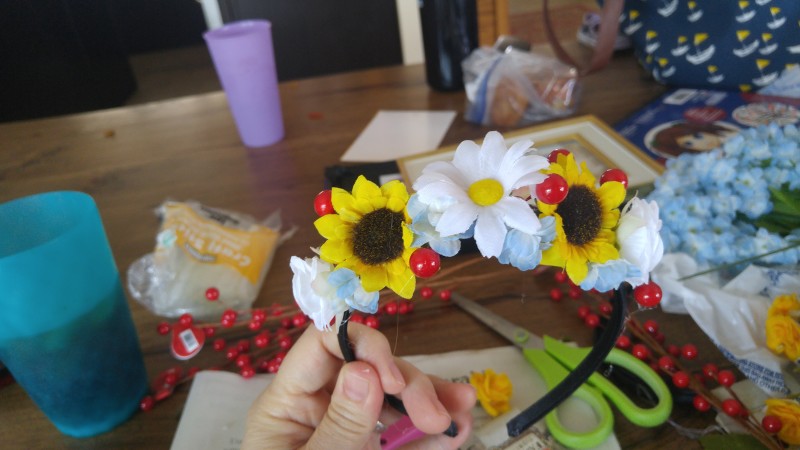 Creating Beauty
I felt it was time the girls had some flowers to wear in their hair at our German festivals. I'd have liked garlands but was worried they would fly off their heads during their twirly whirlies. Too much stress for me.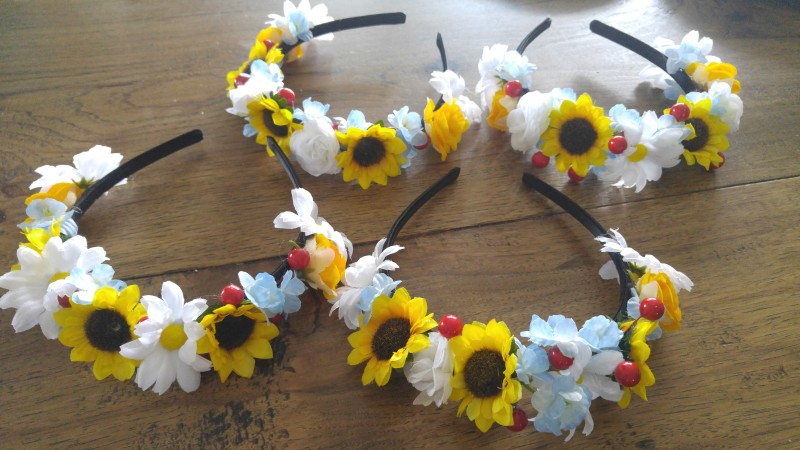 So I went with headbands. I'm not crafty and thought I was headed for disaster with this little project, but I ended up being happy with the result. And no one lost their flowers mid-twirl!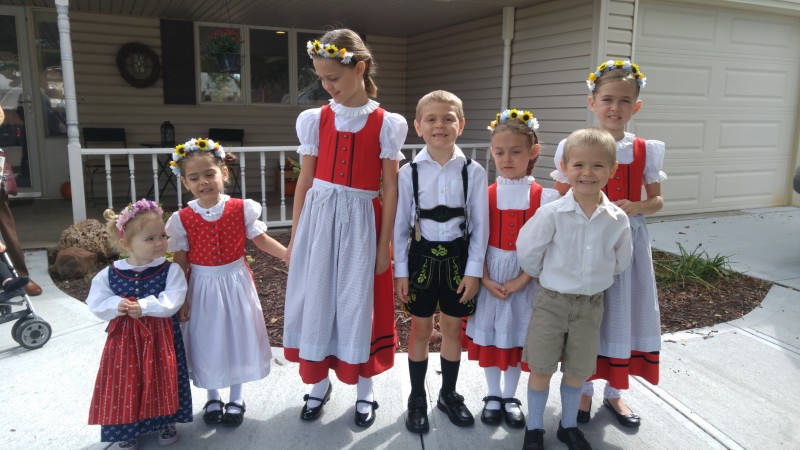 Nurturing Hearts
For October: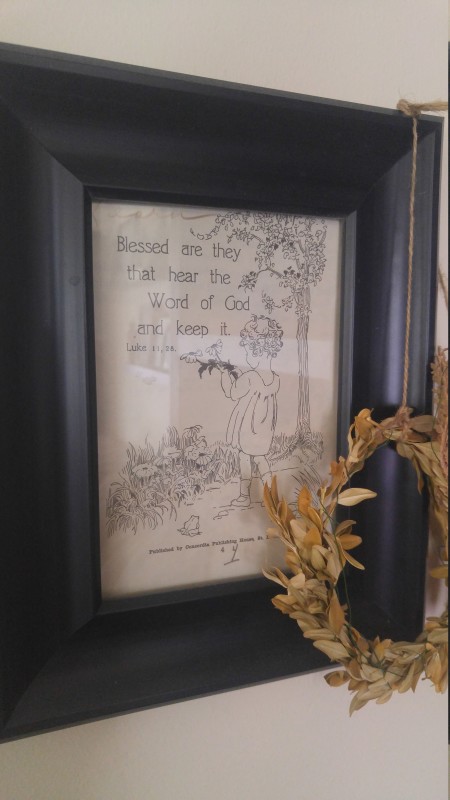 Catechesis – The Sacrament of Holy Baptism
Scripture Verses – "blessed are those who hear the word of God and keep it!" Luke 11:28 and "but the word of the Lord endures forever.' And this is the word that was preached to you." I Peter 1:25
Hymns – God's Word is Our Great Heritage and Thy Strong Word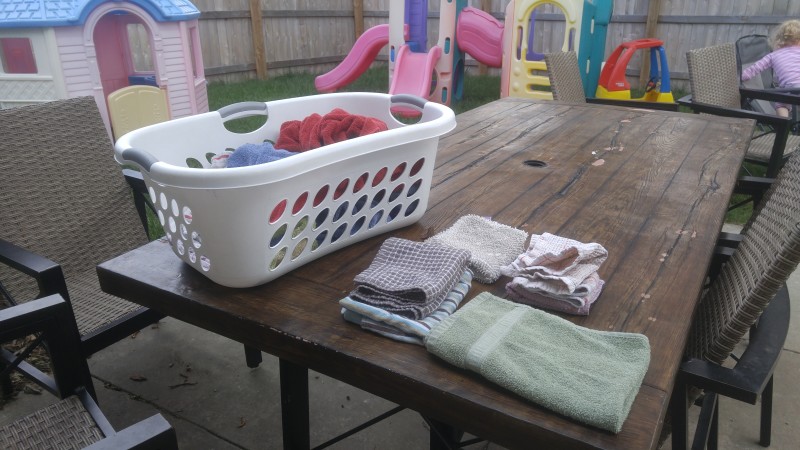 Nurturing Hands
The other day I just couldn't stay inside to fold laundry when it was so pleasant and cool outside. Problem solved.
And this project I can check off my list!
I finally got a hold of the explosion that our Craft Closet had become. It's definitely still not 'Pinterest Pretty' but it's organized and purged of a ton of junk that had accumulated in here. It feels so good to have this done.
I'm putting away some Summer clothing and shoes. Living between Seasons is frustrating. You still need shorts but you better have the jackets out too.
Nurturing Bodies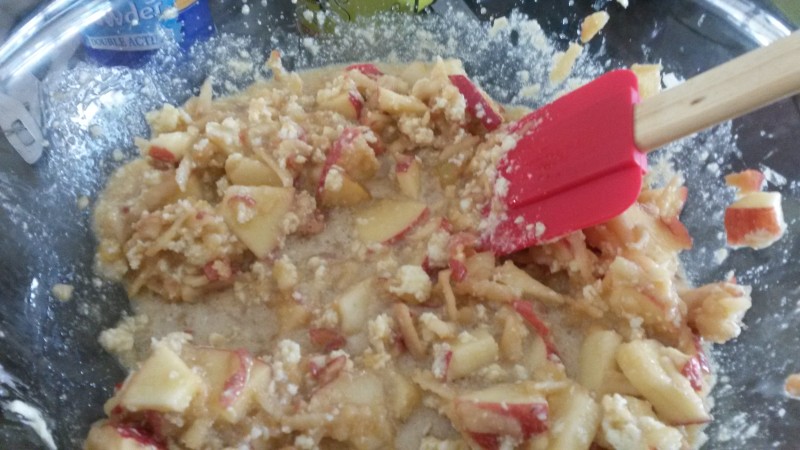 It's officially baking season for me. Not that I do much of that mind you but with all the apples we got recently apple muffins were a must.
Trying to pour vanilla into a teaspoon while holding a toddler requires mad skills. Skills I don't have.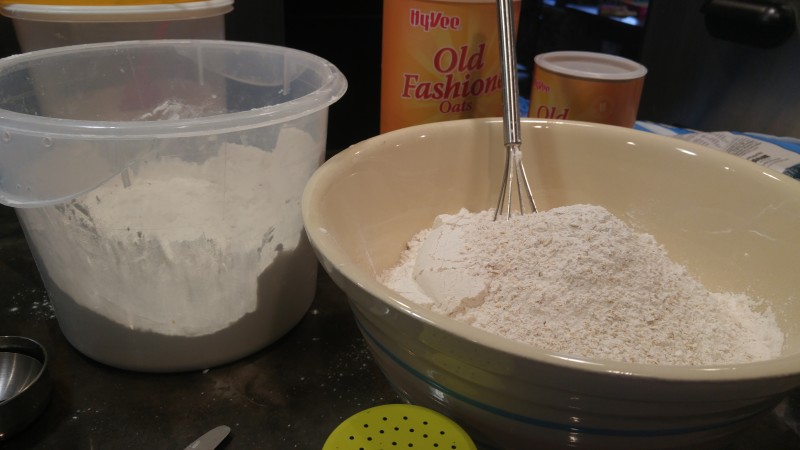 I'm also giving this a go, Auntie Leila's Buttermilk Baking Mix. 12 cups of stuff, enough for several different breakfast recipes, ready and on hand to mix up on school mornings.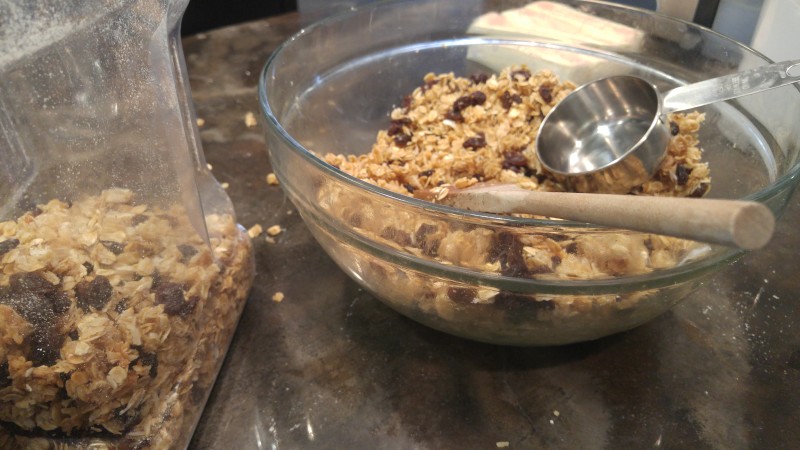 And while I was at it I mixed up some granola and used those brown bananas in the fridge.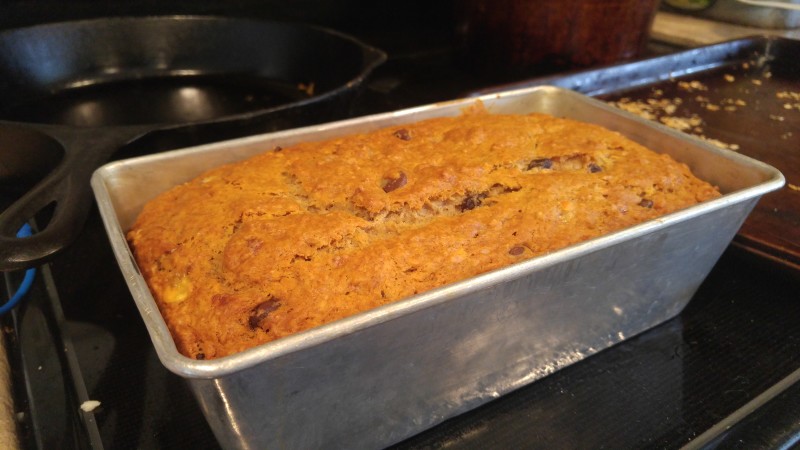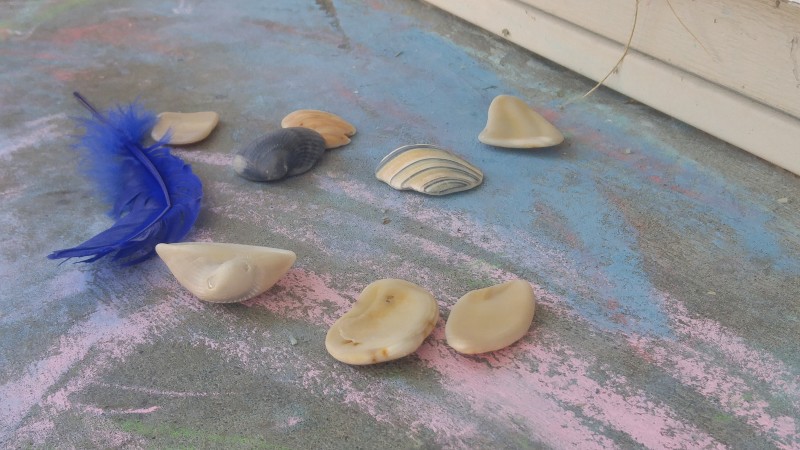 Nurturing Senses
Children have a natural sense of wonder. I've long felt it my privilege and joy to facilitate and witness that wonder in my babies.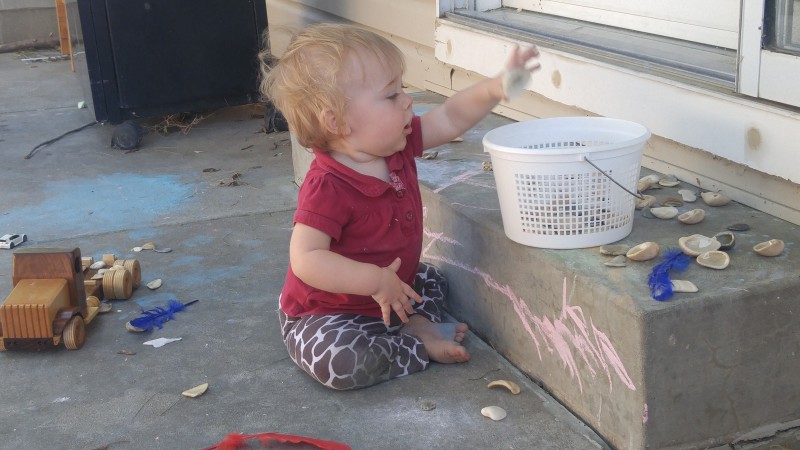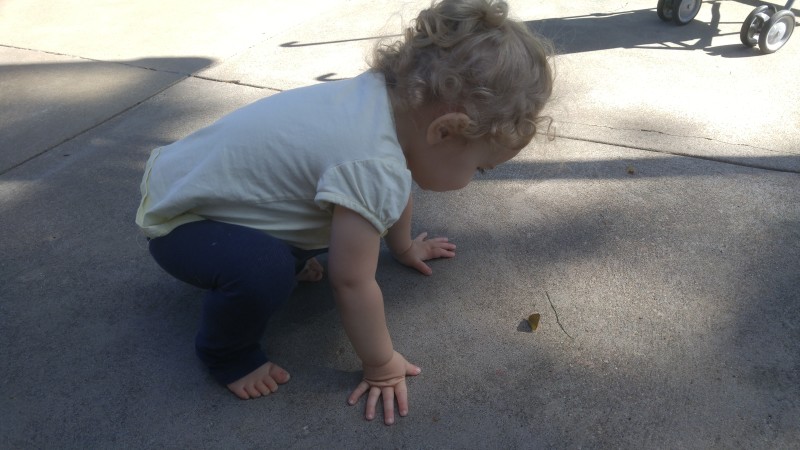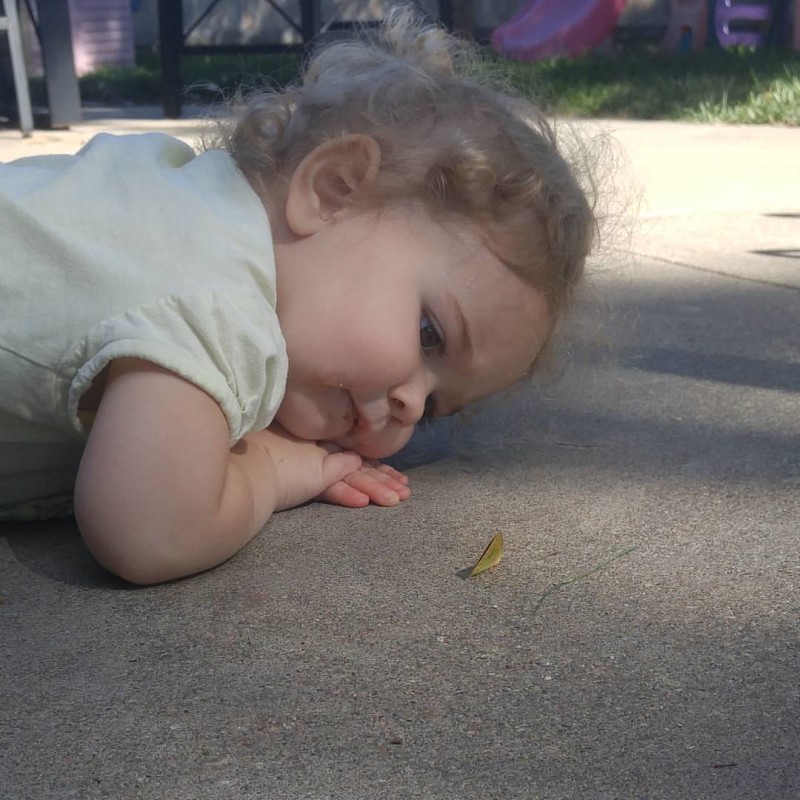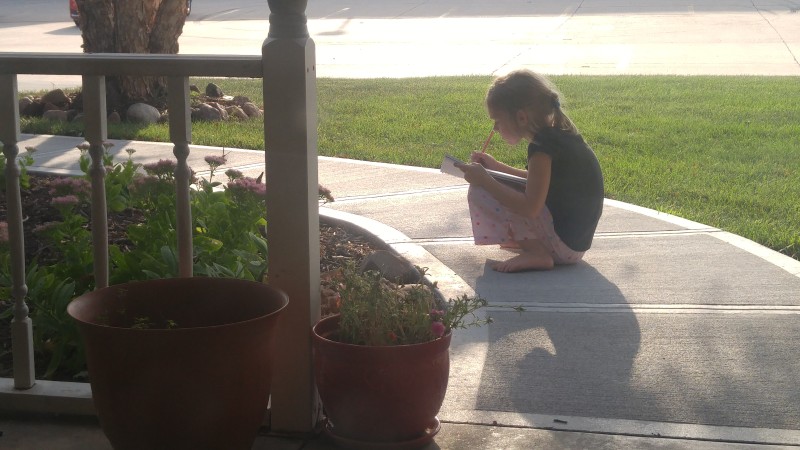 Tending the Earth
Put pumpkins out on the porch.
Put away apples.
Cut back the dead Peonies and Tiger Lillies.
Capturing Time
TEN years ago this month I was the eager bride to be. Also I'm reminded of that first blog post I ever made. Sigh.