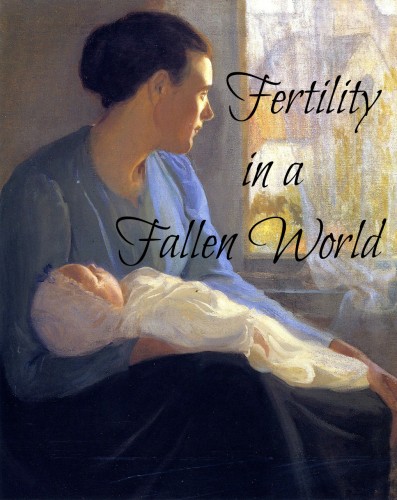 In this series women with different experiences will share the pain and blessings that the gift of procreation carries with it, in the hope of bringing out God's grace and promise to those couples struggling to welcome this gift when it is not known how it will turn out in a sinful world. 
Whether the result be a healthy child, a child who goes almost immediately to be with Christ, or there is no gift of life, all women of child-bearing age wrestle with the unforeseen works of God that are to come.
 To desire to please God in this sinful world will entail suffering. But there is comfort in knowing we are not alone. There is value in hearing each other stories, that while our paths are different, it is still a struggle of faith, which all God's children share. 
And it is a great comfort to know that God's love is not found in how many children we are given or have taken from us, but in the saving sacrifice of Christ on the cross and in His glorious resurrection.
This is Jane One's story.
I grew up the second of three living children. I'm the half sister to a fourth child (the oldest) who never got to see the light of day. She/He was killed in the womb shortly before my oldest sister was conceived. My father had gotten his girlfriend pregnant and she chose to end the pregnancy through abortion- much to his dismay. Shortly after that he was in another relationship with my mother that resulted in a wanted pregnancy. My parents married before she was born and after that my mother gave birth to two more children. After I was born, my parents started attending church and did so throughout my childhood. I was raised in a home that was adamantly opposed to abortion due to past scars and new beliefs. But I think the connection between biblical love and a Christian marriage somehow never connected. A few years into dating my mother pulled me aside and told me I should try not to have sex but if I do, to use protection. So, their beliefs on sex in a nutshell.
I married at the age of 21. We were still in college and so we were very careful not to get pregnant. I was on birth control for 2 1/2 years. I didn't feel super comfortable with it but I believed I was doing what was right. Our society has engrained in us the "right" path in life: Get into college, get a great-paying job, get married (if you're into that), and have children after you have saved enough money to never go through a difficult time. Make sure you are financially stable! After being on the pill for awhile and having a lot of mood swings as well as reading the latest studies linking long-term birth control use to infertility and cancers, I got off of birth control.
We switched to non-hormonal forms after that. My husband was attending a Presbyterian seminary and so it was still "bad timing." It wasn't until a doctor told me I would have a hard time getting pregnant due to very irregular periods, that we decided we would get off everything completely. We figured it would take a few years. I got pregnant that month. I was pretty excited. I've always wanted to be a mother. After the birth of our son we prevented children for a short time so as to space our children out.
Our daughter came 22 months later. It was during this time my husband and I converted to Lutheranism (formerly Presbyterian) and my husband was told he should go to seminary again-this time as a Lutheran. We were already taking care of two kids and finances would be tight so we made the decision to make a permanent fix to stop conception. My husband made an appointment for a consultation but the doctor called us with concerns. My husband was only 29 and he really didn't advise getting this done until at least 30. He agreed to at least meet and talk it over but it was enough to scare us off for awhile. So, we resorted to non hormonal means of preventing children again- mainly through barrier methods.
With babies being born left and right at seminary, I started to get the itch. I wanted another child but my husband was not on board. He feared it would take too much away from his study time and be a financial burden. After awhile, he agreed to at least stop our current form of birth control and see what happened. Once again, I got pregnant pretty quickly. I was excited but when I told him he didn't seem too happy. In fact, he was upset. His reaction crushed me but soon our third child was born, a second girl. We were done. God was not.
During vicarage, a friend of my husbands challenged him on his beliefs regarding children. He pointed out verses like Psalm 127:3-5
"Behold, children are a heritage from the Lord, the fruit of the womb a reward. Like arrows in the hand of a warrior are the children of one's youth. Blessed is the man who fills his quiver with them! He shall not be put to shame when he speaks with his enemies in the gate."
He also pointed out that until the 20th century, preventing children was considered a sin cross-denominationally. After a lot of study, my husband came to the conclusion we should not prevent blessings. I remember the night he came to me in tears-repenting of his former beliefs and reactions. I was moved. I was up for another child and we soon became pregnant again. This time, it was met with gladness. Only, I was so sick. I get pretty sick every time I'm pregnant. Puking everyday and several trips to the ER are totally normal. But I realized this could go on and on for at least another decade. I wasn't on board anymore. I told my husband this was the last one and my body could not go through it again. Reluctantly, he agreed to use non-hormonal birth control again. I know he was praying for me and I was very aware of his love and patience during this time.
About a year later I had one of those "ah ha" shower revelations. Probably because those are some of the only times my life is quiet enough to think about things. I realized I was trying to take control of my life and fertility and the conviction to give God the reigns was overwhelming. I talked to my husband and we stopped preventive measures immediately.
Our fifth child came about 15 months later in December of 2013, followed by our 6th child in December of 2015. I have to say, giving it over to the Lord was so freeing. It's not to say we haven't struggled but I'm truly okay with what God has in store-even desiring more children. But giving it over to God didn't mean it was all easier. It just meant that my ever-changing emotions no longer dictated our resolve. Some days are harder than others. Some days I don't "feel" like I could take another, but we have left that up to the Lord. And I can't help but daily thank God for these children that almost never existed due to our obstinacy. I'm just so crazy about them! I know children are a blessing and I hope God sees it fit to continue to fill our quiver. To God alone be the glory.