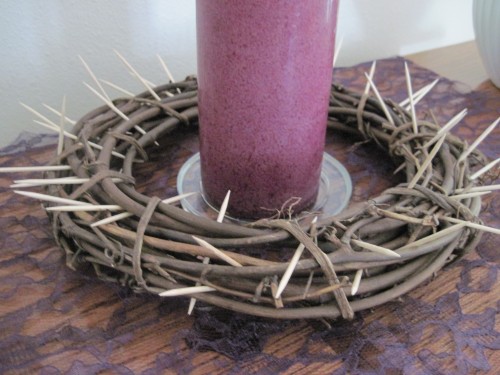 "This present season, which Thy infinite goodness has again permitted me to reach, reminds me of the bitter suffering to which Thou didst submit willingly in accordance with the counsel of Thy heavenly Father, in order that as the Lamb of God Thou mightest take away the sins of the entire world, and render satisfaction for them." Johann Friedrich Starck Starck's Prayer-Book
The Lenten season began Wednesday with Ash Wednesday. I read from Starck's Prayer-Book, the following exhortation that though written in the 17th-18th centuries is still such an accurate description of many in our day begin this season and a wonderful reminder to the Christian of what the time of Lent is to point us to, Christ's suffering.
Among the early Christians the holy season of Lent was a season of devotion and prayer, and it was spent in special meditations upon the sufferings of Jesus. This custom is observed among Christians to this day. While Satan has induced the children of the world to enter upon the season of Lent, not with prayer and devotion, but with drunkenness, masquerades, gluttony, dissipation, and wickedness, whereby they show that they care nothing for the crucified Lord Jesus, and trample His blood under foot, the children of God have a different spirit: they regard these things with horror.

(1) They begin this season with prayer and singing, thus preparing their hearts for the contemplation of the suffering of Jesus. (2) They place before their eyes the entire passion of Jesus: Jesus in Gehsemane, before the council of the Jews, before the judgment-seat of Pilate, upon Golgotha, and on the cross; and while contemplating each detail, they say: All this was done for me!

(3) While instituting these sacred meditations at home and at church, they do not rest satisfied with the mere history of these events, nor do they allow their devotion to vanish with the passing of Lent; but since they intend to draw comfort from the wounds of Jesus throughout the time of their life, and also in their dying hour, they remember the crucified and risen Jesus as long as they live. This remembrance (4) prompts them to crucify their lusts and desires, causing them to live no longer after the manner of the world, or to sin purposely, but to die unto sin, and to rise spiritually. God blesses such diligence, zeal, and desire for the sanctification of their lives.
Unfortunately, my season began with oopsie, spending too much time with a girlfriend of mine, supper being late, the girls not getting a nap, meaning a Cranky Pants and a sleeping Lily on the couch right before time to go to Ash Wednesday service! Needless to say, the four (Gerhardt included) of us did not go with daddy to church Wednesday night to begin our Lent with praying and singing. Sigh.
Pictured above is the crown of thorns Lily and I made using a grapevine wreath and toothpicks. I explained to her how Jesus had to wear a crown of thorns on his head and how much it hurt Him. I know I'm being "brave" to put it out in the living room where the girls can get to it, but so far no naughty hands have gotten it! Each day I remove one of the toothpicks (thorns) as we count down to Easter. On that day the thorns will be replaced with white flowers as we joyfully celebrate the Resurrection and that Jesus doesn't hurt anymore!
Blessings upon your Lenten season!