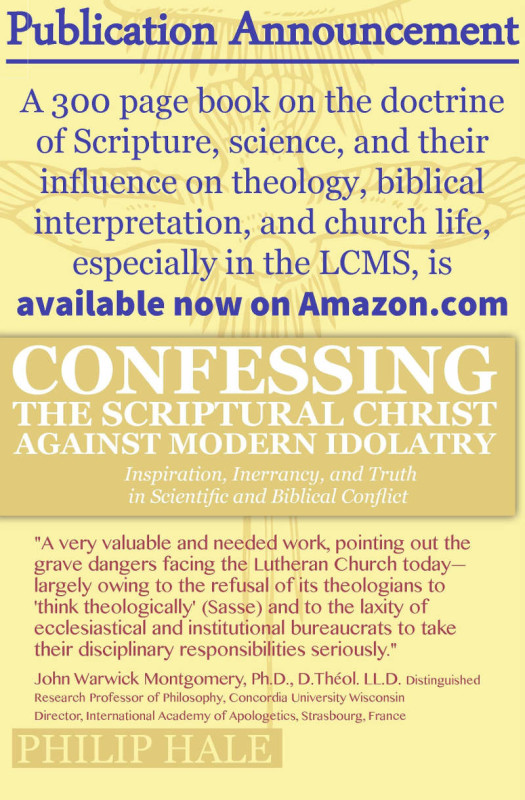 List price is $14.99 for a printed copy and it is available now from 
Amazon
.
After over 2.5 years of work, it is done.
Ebook versions ($4.99) are available also:
epub
 ebook (generic format for most e-readers)
The back cover reads:
The doctrine of Scripture determines precisely how theology is done and what authority theological statements—including those in sermons, dogmatic texts, and confessional writings—possess. At stake is nothing less than truth itself and the possibility of communicating the truth of Christ to mankind.
" A very valuable and needed work, pointing out the grave dangers facing the Lutheran Church today—largely owing to the refusal of its theologians to "think theologically" (Sasse) and to the laxity of ecclesiastical and institutional bureaucrats to take their disciplinary responsibilities seriously."
John Warwick Montgomery, Ph.D., D.Théol. LL.D.
Distinguished Research Professor of Philosophy, Concordia University Wisconsin
Director, International Academy of Apologetics, Strasbourg, France
I A Fundamentalistic Orthodoxy
1 Fundamentalism
2 A Bigger Debate
3 Inerrancy
II The Source of Knowledge
4 Different Truths
5 Denial of Authority
6 Scientific Theology
III A Reverse Historical Comparison
7 The Medieval Doctrine of Scripture
8 The Spirit is the Primary Author
IV The Scientific Subjugation of History
9 A New Methodology for Knowledge
10 The Sordid History of Historical Consciousness
11 Scientific "Facts"
12 Methodological Atheism
13 Modern A-Theology
14 Basis for the Word of God
V Modern Anthropology: Reverse Arianism
15 Assumed Incompatibility of Man and God
16 Super-Pelagianism
17 The Naivete of Historical Critics
VI Judging or Being Judged
18 The Sin of Hermeneutics
19 Sacred Hermeneutics
20 Unity of Attitude toward Scripture and Christ
21 Textual Criticism
22 The Canon
23 Divine Doctrine is the Correct Presupposition
24 Proof-Texting: The Only Theological Sin
VII Consequences for Theology
25 Replacements for Sola Scriptura
26 Theological Chaos
VIII Christ's Norm for Theology
27 Christ and Scripture
28 Weak Analogies Prove Nothing
29 Historical-Criticism in the LCMS: Examples
30 Conservative Atheistic Approaches
IX A Foundation for Confessing
31 Timeless Truth
32 Meaningless Confessional Subscriptions
33 Male/Female Roles Are Divine
34 More Christian than Christ?
35 Conclusion
Appendices
Index of Subjects
Index of People
Index of Bible Verses
References