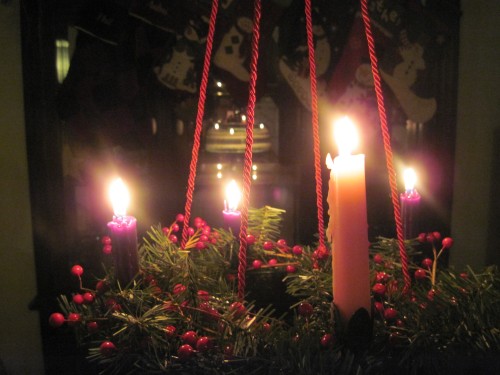 I found a lovely post from Ginny about how she prepared for Advent. It was exactly the thoughts going through my mind this week while I've been thinking about preparing for Christmas. Just planning for my preparation got me off the couch and in the closets clearing out things we don't need and I realized that it's really Advent that I want to prepare for.
I love Christmas, love it. But Advent is becoming what I might just go ahead and call…my favorite.
It's a season that gets so busy and stuffed with all the Christmas anyone can handle. It gets cluttered quickly and really it's the season when I just want to rest the most. When I just want to sit quietly and think and soak it all in. And that is hard. Especially in a house full of noise, stuff and mess.Then Christmas comes and I feel so tired and find again another season to sit and soak but I'm ragged. Worn out with a long list of fun to be had.
Here is what Ginny writes:
"The past month or so left me feeling like the walls were caving in.  I couldn't focus my attention and the cards seemed to be falling far too quickly for me to catch them.  And then, coming quickly, a season that I seek to make peaceful and meaningful for my children:  Advent.  How could I possibly hold everything up with the addition of traditions and celebrations not part of our typical everyday life?

"My mission this past week has been to remove distraction.  I am highly visual, so I made the very practical move of boxing up most of what was cluttering surfaces in my home.  Rather than restack books and papers, rather than put the toys away on the shelf, I boxed them up.  I cleared the top of the piano, the surface of my craft desk, our fireplace mantel, and so on.  The clutter was distracting me.  Every where I looked, I would see work to be done.  I want to feel free to sit down and read a book to my kids, to do a craft with my girls, to celebrate, to focus on Advent and Christmas.  I don't want to worry about the state of my house. "
Clutter distracts me too in a very bad way. The work undone makes me cranky. There will still be distractions, clutter, mess and noise but I'm going to do my best to get rid of some of it for a season. Hide it away from myself and hope to be able to sit a bit more, rest and soak. I can also make the mistake of cluttering my mind with things I want to do for the babies. I'm going to try to tame that beast as well this year, picking a few favorites and musts to add into our Advent and Christmas.
And I hope to use most of December to prepare some freezer meals for Christmas. Adding yet another meal to be cooked while I'm already stumbling over the meals for each day will be hard, but the goal of more rest during Christmas will maybe give me the boost I need.