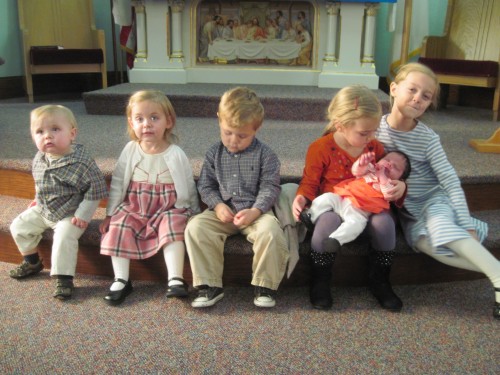 "Behold, children are a gift of the Lord, The fruit of the womb is a reward.
Like arrows in the hand of a warrior, So are the children of one's youth.
How blessed is the man whose quiver is full of them;
They will not be ashamed When they speak with their enemies in the gate." Psalm 127: 3-5
Since writing a post on my fertility I have had the pleasure of being contacted by several ladies sharing parts of their experiences with their own fertility. I have become even more aware of the silence that surrounds this issue. Unfortunately, there is a lot of pain that is going unnoticed or unaddressed. No one is opening this deep can of worms and I'm starting to think that's a great shame.
There are so many women who are struggling, hurting or mourning every month over the decisions they have made concerning procreation. The ideology of carefree sex has so ingrained itself in our culture (not just the secular culture but the church's culture) that we can no longer think clearly about it. Unfortunately, this topic of procreation and fertility is a very emotional and sensitive path to tread with other women so it's hard to know exactly how to begin.
Still, I know there are women who would find great comfort, encouragement, strength or peace by knowing that someone else, some other woman has done what she has, been where she is, or someone else is dealing with what she deals with. Perhaps there is a woman in need of counsel. Someone may be considering a choice that they would like advice on.
We women tend to stay with the women we have something in common with. There are tons of groups for Mothers, Mothers with lots of babies, Mothers who have adopted, Empty Nesters, Barren women, Single women, Widows. And that's good!
But what happens when all of these women come together? How much can we learn from each other? About each other, about each of our struggles. I think there can be some real help there.
So I want to open a dialogue on this topic of Fertility, rather Fruitfulness or Barrenness, with you all.
I wondered if any of you readers would be willing to share your stories with me.
I have come up with a list of questions to get started. It seemed to be the easiest way to dive into the issue. I'm hoping it will grow from there.
If any of you are willing to share with me you can use the "Contact Us" form here on the blog or my email address; aubrih at gmail dot com.
I would like to post your responses to this blog in the form of "Guest Posts" and I am happy to keep anyone anonymous who would prefer that. And if you don't understand some of these questions please let me know, I'm confusing sometimes!
————–
I'm very curious about where our views on procreation and fertility have come from.
What size family were you born into? Did this affect your decision on how many children you wanted to have?
Was there a time in your girlhood or teen years that you were taught anything about marriage and children?
How did that come down to you? Directly or indirectly? Meaning did anyone sit down with you and talk about the whole issue or was what you learned "implied" from what other women around you were doing.
What did you feel about having children at the time you decided to marry?
Were encouraged by anyone to wait to have your first child?
Did you and your future husband discuss that issue before or after marriage? How in depth did you go into this? Was it kept vague or did you put a number on how many children you wanted?  Or did you simply leave it up to God?
If you had premarital counseling with your pastor, did he discuss the role of children in your marriage or provide any information from Scripture regarding children?
Did your husband feel differently on this than you did?
Have your views on having children changed from what you were taught as a girl or since you've been married?
If you use contraception why?
If you use an alternative form of contraception (maybe NFP) why have you decided to go with that versus "the pill" for example?
If you have made a choice to permanently avoid children do you regret it? If you do why? If you don't why not?
If you are unable to have children has that affected how you view having children?
Have your decisions on fertility affected your life now? How have they?
What is your response to the words "Children are a gift from the Lord"?
*What would you want another woman to know about this topic of fertility, about your decision on having or preventing children or on not being able to have children?
*Is there something you wish you had been told about procreation and fertility before you made (or will make) the choices you did?
Let me know if I can post your answers and if you'd like to do so anonymously. Also if there are any questions you would ADD to this survey.
—————–
I'm not sure how this will play out, if anything will become of this, but I wanted to start somewhere. I'm really hoping this can be a learning experience (I hate that term, sorry) for all of us. Depending on responses I may ask some of you to write further on the topic if you are willing.
And if all I get is "crickets"….that's ok! Thank you nice reader friends!