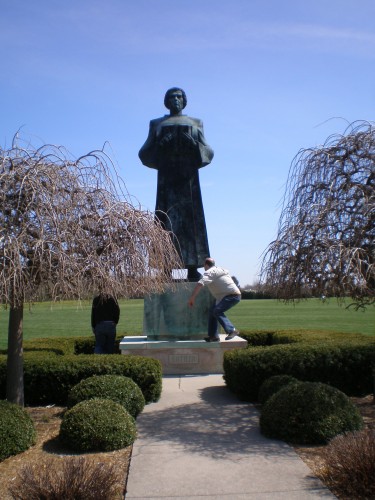 Parts I, II and III are HERE if you missed them.
Thank you all for being so patient. I know you've been dying to hear the 4th installment of this unintentionally LONG love story of ours! So here you go.
Okay, back to Ft. Wayne IN….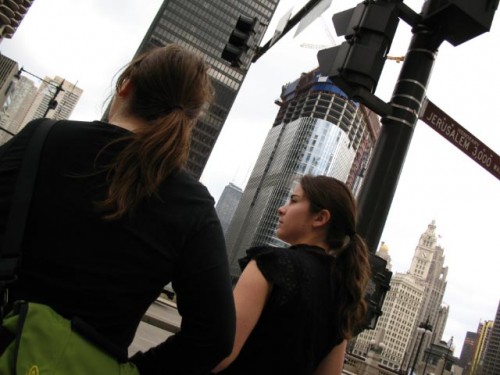 I didn't see Phil again before we left Indiana, went back to Chicago, then home to Texas. But I couldn't stop thinking about him.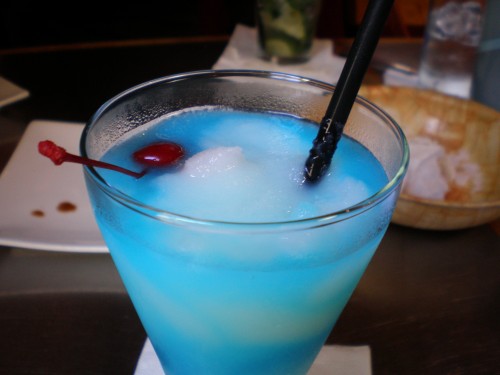 It was the end of April. I was home, back to my life, drinking Pina Coladas and a little desperate to figure out what to do about this "Phil Thing"!! Though I didn't know Phil very well, there was something (or SOMEONE) that wouldn't let me poo-poo the thought that this could be a good marrying man, perhaps the man I would marry.
He would be moving to Nebraska soon and would be Ordained and Installed in his church in July. What would he be doing before then? I wondered if I would ever see him again.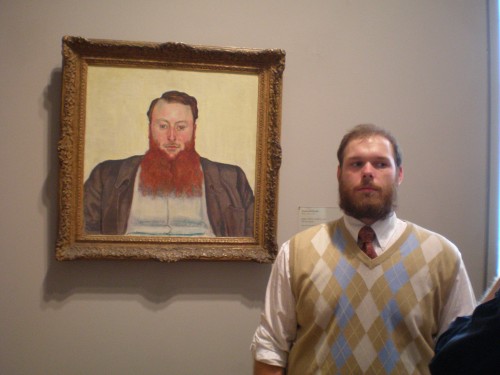 Encouraged by my dear cousin Wes, I decided to send Phil an email. A short "thank you for the beer, nice to see you" kind of email. Simple. Playing it cool. So that's what I did.
AND HE RESPONDED! Be still my heart.
And in that email he added some questions, and questions meant he wanted a response….wanted to continue corresponding! I was very very encouraged. AND SUDDENLY STARTED TO BECOME A 12 YEAR OLD GIRL!
Ok, I was a little giddy. The beginning of a lot of giddiness, remember….12 YEAR OLD GIRL! As practical as I was being about all the "love and marriage" stuff, I was still totally silly.
I told another good friend of mine about Phil and the "Epiphany" I'd had in Fort Wayne about Phil and how we'd been emailing. This was her response: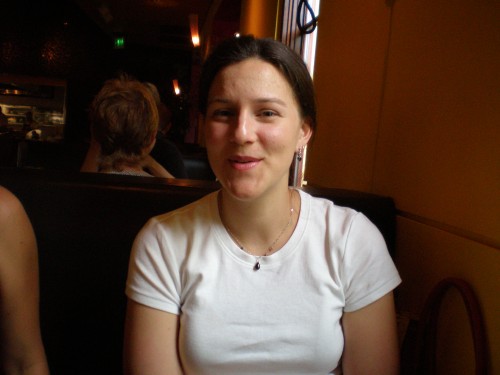 "WHAT?!"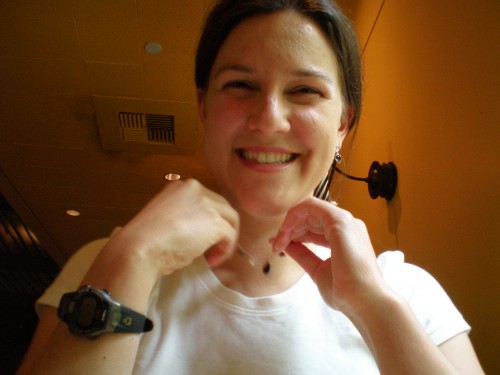 "Tell me MORE!" And you know I DID.
And our Summer of emailing and writing letters began. Slowly (or…not that slowly) getting to know one another.
Somewhere along the way in those emails we hit on some very fundamental and important issues; our opinions on marriage, having and raising children and of course BOB DYLAN.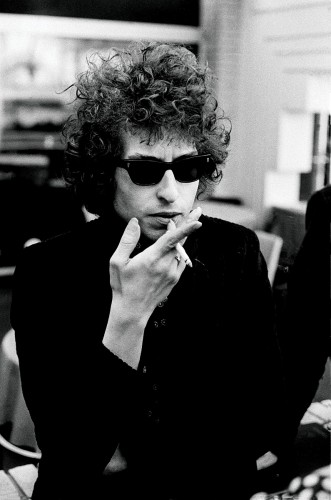 In May Phil told me that he would be coming to Austin in June during his break, before his Installation in Nebraska. I would get to SEE him very soon!
He'd be coming for an entire weekend. I had no idea how many people he would want to see while in Austin, who he would want to catch up with….other than me. I assumed he'd be busy. I thought I might get a few hours with him. I'm so happy to have been wrong!
He had no plans! I had him all to myself!
I was suddenly VERY nervous.
Thankfully I was living with cousin Weslie who I volunteered to be our chaperone…someone to take the pressure off of me having to be spectacular for a full weekend. And I knew Wes and Phil would probably have a lot to talk about since Weslie was a big reader of Theology and just an interesting person to be around. Shew. So I planned some outings and a dinner at our apartment.
That dinner was the opportunity for my besties to see how this Phil guy measured up and for me to see if this would all fall apart "in the real world!"
I still remember his knock on the door that June afternoon. I remember how I planned to open the door, singing Lionel Richie's "Hello".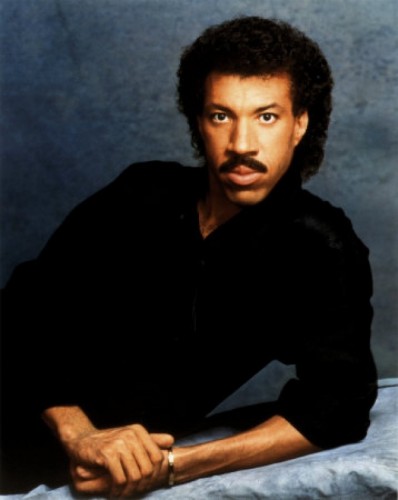 Don't worry. I didn't do that.
And I remember Phil standing there as I opened the door, looking….sick. So Phil.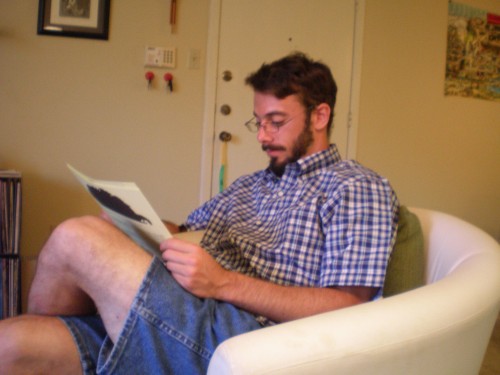 There was small talk and soon friends arrived.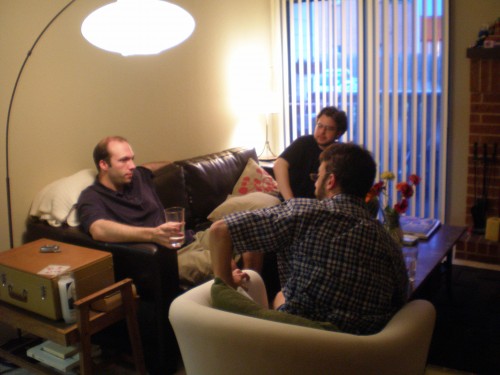 From what I could tell he was passing "the Test."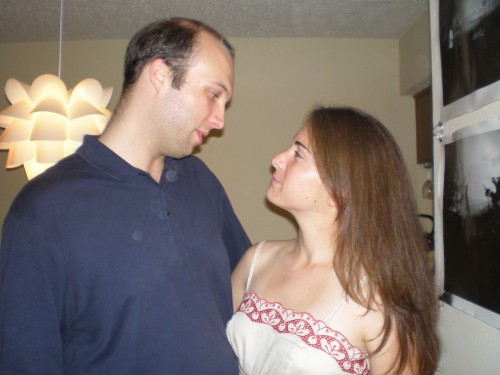 And just because I love this picture of Jud and Eugenie I'm putting it in.
See why I needed a husband?! So sweet.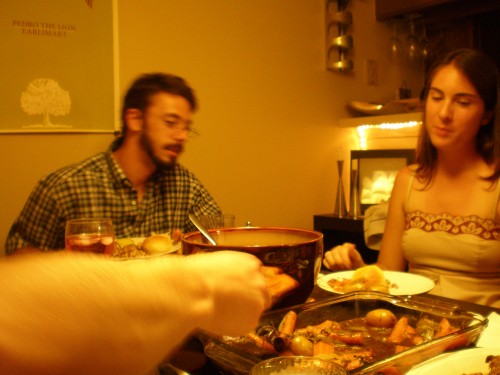 I couldn't help it, I was happy. All my friends and Phil together. It seemed easy. It seemed right. I think if I had any doubts at this point about pursuing marriage to Phil they began to disappear that night.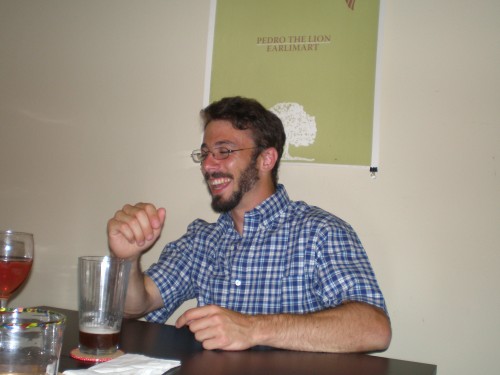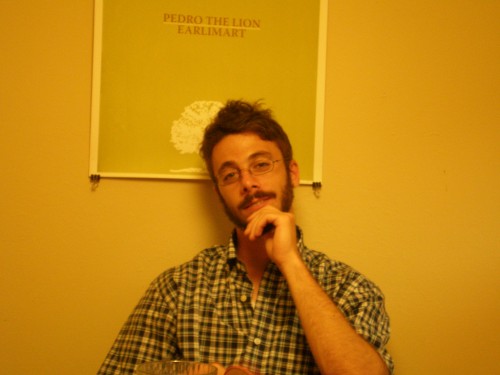 Plus he was pretty handsome.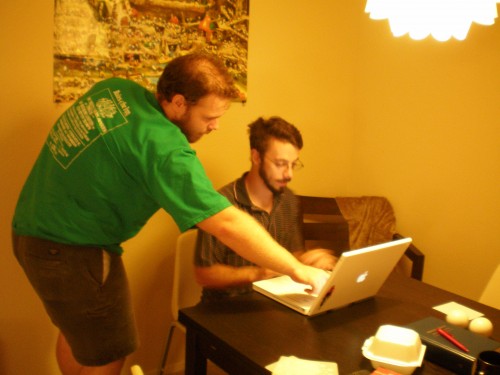 He even came back the next day to hang out with us some more and nerd out with Wes.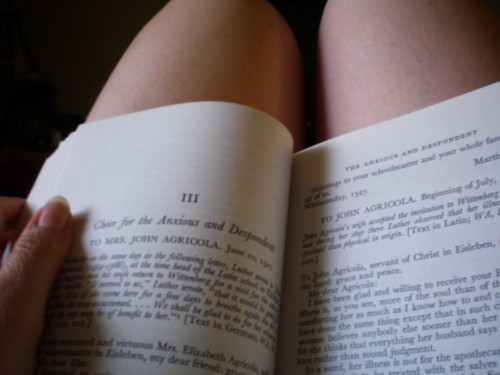 Then he was gone.
He'd planned a week on the coast, fishing and resting before heading to the Midwest. But before he left I dropped a BOMB on him.
Just so we were clear about what was going on. I wasn't interested in having another "friend" though I could have settled for that with him.
So once again I stepped out of character and did something bold.
I flat out told him he was someone I would marry. (I thought that sounded better than just going ahead and proposing to him.)
He was rattled. I was embarrassed. But not ashamed of having said it.
I would say again in a second!
He later told me I'd ruined his week at the coast. Now he had to really think about this girl and this marriage deal.
He said he'd write to me while there.
So I waited.
To Be Continued….Again. Sorry.