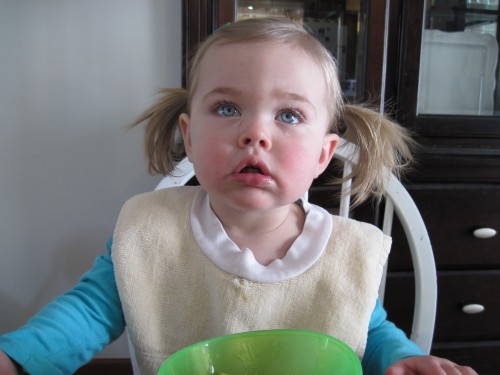 Clara, our sunshine girl, is 19 months old already, 31 lbs and 33 inches tall.  And when did her hair get long enough to make proper pony tails? I thought I'd take some time to jot down some of her new accomplishments, those other than getting longer hair. It seems everyday she's doing and saying something new. It's such a joy (and challenge!) to watch her grow.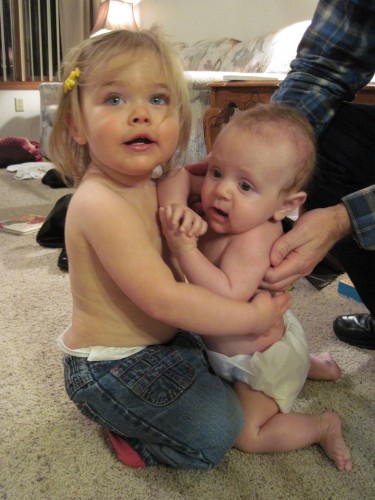 I still can't believe she's a big sister!
Here are some of her first words before I forget how fun it is to hear her begin to actually make sense!
joos, mil (milk), pees (please), mee (meat), bock-bock (chicken), bah-ul (bottle), poo-poo, tee-tee, cheese, up, no, baby, dow, nigh-nigh, my! (mine!), ice, eye, nose, mow (mouth), sno, animal sounds, un-un ("un hun", meaning yes), mmmm (good) and many more that are just beginning to be uttered that no one but Mama and daddy would understand.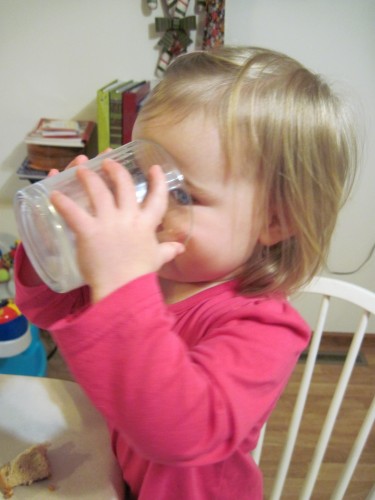 She's done quite well drinking from a big cup for a while now. She is also very adept at using a fork, but still has a problem keeping her plate on the table, to my utter frustration. And like her Mama, she loves to eat. Clara has a gift at putting away all forms of meat. She and I share a special joy when it comes to good food.
Clara is: a clown, silly, happy, fierce, weighty, solid, sweet, kissable, LOUD as the day she was born, finally sleeping through the night, trying so hard to keep up with big sister Lily, trying so hard to make big sister Lily keep up with her, daring, stubborn, funny, beginning to want to snuggle, starting to like books, able to make anyone smile, SO sweet with her baby dolls, curious curious curious, able to get into anything, a climber, a very good eater, a precious gift and a joy to our family.