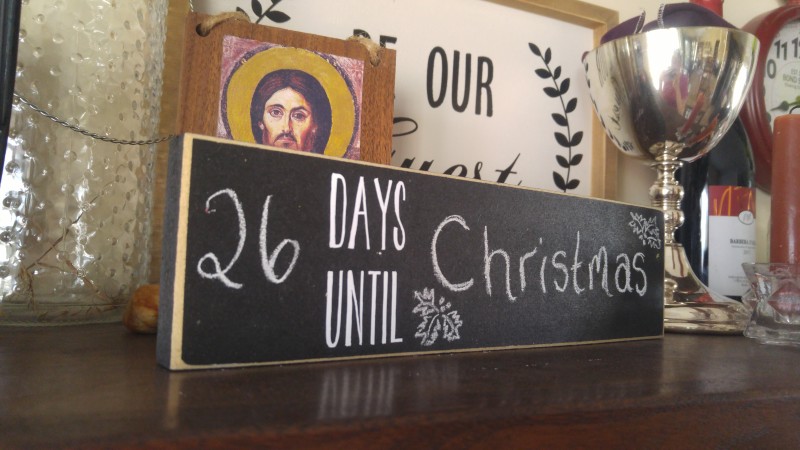 Every year I take some time to contemplate Advent. How will we observe it this year? What did we enjoy last year? What is it that I want the babies to learn from this season?
There is such variety in the ways that different families approach the various Holidays. I like hearing what others do especially for Christmas and for Easter. Each family has its traditions. They are handed down, some perhaps through generations, some no one remembers where they came from while others have been carefully developed. And there are those where traditions never entered family life even during the holidays.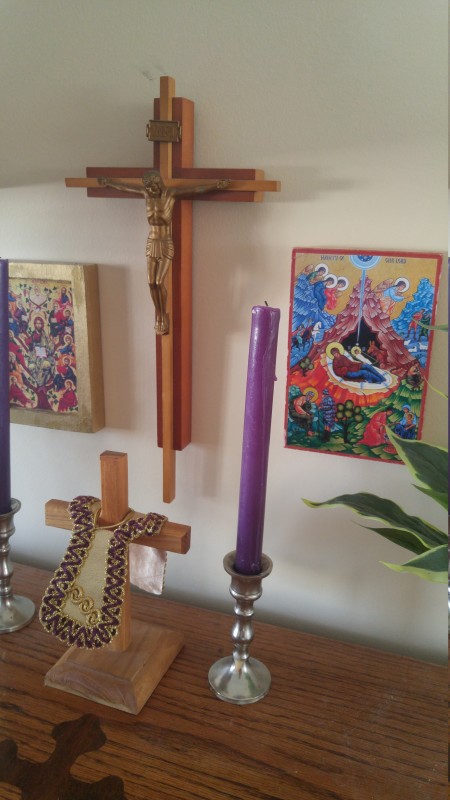 For our family I prefer to use the wonderful tool of the liturgical Church year, the calendar our Church follows, to develop the traditions and ways we keep holy days. In a lot of ways it's taken the pressure off, but I'll admit, in other ways it's created some more work.
While most of the culture is rushing to put up lights and trees and busy buying Christmas presents I'm happy that I still have several weeks to get those things done. This was especially comforting when we lived in a rural community and I only got to town once or twice a month. I didn't have to feel like a total failure for not having our tree up by December 1st. Pressure off.
But. It's much more work to teach my children about Advent and why we are pacing ourselves and keeping Christmas at bay for just a little bit longer than everyone else is.
It's nice that while everyone is trying to squeeze Christmas events into the next 3 weeks we still actually have 5. Pressure off.
But. Freezing the Christmas cookies instead of eating them and trying to find fresh greenery the last week of December…more work.
There's also the fact that while the Church Year has it's seasons to live by and actually does have certain traditions to keep, I'm still very much in the process of making some of it up on my own. (I'm sure every family does this though. We all kind of make up traditions on our  own.)
It's tricky but it gives me so much joy to do for my family. And really it just gives me a focus and direction, a timetable for things I want to do anyway. Plus it's a great excuse to wear or decorate with Pinks and Purples and get a way with it. Pressure off.
There's so much in Advent and Christmas to teach and pass down to our babies. I've always wanted some of our traditions to carry those teachings.
So we keep Advent and we keep Christmas. And we try our best to keep those two separate. I believe there are some good reasons for this.
"The steady crescendo of Christmas decorating and crafting." "I put to you that if we did things in the right order, our celebration of Christmas would be more joyful, not less, and we would understand more about our faith. And we would enjoy singing the Christmas carols more." Auntie Leila
The steady crescendo of Christmas. I love that.
It's a fine line to walk for these next weeks of Advent. I don't want to fall to one side of being legalistic about it and make a law out of keeping Advent nor do I want to be a hum buggy snob and hurt feelings. Unfortunately I'm very good at being both of those things. My inner Pharisee loves being holier than everyone because I follow a Church calendar. Bah!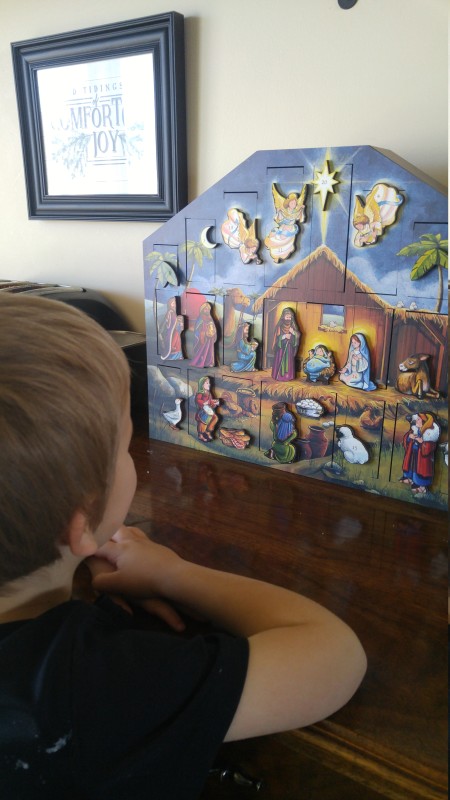 Though I very much wish everyone everywhere would wait on the glory of Christmas and enjoy the blessings and simplicity of Advent during this time, I can't expect it and I will strive to be gracious about it and teach my children to be gracious. It's not easy to keep Christmas away for a few more weeks but I try my hardest.
And it is hard! I love love love Christmas. I love all those lights everyone puts out on November 1st and I love that the ding dong radio is already Joy to the Worlding. I get it! I CAN NOT wait for Christmas either! And yes I could probably decorate in July and not be tired of it until February. Really!
But, I think Advent is for waiting. At least it seems to be an appropriate practice to use it that way.
Does it truly matter when we celebrate Christmas? No. We're free to celebrate it whenever. But I can't help believing there is goodness in the waiting and the discipline of the "fast" so to speak.
Could it be true that fasting before the feast can grant more pleasure in the partaking? Could it be that it is good for this refraining to be hard? These times of waiting could remind us of the ultimate waiting we do every day of our lives, that of our eternal deliverance.
The Christian life is a practice in waiting. Not for Christmas because truly the First Christmas came already and it's the ONLY Christmas that matters. Everyday is Christmas (and Easter) for the Christian. We don't have to celebrate it only on certain days. This is certainly true.
Waiting is what Christian do. Now we wait and groan for the redemption of our bodies and we wait for Him to come again.
"We know that the whole creation has been groaning as in the pains of childbirth right up to the present time. Not only so, but we ourselves, who have the firstfruits of the Spirit, groan inwardly as we wait eagerly for our adoption to sonship, the redemption of our bodies. For in this hope we were saved. But hope that is seen is no hope at all. Who hopes for what they already have? But if we hope for what we do not yet have, we wait for it patiently." Romans 8
Part of raising my children in the Faith is teaching them about waiting. No not just for Christmas but maybe that's not a bad discipline. With Advent my hope is that they gain a tiny perspective of that ultimate waiting.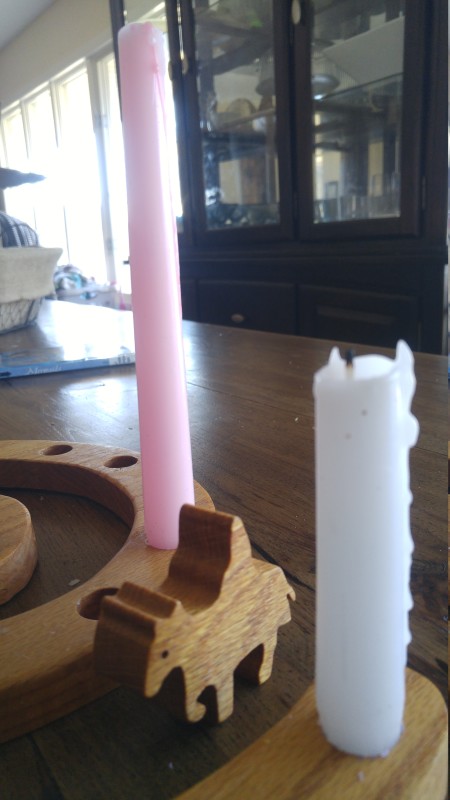 So during the next four weeks we will fully enjoy the traditions our family has created for this season. Light our Advent wreath, open our Advent calendars, sing our deep and rich Advent hymns, read the Scriptural texts for Advent and decorate our home in the spirit of Advent. And yes, I'm sure there will also be Christmas tunes playing among the Advent ones, I can't resist that.
Outside our walls it might already be Christmas but inside we will be muting Christmas some and slowly putting out our Christmas decor in time for that celebration. In our home we will have a 'steady crescendo of Christmas.'
I guess I would just want to say to myself and who ever might care to listen, enjoy each Season for what it brings! Sit within it and absorb the good it has to offer then move on to the next as it arrives instead of jumping on to it and risking jumping over what is given now.
Someone else might not feel compelled to wait for Christmas and they shouldn't feel that. I'm not compelled by anything or anyone either really. I've chosen this waiting and this has become an Advent tradition I hope to pass down to my babies.